This year's Miss England 2023 Semi-final will be held at Viva Blackpool on exactly a year to the date since Jessica Gagen was crowned the winner in 2022 on Monday October 16th!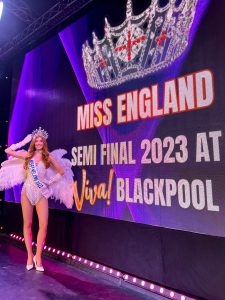 The venue is situated right next door to the famous Blackpool Tower and is proudly Blackpool's 5 star premier entertainment venue! With pre-show dining on offer, a fantastic bar, its also the home of some of the most sensational shows in town!
Miss England organiser's couldn't think of a more iconic and suitable location to hold the next Miss England semi final contest with the current winner Jessica Gagen, hailing from Skelmersdale Lancashire .  Director of Miss England , Angie Beasley said "We want Jessica to compete in Miss World as the reigning Miss England and we wanted to mark Jessica's one year reign with the semi final in her home county" .
Jessica said: "The contest making an appearance in the north west is fantastic, as a lot of our past national finalists have hailed from the area.  Before becoming Miss England I was Miss Lancashire, which encompasses the city – one I used to visit annually to watch the air show on the beach!"
Contestants from across the nation will be flocking to Blackpool to compete for a place in the next Miss England Grand final. However, organiser's are not revealing the date or venue of the grand final until Miss World announce their location and date.
A spokesperson from Viva said "We are delighted to be the chosen venue for the Miss England semi final. Jessica is a true inspiration and role model for young females across the country and it just so happens she's from the North! We think the semi final will be a huge event in Blackpool for tourism, and a fantastic opportunity to showcase our venue here at Viva Blackpool.
The Miss England contest is currently holding a series of virtual heats on the Miss England App and various live heats will be held throughout the summer & autumn months. This is to find more contestants from the thousands of ladies that enter the only contest in the country to qualify for the legendary Miss World competition.
To enter the next Miss England contest apply on the website www.missengland.info