The Miss England Contest is the most respected 'Title' in England.
It is the ONLY competition in the Country to send its winner to represent England in the Miss World Contest.
The organiser Angie Beasley has been the director of Miss England since 2002 . In the 1990s , Angie organised Miss United Kingdom on behalf of Miss World .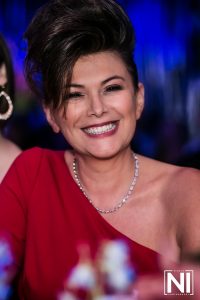 (Photo of Angie Beasley above by Studio NI Photography.)
Angie was one of the judges for Miss England 2019. In the 1990s Angie organised Miss United Kingdom on behalf of Miss World along with Miss Scotland and Miss Wales . In 2002 , Angie became the director of Miss England Limited , when Julia Morley spilt the 4 UK countries , so now 4 girls get the opportunity to go to Miss World instead of just Miss UK . In the 1990s , Angie organised the Miss United Kingdom contest on behalf of Miss World .
The competition is noted for emphasising the importance of charity work, now a major part of the competition, at Regional Heat level & National Finals. During the last few years, the Miss England competition alone has raised in excess of £1m for various childrens charities using the Miss World 'Beauty with a Purpose' slogan founded by Julia Morley, now a charity that aims to help disadvantaged children across the World. Miss England is a regular supporter of Variety Children's Charity, having raised thousands of pounds at Miss England heats with 'Miss England' herself appearing at high profile events, organised by charities.
Miss World is one of the world's biggest TV shows, filmed by satellite to over 120 countries and has been in existence since 1952.     In England we can usually watch on London Live Channel E!, or on the Miss World You Tube channel.
Founded by the late Eric Morley, the Miss World Contest is currently owned and organised by his wife, Julia.  The event hosts a top prize of $100,000 and every year attracts thousands of entrants in over 120 countries. Prolific winners of Miss World include Aishwarya Rai, Zhang Zilin and Priyanka Chopra who have all since then made themselves wholly successful in the filming and modelling industry. Other famous former Miss World contestants who have since become famous from their time in Miss World  include Halle Berry and Michelle Yeoh and from Miss England , Amy Jackson, third runner up in Miss England in 2010 and now one of Bollywoods biggest stars !
Amy Willerton who starred on "Im a Celebrity Get Me Out of Here " also represented London in Miss England 2012 and later went on to win Miss Universe GB .