An NHS Pharmacist from Handsworth   "Amrita Saund"  was crowned Miss Birmingham 2022 by outgoing queen "Bella Hakim" at the recent Miss England Semi final.
In the lead up to the semi final , Amrita (26) whose late father was from Punjab swam 100 laps in 75 minutes & raised £750 in a week for the Miss World Beauty with a Purpose charity which helps disadvantaged children.
Amrita also demonstrated her Bhangra dancing skills in her talent entry video & reached the top 3 in both the talent and the publicity queen round in the contest.
"I was surprised to reach the final 3 in the talent round with so many amazing women from across England entering " said Amrita  ." I got to demonstrate some of the classic Bhangra moves to the audience at the event ,  it was great fun!" Click here to see Amrita's Talent video
Amrita took part at the Miss England Semi Final at the Taj 51 Buckingham Gate Suites & Residences in London  against a beautiful gold sequin backdrop created by SOLARAIR SEQUIN WALLS after auditioning for the Miss Birmingham competition at Ziad Altaf Photography in Birmingham .
Amrita's mother ,Bimla Saund ( pictured with Amrita) originally from Shimla, India, has supported her daughter throughout the competition & attended the semi final at the Taj 51 Buckingham Gate Suites and Residences .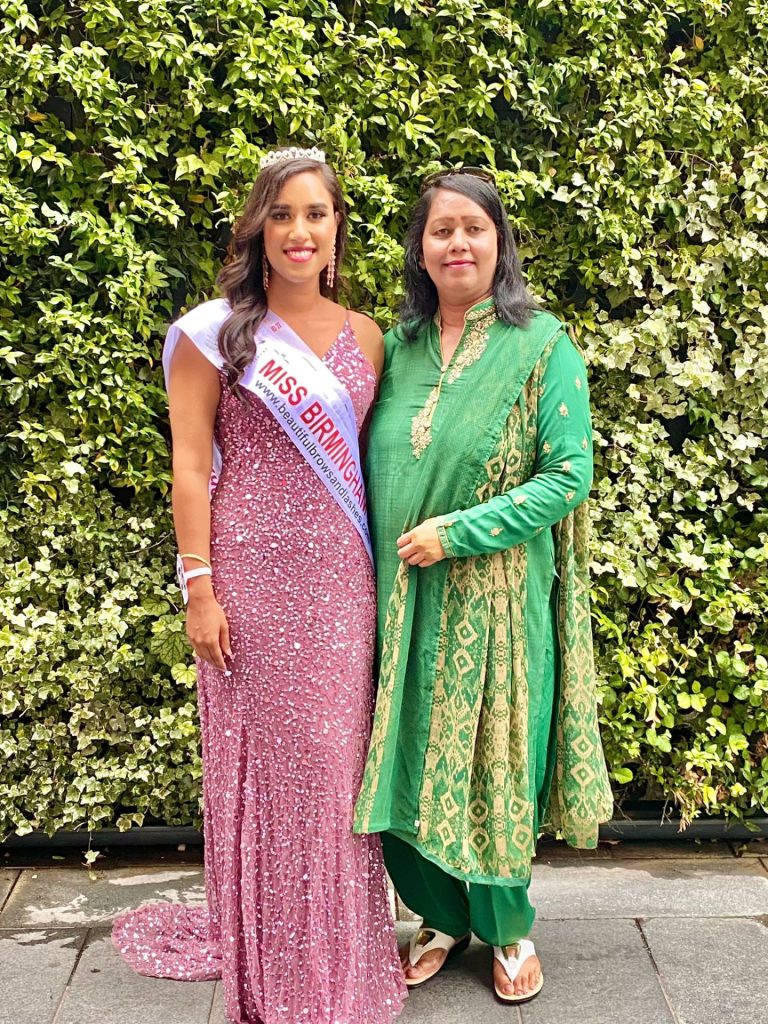 The pair are members of the Indian Ladies Club in Birmingham which is a club that helps the Indian Ladies diaspora in the UK  mingle with one another and form beautiful friendships.
Amrita also entered the Beautiful Brows social influencer round in the competition where she created an online eyebrow tutorial.
" I loved having the opportunity to get dressed up and wear make up, its such a change from my day job" said Amrita.  " I don't wear a-lot of make up generally but I love the Beautiful brows brand & how using a little can enhance my natural look.  I've been invited to create more tutorials for the brand, now that I'm Miss Birmingham & I'm hoping to share my story of feeling confident both with and without make up".
At 26 I know I feel beautiful both bare-faced and with make up on. I choose when I want to glam up. I have control. I want everyone to also have control and know that people will always have an opinion but it is up to you to filter the negativity out.
Amrita will be representing Birmingham in the 2day Miss England national final sponsored by Dentakay which will be held in the Lancaster Suite at the Holiday Inn Birmingham Airport on 16th & 17th October.
Up to 40 women from across England will be invited to take part in the national final.
Amrita added " I'm so proud to represent the second largest city in England. It is an incredibly multicultural and diverse city and I hope to make Birmingham proud in the Final"
The public vote for the competition opens on Friday 23rdSeptember where voters can make 1 Free vote a day on the Miss England App for their favourite Miss England Finalist.
For more information about Miss England visit www.missengland.info