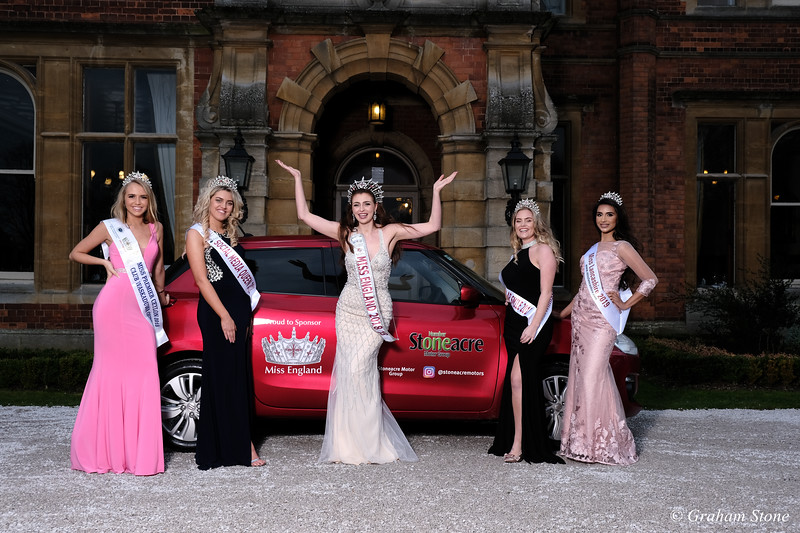 Doncaster College students prepare Miss England award winners for a glamorous ball gown photo shoot at Rossington Hall
Make up Students from Doncaster College prepared Miss England award winners hair and make up for Glamorous photo shoot held at Rossington Hall.
Miss England Alisha Cowie (19) from Newcastle who has returned from competing in Miss World in Sanya China was one of 6 models to appear in the shoot .
Alisha wanted to thank her dress sponsor "Bella Donna Boutique", a prom and occasion wear dress company based in Bennetthorpe Doncaster.
Alisha met up with other Award winners from the shoot at the beautiful 19th Century Mansion House Rossington Hall on the Great north road Doncaster.      Alisha travelled in her brand new Suzuki Swift from  from Newcastle to Doncaster with her grandma and loved showing the girls her new sponsored car from the Stoneacre Motor Group .
The students from the local Doncaster college were assigned as the official Make up Team using "Pierre René Cosmetics" cruelty free cosmetics as tutor Sue Cocking lead the team.
Four Miss England finalists where chosen to do the shoot along with the newly crowned Miss Lancashire – Aysha Khan who has been making the news in the North West of England as the first Asian woman to win the regional crown.
Alison Peddis from Bella Donna Boutique said "Rossington Hall is the perfect setting and has the most exquisite features , the shoot was incredible !
Bella Donna boutique only opened its doors 4 years ago I am proud of what I have achieved over the years.  It takes hard work and dedication to succeed I am very honoured to have been given the opportunity to work with the Miss England Contest and be the official dress partner.  The girls are so hard working and an inspiration to others empowering one another it's like one big family and I am so grateful to be a part of it
Thank you to Rossington Hall Angie Beasley the Miss England team and Doncaster MUA College for all the support "  .
For further information, or to interview Miss England or Bella Donna Boutique and high res photos please contact ;
Tel Angie Beasley 07979 742756
Visit www.belladonnaboutique.co.uk