The reigning Miss England, Jessica Gagen, is an advocate for the promotion of STEM careers to the next generation, and recently travelled up to Glasgow to give an inspiring talk about her journey into aerospace engineering to 2175 (Rolls-Royce) Squadron RAF Air Cadets, alongside a visit to Strathclyde University and the Glasgow Science Centre.
Having took a hiatus from education to pursue a modelling career at the age of 18, Jess
started her degree in Aerospace Engineering at the age of 24, admitting that she felt lost in
her late teens as a result of not knowing what the different variations of engineering were
or the wide career prospects a degree in the subject could lead to, so now utilises her
platform as Miss England to educate school-age children and young adults about the power
of STEM careers.
Jess noticed a lack of females in her cohort when she started at Liverpool University in 2019,
and having acquired a following of young girls through her Instagram account as a result of
her modelling career, decided to showcase elements of her degree on the social platform in
order to advertise the many opportunities a degree in aerospace engineering holds. As a
result she was scouted for the Miss England competition, and won her title in the October of
2022 for her efforts in showcasing aviation and engineer careers alongside a plethora of
charity work.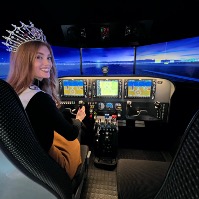 "I feel it's important I communicate the challenges I faced leading up to studying my degree in order to establish to the next generation that there's always a way to access the course
you desire – if it takes you that little bit longer, that's okay!"
"I chose the wrong A Levels and didn't make the grades I was predicted, so for years I assumed I'd never be able to access engineering, I used to think – who would want to take
on a student that didn't have a maths A Level?
I was turned down from all but one of the universities I tried – I studied physics for a year and then in 2019 the University of Liverpool offered me a place to study Aerospace Engineering!"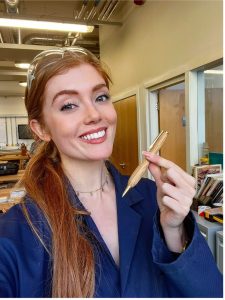 Whilst in Glasgow, Jess also visited the Science Centre where she flew flight simulators at
the Newton Flight Academy, and Strathclyde University, where she used her woodwork
skills to create a ballpoint pen using a lathe, before delivering a speech to 25 high school
teachers about the ways in which she believes they can help to advertise opportunities in
engineering to their students.
Jess said: "Kids need to know what the different types of engineering's are, the skills they'll
become equipped with, and how transferrable these are across different industries. Some
kids enjoy the idea of being a doctor but don't like the thought of working around blood –
they'd probably make fantastic biomedical engineers, able to create prosthetic limbs, but
they don't realise that's an option! So I think it's important we show them what's out
there".
At Newton Flight Academy, Glasgow Science Centre with the cadets, Jess talked about the trials and tribulations she faced en route to and during her degree, as well as the industries an engineering degree gives access to and future projects in engineering that the next generation will be involved in, before delivering a workshop which challenged the children to conduct research into the different types of engineering and where they can lead to.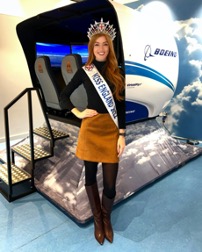 Commanding Officer 2175 (Rolls-Royce) Squadron Fg Off Stuart McLellan MBE said: "With Jess's background in Aerospace Engineering it was a perfect opportunity to kick off our guest speakers in 2023 with an engineering talk especially as we are the only Air Cadet Squadron in the UK with the connection to Rolls-Royce.   Jess is such an inspirational individual, and our cadets thoroughly enjoyed themselves".
Jess will be representing England in the 71 st Miss World Contest in Spring 2023.
For bookings, contact [email protected]