The World final of the  Miss University contest is taking place in Seoul, South Korea on 21st December 2022.
Emily Cossey & Melisa Raouf, who last month finished in the Top 5 of the Miss England Contest will be traveling to compete in this exciting event alongside university students and graduates from across the world.  ( pictured in Miss England top 5 here)
The international winner of Miss University will receive scholarship prizes totaling more than USD 150,000.
EMILY COSSEY, Masters Graduate in Chemical Engineering and MELISA RAOUF a 2nd Year Politics student at Kings College, London are so excited to be participating . They were scouted for their places in the contest by the international organisers.
"Hi! My name is Emily Cossey. I am so excited to be representing England in the World Miss University pageant in South Korea!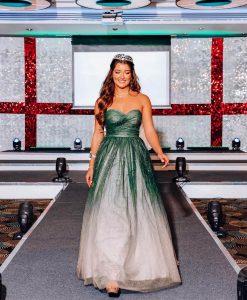 After coming third in the Miss England pageant, and completing my Masters in Chemical Engineering at university, I will now be representing England!
I achieved a first class masters degree as well as being awarded the Year in Industry Prize for my work in helping to reduce carbon emissions and water consumption on various whisky distilleries in Scotland, through helping to design bio plants and water recovery plants.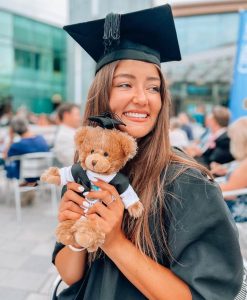 At university I had a lot of people not believe I could achieve my degree. I had group members refuse to explain their work to me because (as a woman) I "wouldn't understand". There we're constant comments that made it clear that certain male peers thought of me as inferior.
At the start of my final year I was having breakdowns almost every day and very nearly quit my degree completely.
A few months later I ended up stranded in the UAE due to the lockdown, being forced to complete my degree from abroad in a place that was unfamiliar.
In my final month of my degree the sudden death of my grandfather really threw everyone off guard. I had to fly to Germany and was forced to complete my final exams and projects alongside consoling my grandmother, helping with funeral preparations and being the rock my family needed me to be.
BUT in the end I managed to still achieve a first and make my grandfather so proud
It is my biggest achievement in life and just shows that despite what anyone else thinks and what life throws at you, if you put your mind to something and work hard you can achieve your dreams!
Travel has been a massive passion of mine for years. I am so excited that I will be able to use platform to start my campaign called #TinyHands, where I will be visiting schools and orphanages across the world to help the children of this world lead better lives
I have raised over £4,000 for Papyrus the Young Suicide prevention charity  during the Miss England competition, cycling 91km over the full length of the london underground central line to show that young suicide should be at the centre of our attention. I also completed a Wing Walk!
Aside from this I have always been very involved with my local community, especially helping those that are homeless. You will find me every Sunday at my local food bank organizing, collecting and handing out food."
Emily recently attended the Variety Club awards in London  & met a host of celebrities including the reigning Miss World.
MELISA RAOUF caused a stir after competing completely make up free in the Miss England 22 contest . Winning the Cetuem Bare Face Award at both the Miss England semi & national final & reaching the top 5 in Mis England 22 created immense media attention from across the world.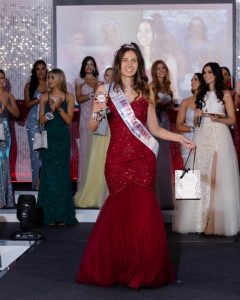 Now Melisa plans to compete internationally make up free in Miss University . As her father is Iranian , Melisa will be representing Iran.
Melisa says , "I'm currently in my second year studying politics at Kings college London! I have a cross-cultural mind-set and an interest in the policies and positions of governments, human rights organizations and multinational co operations that seek solutions to issues relating to the refugee crisis, international conflict and climate change!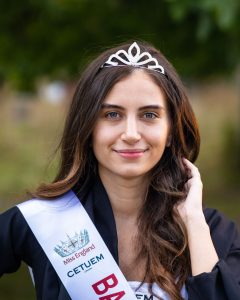 I've raised over £1,000 pounds for the Miss World Beauty with a Purpose charity by litter picking in parks all across London, abseiling down the orbit and doing a 10K walk! I hope to do much more fundraising activities in the future to help build a better future for the future generation!
I am extremely excited to represent Iran at World Miss University! I'll be attending makeup- free just like I did for the Miss England finals to promote self acceptance and having a choice! As a strong believer of choice, I strive to be a voice to all women who believe they don't have a choice on how they present themselves.
 We are currently seeing demonstrations all around the world, precisely because women do not have that choice! This is what I am standing for; the freedom to choose, whether it is to do with our appearance, the way we dress, or the we way act, it'll be great to be a voice for women all across the world"
Melisa's make up free appearance in the Miss England contest created press and TV attention across the world, which included her being interviewed on TV channels in Japan, Australia, USA, Turkey the Netherlands, Germany , Iran and here in the UK.  She now has received nearly 50,000 new followers to her Instagram page,!
We wish both ladies the very best in the world finals of Miss University !
Contact – Press – Miss England Office   – [email protected]