2 X VIDEO SHOWING LANCASHIRE TOURISM SPOTS AVAILABLE WITH THIS REPORT FOR ONLINE NEWS
FOR USAGE OF IMAGES PLEASE CREDIT x 3 ;
EVENING WEAR BY " TO THE NINES"
LOCATION ; The Hotel Rafayel London by Elite Media Co
"Jessica Gagen " (25) the reigning Miss Lancashire has been fast tracked through to the judges shortlist for the forthcoming Miss England finals by winning a new round promoting Tourism in the contest called "Explore the Nation".
Jessica is an Aerospace engineering student and part time model and has been raising funds for the Miss World Charity Beauty with a Purpose by going for her morning run in fancy dress everyday!
So far Jessica has raised £1,170 for the charity which helps disadvantaged children and youngsters!
The 44 Miss England finalists have been promoting the areas they live ahead of the final and became virtual tour guides for the judges promoting their home towns, cities and counties.
Each finalist was recorded on zoom presenting their own power point presentation in this unique round called "EXPLORE THE NATION" and then appeared on social media promoting themselves and their locations ( check out Jessica's presentation video)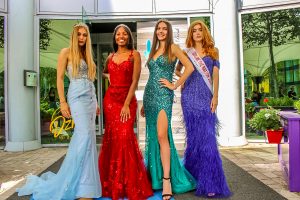 The top 10 was revealed on a special Live stream produced by the Video News factory.
The round was sponsored by www.uk-staycations.com  which was created to provide a cost effective marketing platform for the hard hit hospitality, leisure and tourism businesses around the UK to aid their recovery as the industry slowly moves into lesser restrictions and freedom to trade.
The judges selected Jessica as the winner of this round for her impressive knowledge of the area & fun personality with Heather Gaulton Miss Cheshire 3rd and Alexandra Taylor Miss Tameside as the two runners up in this round! Jessica is pictured after receiving her sash in London after she participated in the Bare Face top Model round at the Hotel Rafayel & Spa.
Jessica said "I'm absolutely ecstatic to have won this round and proud to have brought more exposure to my beautiful home county of Lancashire. I'm thrilled to have made it to the judges selection in the Miss England final and will be doing my very best to make Lancashire proud on the night"
The final of Miss England will be on Friday 27th August at the Heart of England Conference Centre Coventry. The Miss England winner goes forward to the 70th Miss World final in Puerto Rico planned for December 16th . Miss England 2021 will be crowned by NHS Doctor Bhasha Mukherjee who has held the title for over 2 years due to the pandemic.
To vote for your favorite Miss England Finalist, download the Miss England app for free to claim your free daily vote.