Emily Harrison wants to empower shorter women
At just 5ft tall & the shortest finalist in the Miss England 22 contest  , Emily from Longbridge Birmingham entered Miss England for the experience & to build her confidence.
After entering a Miss England Midlands photo audition, then a glamorous catwalk in London, Emily was offered her place in the Miss England grand final alongside 29 other women from across the country .
Now Emily been invited to compete in a contest aimed at Petite women in America aboard a Paradise Cruise ship this summer as part of Team Petite UK!
'Being short doesn't define me, I put on a pair of heels and feel in my element, especially when I walk the catwalk! I want to/am pushing to empower shorter women, I think there should be a variety in model sizes and I'm here representing for the small petite girls. I may be "Petite"  but it doesn't stop me following my dreams, I can accentuate my height in various ways and I think if someone has the right attitude, passion and drive together they can be successful!
 In my opinion height shouldn't and doesn't always determine success in this industry, there is always an opportunity for a petite girl. I was so pleased Miss England didn't have height restrictions!
I know I'm not the usual stereotypical tall contestant/supermodel in model industry but Miss England gave me the opportunity to show petite girls can do it too. Many people think I am a lot younger than I am, mainly due to my height, no one ever thinks I'm 26 which is a bonus. A girl should be two things, who and what she wants and height doesn't define that!
I can't wait to take part in the Universal Petite contest and make the shorter women of society proud! '
Emily is the eldest sibling from a family of 12 who can't believe how far shes got and wish her the best of luck going forward  . "My mum & sisters came to the Miss England finals at the Holiday Inn Birmingham Airport to see me perform on stage in the top 3 of the talent round and were cheering me on and its thanks to my sponsors Richard Murrill and Richard Clarke that I can afford to take my place in the contest".

The Universal Petite contest takes place aboard the Paradise Carnival cruise ship in Tampa Florida 6th -10th July and Petite women of all ages from across the world will be  participating in a series of photoshoots in various locations, catwalks & interviews.
Datsa Gale, one of the judges & founder of Solaair Sequin walls (who created the memorable gold wall for Adele at the Brits) said " it was good to host the Miss England Talent round for the launch of our influencers lounge.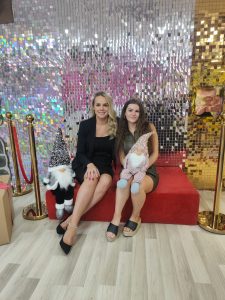 Im so pleased Emily has been given this opportunity, just to get to the Miss England qualifiers she travelled by public transport during train strikes it wasnt easy !  I wish her the very best of luck in the Universal Petite Final"
Angie Beasley Miss England organiser said " For many years taller girls have dominated the modelling and pageant world , many still have restrictions  .With the rise of influencers and now pageants are becoming more diverse, height isn't such a big deal.  It's good to see shorter women getting the recognition they deserve! I think its unfair to have height restrictions and we want to be inclusive"
For more details about the Petite Universal finals click the logo and follow Emily's journey in Petite Universal .
Since this press release was circulated Emily has appeared in numerous press articles Click each image below to read the online stories –

YAHOO 
Good luck to Emily with a great start to 2023 we wish her the very best in Universal Petite!