Elizabeth Grant from Preston was scouted to enter Miss England whilsts walking through a shopping centre  after her shift at work .   She was persuaded to enter Miss Preston which she then won and the same year went on to win Miss England 2016 in Southport & represent the nation at Miss World in America.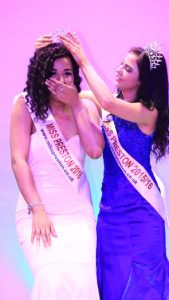 We caught up with Elizabeth to find out how she's doing now starting off with  how she did then ….. 
"I represented Preston in the Miss England Final in 2016, my home city, born and bred.
I was fortunate enough to win Miss England first time around in 2016, however if I hadn't won the title then I most definitely would have entered again!
It was such fun and it brought out an embodiment of confidence that I wouldn't have sought out otherwise.
……………………….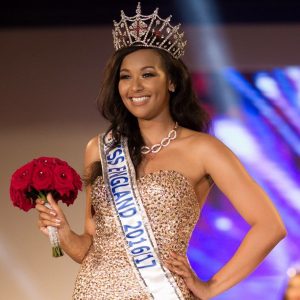 – The final was held at the Southport Theatre & convention centre and we stayed at the Ramada Hotel for the contest .  It was more memorable as I used to travel to Southport regularly as a child with my mother. It holds many memories now.
 I was very fortunate to have my parents, siblings, cousins and grandparents all with me along with my friends I had made in the Miss Preston competition; they called themselves #TeamNorth.
A funny story, my family was not expecting me to win , so after every round they bought a drink for me and had it waiting, but as I kept getting through the rounds they got drunk.
By the end, they were the loudest and happiest family in the place!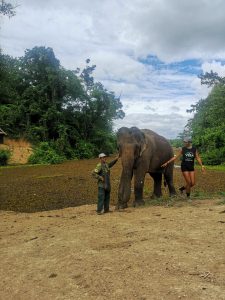 At the time I was in my second year at university studying Psychology and Early Childhood and working four jobs.   I worked mid week at Body Shop and a sweet shop in Liverpool and at the weekends working at Clarks and a bartender at night.
During my time as Miss England I travelled all over England, to the  USA in the December for the Miss World Final, ( and a special trip to New York), Mauritius in February and Sri Lanka in June for the Beach Beauty Competition.
Miss World was held in Washington DC in the USA for three weeks. It was such a demanding experience from the moment we got there and a phenomenal adventure from start to finish.
I had a personal trainer in the run up to Miss World and I managed to get into the Sports Team during the Fitness test and our team won the Sports Team Challenge (Go Reds!)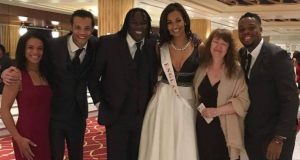 My family supporting  me at the final of Miss World 
I do, fortunately keep in touch with some of the contestants I competed with at Miss World including Miss Scotland, Wales, Malta …  I keep in contact regularly and Wales and I travelled up to Glasgow for Scotland's handover in 2017.
I do speak to Miss Mongolia, Guam and Thailand quite often, Miss Mongolia is living in England now so we are long due for a catch up (once Corona is under control).
There is so many memorable Miss England appearances I made to choose my most memorable  but it would have to be a select few appearances.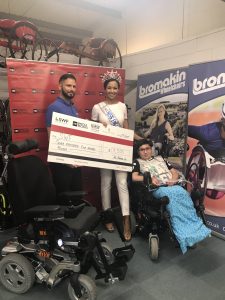 A personal favourite was meeting a young boy Shivam, ( pictured above ) who desperately needed a new wheelchair that we were able to gift to him and this was four years ago; we still keep in contact. It just shows how much of an impact that each Miss England has during their reign. The relationships built from helping someone is magnificent and a beautiful friendship has blossomed in this case.
AND NOW………. 
– All throughout 2019 I travelled the world and worked for a volunteer organisation that creates sustainable humanitarian development projects for developing countries in Ecuador, Laos, Fiji and South Africa. I was taught about the effects of conservation and how we, in western countries, can help reduce the effects as we are the biggest contributors.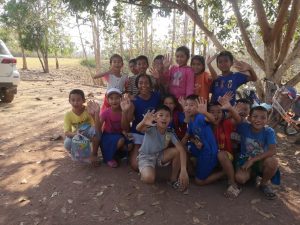 I worked with Asian elephants in rehabilitation and taught English to children in a rural village in Laos.  By the end of the year I coordinated the programme and taught public speaking seminars internationally and recruited prospect volunteers for the next season. I've recently started following in the steps of Buddhism and educating myself on Conservation projects in Asia. My next aim is to find organisations that are trying to rescue animals in tourist attractions for when Corona is under control and I can use my experience to aid others.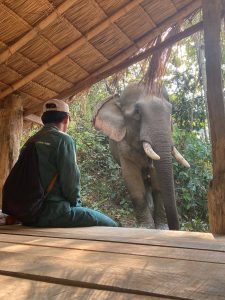 My current energy is dedicated towards my former Miss World Charity Project, Derian House.
At Derian House they help children and young people, whose lives are too short, to make happy memories in an environment of fun, respect and above all, high quality care. They provide respite and end-of-life care to more than 400 children and young people across the North West. We do this 24 hours a day, seven days a week. We never close to those who need us. With our hospice only generating funding through donations and fundraising, it is increasingly difficult to do that with new government guidelines so our fundraising ambassadors have had to think outside of the box. It's been tough for the care team, they've all been wearing PPE and making sure that everyone is protected. The hospice has been closed to visitors and a lot of the support services have gone online, we've stayed in touch with all the families remotely and the team have been putting together food parcels and care packages.

This is a difficult time for everyone all around the world but the message for our community right now is that we are still here and we are supporting families the safest way we can right now.
Our current fundraising ambassador has just shaved her hair in aid of Derian House and it would be greatly appreciated if the link could be shared or, if you can, donate anything is fantastic! It sponsors our nurses who are doing a round the clock job during a pandemic.