The Miss England contest is going virtual & it started with the new Miss Leicestershire being crowned in her back garden by her Beauty Queen sister!
Photo credits Thelma Carter
Due to the Coronavirus Pandemic, like many other event businesses, the Miss England organiser was forced to cancel a series of events for the Miss England contest scheduled to be held between March – June …
"its our busiest time for Miss England heats all over the country and it had already taken months planning at different venues " said Angie who has been running competitions for over 30 years .
"Many of the contestants had already started raising funds for Charities as part of the Miss World contest Ethos is Beauty with a Purpose .I didn't want to let the contestants down by calling it off altogether . At first I thought we had no choice.  But eventually I thought the best way forward was to run the contest online starting with Miss Leicestershire contest , our first contest of the season . The contestants seemed to have enjoyed the virtual experience so far" said Angie.
The Miss Leicestershire contest was due to be held at Leicester's oldest theatre the Y Theatre on 27th March & contestants were raising funds for the Y sponsor a House Campaign the week of the lockdown .
3 of the top 5 contestants Tia & Emily Rowlands & Khushboo Patel raised over £720 collectively for the charity and Miss World Beauty with a Purpose charity donated £6,000 the Y Sponsor a House Campaign Charity which will pay for a 5 bedroomed house for homeless youngsters living in Leicester. Khushboo Patel became the Top fundraiser raising £326 and both Emily ( 1st runner up) and Kushboo have now won a place in the Miss England next semi final.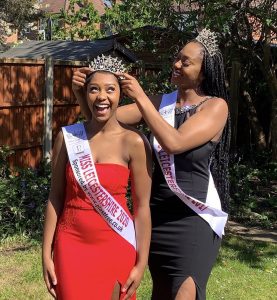 Click here to see the top 5
https://www.missengland.info/qualifiers/leicestershire/
"The contestants are enjoying getting dressed up at their homes in their outfits and doing a catwalk in their homes!! It making a nice change in the current difficult circumstances " said Angie.
The Miss England Contest has a website and a fairly big following on social media and a You tube Channel so decided to go Virtual.
NEW MISS LEICESTERSHIRE CROWNED IN HER BACK GARDEN BY SISTER A FORMER MISS LEICESTERSHIRE
The new Miss Leicestershire was crowned over Easter weekend.
Tia Carter, sponsored by Richard Clarke won the public and judges vote after submitting her talent, catwalk and intro video to the judges . Her older sister Sapphire who normally lives in Leeds as a student was at home and crowned her sister in the Back garden in the sunshine.
Click here to see the crowning video ;
https://www.youtube.com/watch?v=aylcwSyuXfs
Sapphire won Miss Leicestershire herself back in 2017 so had a tiara handy to crown her little sister when the news broke! 
Tia is a 19 year old trainee Mechanic and dance teacher and is now invited to promote PLASTFREE Sanitary Pads on social media as part of her role www.plastfree.co.uk
One of Tia's roles now is to promote plastfree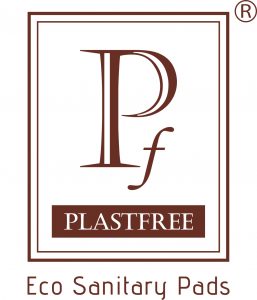 Tia said " With the help of social media I can still do some duties as Miss Leicestershire!"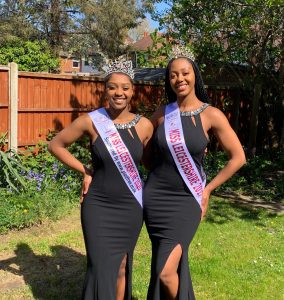 THE FIRST SISTERS IN THE CONTEST HISTORY TO BOTH HOLD
THE MISS LEICESTERSHIRE TITLE
"I'm so pleased that Tia saw the contest through and all the Top 5 contestants showed true determination carrying on with the contest against all odds" said sponsor Richard Clarke.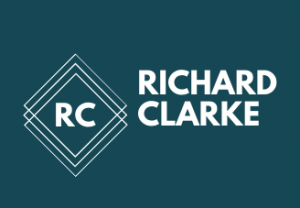 The outgoing Miss Leicestershire Millie Richardson gave her final speech on the Miss England You tube Channel .
https://www.youtube.com/watch?v=JYymlQVKUGU
The Miss England contest has been forced to also postpone the Miss England semi final at Kelham Hall in June and national final in July due to be held at the Hilton Hotel in Birmingham 
"I cant and dont want to replan an actual event to select this years winner until we know what's happening so until then we will just carry on and run the qualifying heats online. If it comes to it we may end up choosing the next Miss England winner online and they wont have to leave their house . But hopefully it wont come to that ! " said Angie
VOTE FOR YOUR FAVOURITE MISS LONDON FINALISTS HERE ; 
To watch all the Miss England applications submit their catwalks at home and intro & talent videos go to;
www.youtube.com/MissEnglandContest
To enter visit www.missengland.info
https://www.thesun.co.uk/news/11407176/miss-england-finalist-crowned-in-garden/
https://www.dailymail.co.uk/news/article-8234593/Miss-England-pageant-crowns-virtual-finalist-19-ceremony-held-videolink.html