Leicestershire
Voting has ended
Voting closed at 12 noon on Friday 27th March 2020, thank you to everyone who took part.
Existing Title
Miss Leicestershire
Age
19
Height
5'7
Occupation
Still in full time education, part time job as a dance teacher & aspiring engineer
Interesting Fact
Aspiring engineer Tia raised £220 for the Y Sponsor a House Campaign in Miss Leicestershire 2020 . Tia's own sister also won Miss Leicestershire 2017 and crowned her as the winner in her own backgarden during lockdown
The 2020 Miss Leicestershire  event due to be held at the Y Theatre initially on 27th March has been cancelled due to the Coronavirus situation .
CLICK HERE TO READ THE OFFICIAL PRESS RELEASE ON 22nd April 
Now this is the first virtual Miss England heat!
As part of the competition, contestants have been invited to raise funds to help homeless youngsters in Leicestershire for the Y Sponsor a House Campaign .
The Top fundraiser in the contest is Khushboo Patel who wins herself a place in the Miss England semi final
after raising £328 for the cause and collectively the contestants raised over £700 for the charity . Beauty with a Purpose has also donated £6,000 which will pay for a 5 bedroomed house for vunerable youngsters in Leicester to live for a year!
GOING FORWARD
The winner of Miss Leicestershire 2020 will be selected  by the results of the public vote and a panel of judges who are;
…..Miss Leicestershire Millie Richardson
Miss England Bhasha Mukherjee
Lisa Powell Miss England Choreographer
…..From all the Catwalk, Talent and Intro videos that the contestants have submitted and the results of the public vote the winner will be selected . See the Miss England You Tube Channel for the videos and on the contestants photos themselves.
….
WATCH DR BHASHA MUKHERJEE THE REIGNING MISS ENGLAND HOST THE TOP 5 DOING A CATWALK FROM THEIR OWN HOMES IN LEICESTERSHIRE ( whilst she was at home isolating after returning from India .
Results of the first Virtual Miss Leicestershire will be announced on the @missenglandnews social media .
 We would like to wish all the contestants the very best of luck in the contest .
WATCH MISS LEICESTERSHIRE 2019 MILLIE RICHARDSONS OUTGOING SPEECH SHE FILMED AT HOME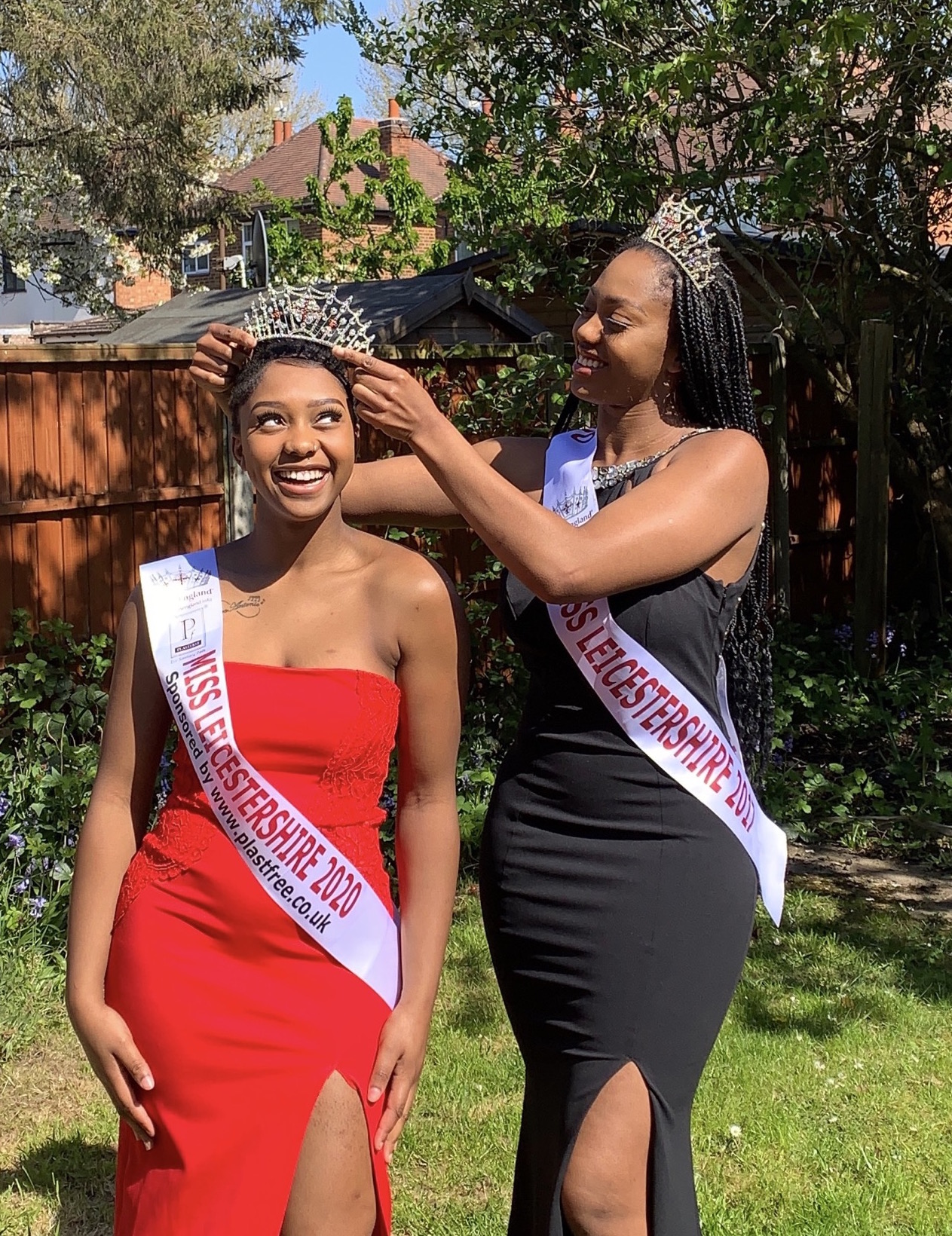 Tia Carter was crowned Miss Leicestershire in her back garden !
Tia received the Miss Leicestershire crown from her big sister Sapphire - who was also winner of Miss Leicestershire in 2017 !