Leicestershire & Midlands area
The contestants in this contest have a total of 1,199 followers on Instagram and 2,628 followers on Tiktok.
Age
19
Height
163cm
Occupation
Student
Interesting Fact
I love challenges because I think they drive me so much into growth and self love. I believe challenges are what bring opportunities and new discoveries of one's self, like interestingly I was always fascinated by Martial Arts and Self-defence but I thought it would be too challenging however as I recently started Taekwondo it turned out to be the best choice that made along the challenges. Taekwondo is not only a great martial art but it has developed my discipline, dedication and passion towards the art and life.
Its been three years since "Tia Carter"  was crowned Miss Leicestershire 2020 by her own sister "Sapphire Carter "  in her back garden during lockdown .  Luckily "Sapphire" was available to crown Tia, she was the former Miss Leicestershire who had also represented the county at the Miss England final in 2019!
At the time "Tia" (now 21) was just a​ teenager, ​& was​ ​studying​ engineer​ing.
Tia​ said back then : 'I'm over the moon to have won. I've always looked up to my big sister Sapphire and to win my home county title is fantastic!​ ​It's a shame the ​live ​event was cancelled but I'm grateful for the opportunity, as there were some great girls in the ​virtual ​contest. it certainly put a smile on my face and competing in a virtual Miss England heat and gave us something to focus on at a difficult time."
During Tia's reign, £6,000 was donated using Miss World Ethos "Beauty with a Purpose"  to the Y Charity to sponsor a House in Leicester for homeless youngsters .
Since , Tia has represented Leicestershire TWICE in the finals of Miss England after winning national TALENT award with her exciting cultural dance routine in 2021 & she made the shortlist which gave her the opportunity to compete again the following year .
The director of Miss England "Angie Beasley" held her very first Miss Leicestershire contest at Jokers nightclub  in 1990  , then giving entry to the Miss United Kingdom, then to Miss England from 2002 both part of the official Miss World contest.  In 2001 , Sally Kettle a part time model became the first and only Miss Leicestershire to win the national title and take part in Miss World!  Sally is now a professional DJ in London and abroad !
The search is on to find the next Miss England representative for Leicestershire .
Apply now if you are aged 16-27 and want the chance to take part in an exciting contest!
You will have the chance to meet likeminded charitable , determined and career minded women who want to be the best version of themselves and it could be the start of an exciting journey!
Send in a snapshot from your phone to [email protected] or complete the entry form on www.missengland.info
If selected , you will be invited to audition at Stu Williamson Photography Studio , and from there,  finalists will be invited to get a sponsor & take part in a catwalk style show on 3rd February 2024 at Kibworth Grammar School !
The contest is supporting SUE YOUNG CANCER SUPPORT 
Tickets will be available soon for supporters – watch this space !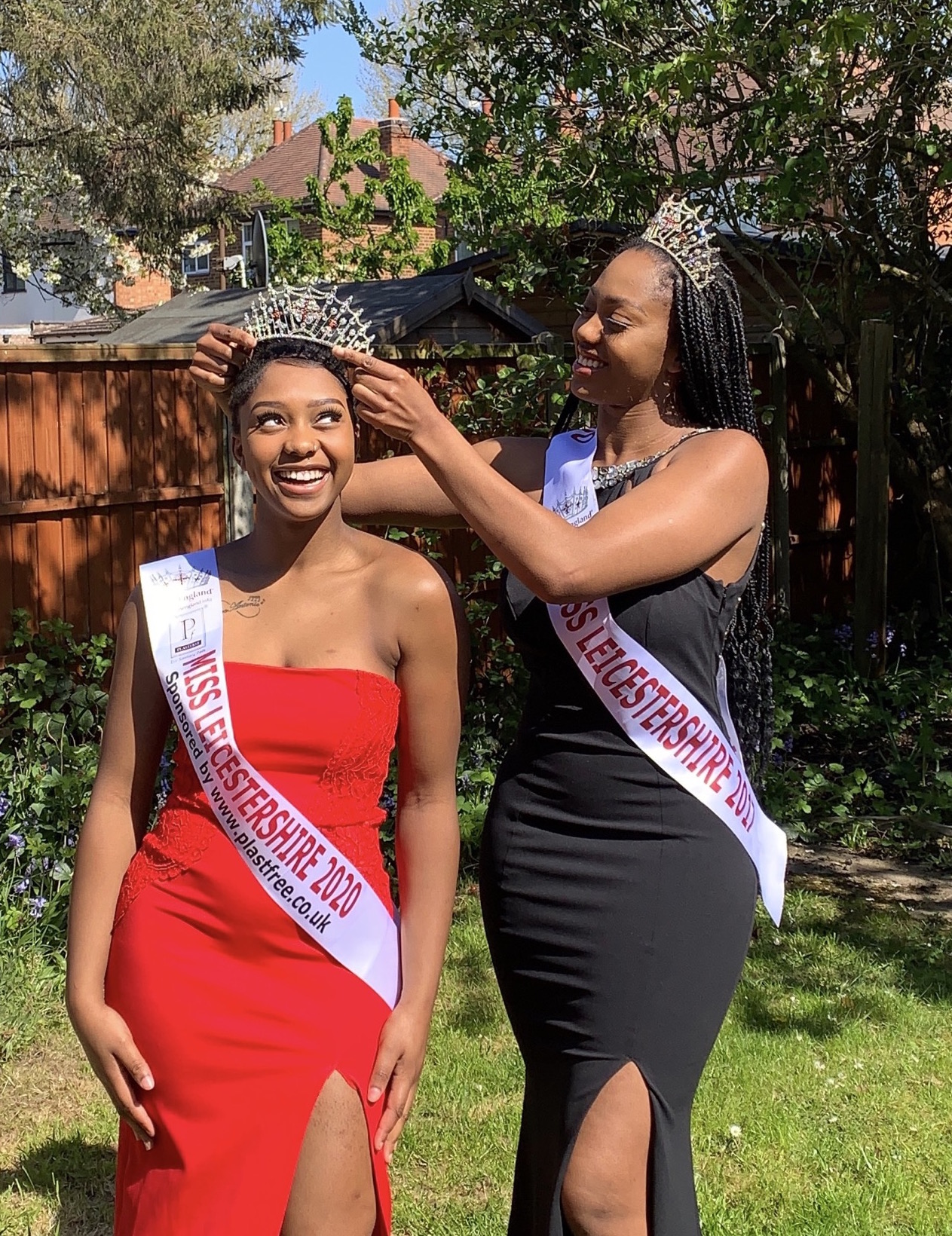 Tia Carter was crowned Miss Leicestershire in her back garden !
Tia received the Miss Leicestershire crown from her big sister Sapphire - who was also winner of Miss Leicestershire in 2017 !
Tia will be crowning her successor at Kibworth Grammar School on Saturday 2nd September 2023