Two years after finishing her degree, amidst the start of the Covid 19 pandemic, Rehema was finally able to celebrate and have her university graduation on 7th July 2022.
Rehema completed an integrated masters degree in Genetics from the
University of Sussex,
in Brighton.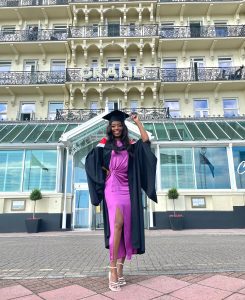 "It's been a long wait to finally have the moment to walk across the graduation stage and celebrate 5 long years of hard work and studying. I studied a subject I'm so in love with, which is Genetics, and so proud to have completed the journey surrounded by the people that helped me along my higher education career. I was one of a few women on my course and the only woman of colour, and to be able to be a representative of women that look like me in this STEM field is an honour and one I hope many other young girls will follow through also. There were many challenges during my time at university, but to have pulled through and still be standing tall with my degree to show for it, is one of my greatest achievements"
CYAN RESTAURANT AT THE GRAND HOTEL 
Courtesy of
The Grand Brighton,
Rehema was treated to a complimentary and delicious meal at the beautiful
Cyan restaurant
, a stunning seafront restaurant with pier to pier views.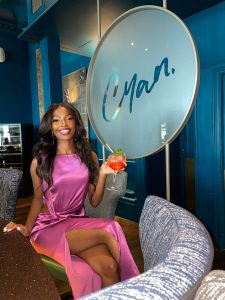 "The hotel and restaurant is gorgeous, with amazing art all around, a very modern design and delicious food to top it off. I had the lobster for my celebration meal and it was definitely a 10/10!.  Thank you to Cyan Restaurant for hosting my family and I we had a wonderful time "