Miss England Winners Now & Then…

Kirsty Heslewood won the Miss England 2013 crown at the Riviera Centre Torquay in the summer of 2013 . It was her third attempt to win the title.

The competition was sponsored & promoted by Torbay Council, and when the competition ended , fireworks exploded outside over the bay of Torquay for guests of Miss England to see…

Angie Beasley , the Director of Miss England since 2002 caught up with Kirsty with a Q & A ..

Image – Silverstream TV

1. What year did you enter Miss England & did you enter more than once? 
2011 was my first time and I competed in Miss Hertfordshire. I then competed in 2012 and Won Miss Hertfordshire which took me to the Miss England finals, and placed in the top 15. I competed for the last time in 2013 and Won Miss North London and then Miss England.
2. Which area did you represent in the Miss England final?
Miss North London and Hertfordshire
3. Was your family with you when you won the crown?
Yes all of my family were there supporting me, my mum, dad, sister, brother and Nan have always been there for me, and we're all crying when my name was announced.
4. Was you studying or what did you do as a job when you won? 
I worked in an office as an import broker at FedEx which was nice as I got to work with my sister. I was also part time modelling but didn't have much confidence.  Winning Miss England gave me confidence to go full time into my modelling and fulfil a successful career in commercial modelling.

6. Where did you travel to during your reign as Miss England
I was very lucky, I was invited to Gibraltar to judge miss Gibraltar, I went to Bali in Indonesia to compete in Miss World, Sri Lanka, Mauritius, Greece and all over the UK. Some of the best trips and experiences I've ever had.
7. Where was Miss World held and how did you get on in the contest?
It was in Bali , Indonesia, a very beautiful country and a great opportunity to travel and explore.
We visited Temples, rainforests, conservations parks where I got to hold an orangutang, and released baby turtles. I'm a huge animal lover so these were precious memories for me. I placed in the top 10 overall out of 130 counties and was awarded Miss UK for placing the highest out of England, Scotland, Ireland and wales.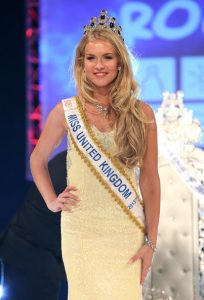 ***
8. Do you still keep in touch with any of the contestants from Miss World, if so who?
Yes I made a watsapp group of all the contestants when we were leaving as we all got on really well and supported eachother. I literally got a watsapp message recently from the group saying Women Crush Wednesday haha
9. What was your favourite or most memorable Miss England appearance
I think Going to Mauritius was an incredible trip.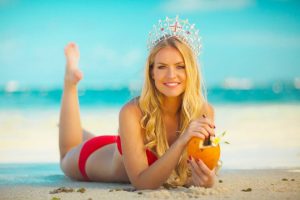 It was like a paradise and I felt extremely lucky to go. I also was an ambassador for Variety children's charity and handed over Sunshine coaches for the children who needed extra support for learning and travelling. It was such a heartwarming experience meeting them.
During Kirstys year , she presented a holiday home with Miss & Mr World to the THNN Charity in Torbay which was paid for by BEAUTY WITH A PURPOSE funds raised by the Miss England finalists , see more on the Beauty with a Purpose page 

Now  ? 
I am still modelling as I love it so much however I love science and beauty and so mixed them together and have been training to become an Aesthetic Practitioner for the last couple of years.
I have finally opened up my own salon and business Called Rose Aesthetics and we encourage natural looking treatments as I feel too many young women are getting "fake looking" and dangerous enhancements and I feel you can do this a lot more safely and naturally by going to the right practitioner.
I want to be someone young girls can trust and be given correct and quality procedures.