Hi Everyone,
Charlie your Miss Eco 2019 here! I thought I would share with you a little story all about my Miss England experience and how I ended up as your Miss Eco 2019.
Firstly, I'll start with a proper introduction so you can get to know a bit about the person behind this blog!
My name is Charlie Jones, I am 25 years old and am from the Black Country in the West Midlands. I am a professional singer and my job consists of touring the UK in a production show that celebrates the music of Little Mix… sounds fun right?! I always get people saying to me "wow, I bet you see so many amazing things and places whilst touring the country". I'll be honest with you all now… I see a lot of the motorway and service toilets! However, it's all great fun and all the travelling is so worth it when I'm up on that stage doing what I love.
When meeting someone new, I always like to find out their likes and dislikes as I feel it's a great and quick way to get to know a little bit more about them. So, I'd like to share mine here with you guys!
Hmmm, what do I like?? Well I LOVE animals… like… a lot. I have a house rabbit called Brambles and he is the absolute cutest but also very cheeky (you have to be careful eating chocolate biscuits around him as they will be swiped straight out of your hand!).
Things I don't like?? Bullies. I am a very open minded person who will accept anyone and anything no matter what and I just don't understand people who aren't the same. I truly believe that everyone should treat each other with the respect that you would want to be treated with. So, I DO NOT like people being mean… it's a no from me! Oh, and spicy food – I can't hack it (I'm talking, if it was once in the same cupboard as a chilli flake it's too hot for me!).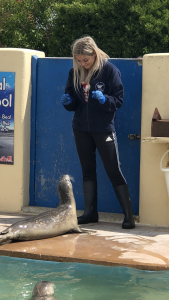 Right, so I think I've rambled on for long enough about me now. I hope it's given you a little insight as to who is behind the screen. NOW… on to the good stuff!
Back in February 2019 I received a phone call about an opportunity for me to take part in the Miss England Semi-Finals! Honestly? I thought it was a hoax.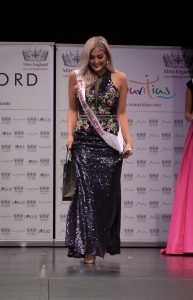 Me in the semi final !
I was in the car with my friend and I couldn't believe it. I had never done anything like that before… at that point pageants were brand new to me. After talking with my friends and family, I decided to go for it… although I really didn't know what to expect.
On the lead up to the semi-finals I met some incredible people whilst doing volunteer work for animal shelters and care homes. I found out so many ways that I could help to make a difference! Due to being on tour I did find this hard to plan in as I was hardly ever in one place for long enough. So, I did my research and found there are SO many things you can do to help whilst being on the move. Things like… donating old bras to breast cancer awareness, sending toiletries to Ronald McDonald Houses, taking pet food to animal shelters, creating a Go Fund Me page to raise money for charity – all whilst being on tour! There are so many ways that you can make a difference even with a busy lifestyle… I learnt that from participating in Miss England and I will continue to do all these things for as long as I can.
The semi-finals were held at The Mechanics Theatre in Burnley on 16th June. My friend dropped me off with my make-up box (yes box… it's too big to be a bag) in one hand and my dress in the other. I was SO nervous! When I arrived, I noticed a lot of the girls competing already knew each other. Being brand new to this world I didn't know anyone! Luckily, the people who run the Miss England competition are so friendly and got us all talking, doing ice breakers and learning each others names. Before long I felt completely at ease and like I had known everyone for years!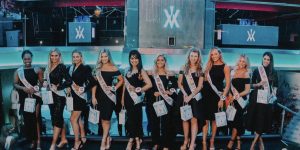 Me in the top 10 of the Miss England Beautiful Hair round above at Aveika during the 2 day Miss England Final !
Throughout the day we had rehearsals for each round (sports, black dress and formal). Then, before I knew it, we were all backstage getting ready for the live final!!! Imagine you and your girls getting ready to go on a night out… that's exactly what it was like (without the pre-drinking of course!). We all helped each other get ready and had such a laugh. Everyone looked so beautiful!
What happened after feels like a blur. I went out on stage in front of hundreds of people and did my first ever catwalk (well my first 3 actually) and I loved them all!!
When the time came to find out who was going through to the final, I remember moving myself out of the way so the others would be able to get passed me when their names were called. Squashed at the back, living my best life clapping for all the girls getting through, I suddenly heard "the next girl going through to the Miss England Final is CHARLIE JONES". I couldn't believe it… ME!! Little old me, who had never done a catwalk or pageant or anything like this at all before, had made it through to the Miss England Final! I can't explain how I felt walking out on that stage and collecting my sash and trophy (all whilst being cheered might I add) but I can say it is a feeling I will never forget!
I'd been so nervous throughout the day that I hadn't eaten anywhere near enough. So on the way home we went straight to McDonald's drive through and I treated myself to a victory Big Mac. And WOW. It was good!
A week or so later, I received my pack for the Miss England Final which explained everything I needed to know about all the different rounds. These were – Bare Face, Beach Beauty, TV Presenter, Sports, Talent, Beautiful Hair, Public Vote, Charity, Brainbox Beauty Quiz and last but never least…. Miss Eco!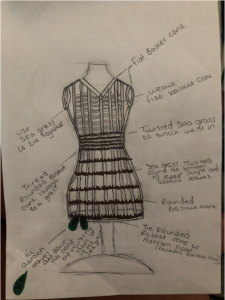 Heres my pattern !
It was at that point that all the preparations began! I wanted to take part in every round… if I was going to do this, I was going ALL in… so that's what I did! Being a newbie to this world I wanted to give it my all and do everything I could to show that I deserved my place in the final. I won't lie, trying to manage my preparation for the final whilst being on tour was hard and very tiring but with help from my friends and fiancé Ryan, I managed to pull it off!
The final was held at The Newbridge Hotel, Newcastle on 1st August 2019. I spent a couple of days there with all the other finalists on the lead up to the big day and boy were they none stop days! As soon as we arrived, we were straight in to it. We had so many rounds to compete in before the final, and although it was very fast paced it was managed so well that it wasn't at all stressful and everything ran seamlessly. Day 1 consisted of the Brain Box Beauty Quiz, Bare Face, Eco, Sports and Beautiful Hair rounds. And what a day it was, I honestly loved every second of it. I can't stress enough how well planned it was. I also got the opportunity to get to know all the finalists (as obviously I had only previously met the girls at my own semi-final) which was so lovely.
Day 2 consisted of rehearsals all day to prepare us for the final in the evening. We went through each round and were told what to do if we were lucky enough to win one (as we still didn't know at this point who the winners were!). Once rehearsals were finished for the day we made our way into hair and makeup (I know… who am I?). As I sat there having my hair and make up done I felt like a Princess!
Right. Lets fast forward to 8:30pm. The final has started and I'm waiting nervously backstage praying I won't forget anything from rehearsals. All I remember thinking was "wow Charl, you've made it to the Miss England Finals and no matter what the outcome look how far you have come". The whole night was incredible! Such an amazing experience and one I will never forget. Out of the 10 rounds I placed and won stars in a total of 7!! I couldn't have been prouder, oh and I'm not sure if I've mentioned this yet but… I WON THE MISS ECO 2019 TITLE!!! Honestly, that feeling when they called MY name. I froze. I was overwhelmed with pride. I had done it. After so much support since the very beginning from my family I felt like I had won it for them. The emotions I felt at that point are indescribable. I could see my Mom and Ryan sat in the audience absolutely beaming! I couldn't look for too long because I was about to burst into tears and I hadn't walked my evening gown cat walk yet, so having mascara down my face was not an option!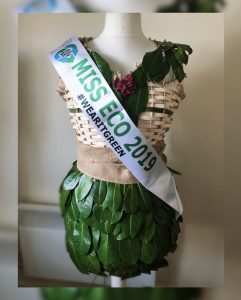 My completed winning Eco outfit !
From then on the rest of the night is a blur…. I was on cloud 9! I'd done it, I'd actually done! Not only did I win Miss Eco, but I also placed 9th in the whole competition. Wow, it still amazes me now. ME! I never even thought I would make it to the final so being there on that stage accepting my sash was such a surreal and amazing moment that I'll remember forever.
Now then. THIS is the section you've all been waiting for… my pride and joy… MY ECO DRESS! I hope you're still reading at this point (if you are thank you, if you're not then you're missing out). Let's rewind a little bit to when I received the information pack for the final. I went through the rounds and decided what I would do for each. When it came to the Eco round which was "Wear It Green" I wanted to create a dress that wasn't just a little eco-friendly… I wanted it to be 100% compostable. Did I know how to do that? Nope. Was I going to find out. Of course!!
I did some research into fast fashion and the devastation it is causing to the planet and I wanted my dress to raise awareness of that. By this point, I was fully invested and went all out. I made my dress from all-natural materials and created it entirely by hand. I started by using rounded basket cane for the basic structure, I then weaved flat basket cane to create a corset and plaited sea grass through the structure that I would later attach real laurel leaves to. I'm not going to lie… it took me weeks to make and there were times I thought it was going to be a complete disaster. I'd never made a dress before let alone one made completely from natural materials. But, with help from Ryan, we powered through and created the most beautiful dress (I'm not even biased, check out the pictures!).
We travelled up to Newcastle the night before the final and had the structure of the dress in the boot of the car ready to go… leaves still unattached! We had to wait to attach the laurel leaves until the very last minute so that they would be fresh for the day of the final. We stayed up for hours that night untwisting every section of sea grass and tying the 500 leaves in place… one by one. This round meant so much to me not only because of how hard I had worked but because of how shocked I was when doing my research into the fast fashion industry – I felt so passionate about the subject and wanted to educate others and what better way to do so than through my creativity!
To give you some insight… consumers are buying and discarding clothes so quickly that more and more are ending up in landfill. Synthetic fabrics such as polyester and lycra can take hundreds of years to decompose and the dyes in the clothing can be so harmful to the environment. When I am done with my eco dress (it's currently propped up in my house like a trophy) I will be able to put it out in the garden and it will decompose naturally leaving no toxicity in the soil. I'm not ready to let go of my prize-winning dress just yet, so instead I took off all the leaves which had turned brown and I am left with the dress structure!
Obviously, I'm not expecting people to walk around in clothes made of cane and leaves (I love my dress but I wouldn't wear it out and about for fear of the leaves blowing off and exposing me!!). I just wanted this to be a huge statement to raise awareness of just how damaging fast fashion can be and hopefully it has inspired people to have a more ethical wardrobe.

Upon winning Miss Eco I was introduced to a lovely lady called Kelly Levell who is the founder of We Do Ethical Fashion. Kelly is one of the kindest women I have ever met, she sponsored the Miss Eco award and provided the amazing prize winning hamper that I won! I had over £1,000 worth of eco friendly treats. There were SO many fabulous eco-friendly prizes from Spine Optics sunglasses to Unicorn Cosmetic make up brushes! Kelly also came up with the hashtag #wearitgreen which has helped to spread a lot of awareness over the years.
I just wanted to share with you Kelly's current quote:
"With political commitment and the right resources, young people have the potential to make the most effective transformation of the world in a better place for all."
After meeting Kelly and because of my title, I was lucky enough to become a brand ambassador for We Do Ethical. I have learnt so much from working with Kelly and have been to lots of exciting events to help raise awareness.
Before I wrap this up, I want to let you know my top 3 favourite easy eco switches that I have made to help make a difference that you could do too!
REUSABLE ECO COFFEE CUP – Disposable cups for hot drinks are made from a variety of different materials that are very difficult to recycle. This means that most are destined for landfill. Choosing a reusable eco cup made from materials such as bamboo will not only save waste but also can save you money as more coffee shops reward customers for bringing their own cup!
SAY NO TO A STRAW – When ordering drinks ask for it without a straw. It is a small sacrifice, but a huge step to reducing the amount of plastic we create and waste. If you miss the straw experience, you can replace the plastic one with reusable straws that are glass, stainless steel or bamboo. You can keep them in your bag!
REUSABLE SHOPPING BAGS – Take your own reusable shopping bags when you go grocery shopping. If you forget yours, ask for paper bags or a cardboard box instead of a plastic bag!

I have 2 reusable bags that fold into cute little triangles and I keep them in my bag for whenever I am out shopping!
See. Easy, right?! That's just 3 eco-friendly changes you can make immediately that won't effect you yet can massively help the environment. I urge you to go online and take a look at what other small changes you could make and then help spread the word!!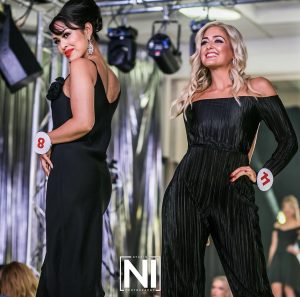 Walking the catwalk in the Top Model final catwalk with Bhasha who went on to win Miss England
So. Overall. How would I describe my Miss England journey? A rollercoaster. It was definitely one hell of a ride. I experienced every emotion… you name it, I felt it! From exhaustion from the preparation to the excitement of being on stage to the overwhelming feeling of pride when I won my title and the anxiety of the things yet to come.
Miss England was a great experience for me and a memory I will cherish forever. I learnt valuable skills and made life long friends. Miss England is an incredible platform for so many young girls. I've had an unbelievable year and to the next Miss Eco (though I will be sad to hand over my crown) I hope the title brings you as much pride and fulfilment as it has brought me.
I hope you've enjoyed reading about my experience and if you are thinking about competing in Miss England all I can say is GO FOR IT! You have to be willing to work hard but you won't regret it … Oh. And good luck!!!

If you would like to see what I've been up to since winning my title or want to come and say hello then head over to my Instagram and feel free to drop me a message @charlieejones.

Finally, I wanted to end this by acknowledging the crazy times we are currently living in! I know it's hard, harder for some than others, but please try and stay positive and know you are never alone and we will get through this together.
"It's not always easy, but that's life. Be strong and know that there are better days ahead."
Lots of love, your current Miss Eco. Charlie x
Follow Charlie on Instagram @charlieejones