ISOBEL WINS MISS BLACK COUNTRY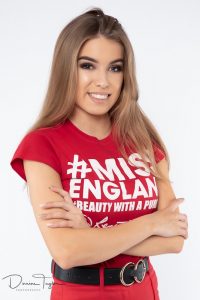 Isobel Crowned the new MISS BLACK COUNTRY 2020 during Lockdown.
ISOBEL LINES (20) a Sports Science Student from Wednesbury was crowned as Miss Black Country 2020 on June 3rd. She is the FIRST ever Miss Black Country to be virtually chosen due to the current COVID-19 outbreak.
During lockdown, Isobel continued her charity and community work, raising thousands of pounds for charities including; Papyrus, NHS and Beauty With A Purpose. Isobel has also been volunteering for the Midlands International Aid Trust, distributing PPE (Face Visors) for local care homes and keyworkers including Acorns, Aldridge Nursing Home and the YMCA Carters Green.
After successfully winning the Miss Black Country title, Miss Lines accepted the Chief Ambassador role for the charity project WASUP (World Against Single Use Plastic). Since her involvement, Isobel has launched the project in Worcester and has also been visiting local schools within her community, presenting educational sessions upon the dangers of plastic pollution. You can visit WASUP via: www.wasupme.com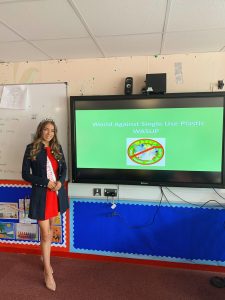 Isobel is also a Mental Health a Suicide prevention ambassador, raising awareness for the cause after her school friend Viren Patel from Stuart Bathurst Catholic High School passed away. ''During school, we were never taught about Mental Health, I believe this pays a strong role in my friends' death. Thankfully, as of September, it is compulsory for schools to educate students on Mental Health following the National Curriculum changes''. ''I wish to use the title as a platform to normalise Mental Health and help as many people who have suffered with what I have'' Isobel added.
Since sixth form, Isobel has suffered with Acne, something which she believed may have impacted her chances within the competition. In 2019, Miss England introduced the 'BARE FACED ROUND' to encourage women to feel confident within their natural skin. For Isobel, this was a challenge as her natural skin was a mentally pressurised topic. However, both last year and this year, Isobel opened up about her struggles and submitting the images after almost deciding not to.
Isobel has been competing in Miss England for 4 years and has collectively raised over £10,000 for charity but had NEVER won a regional title. She first competed for Miss Black Country at 16 years old. In 2019, she was successful in reaching the Finals after placing Top 5 in Miss Birmingham and winning the Publicity round. This year, Isobel returned for one final time, competing in the Midlands Heat and was finally successful. ''I am beyond overwhelmed. Competing for 4 years and raising over £10,000 for charity has been an incredible journey but finally winning a regional title means so much to me. It feels like a massive weight off my shoulders. This is evidence that hard work and determination will always pay off''.
Away from Miss England, Isobel is a well-known Equestrian rider, specialising in Showing and has competed at the Horse of the Year Show for 8 consecutive years and Royal International for a decade. HOYS is hosted at the NEC, Birmingham, neighbour to the Miss England Finals venue. She is also the Chairwoman (2 years) of the University of Worcester's Equestrian Club and Student's Union RAG committee as well as working at the YMCA charity in West Bromwich.
Isobel will represent the BLACK COUNTRY at the next MISS ENGLAND FINALS.
To Interview Isobel or for further pics  contact 
Miss World have announced that the 70th Miss World Final is now being rescheduled and planned for the Autumn of 2021 restrictions permitting !
To read more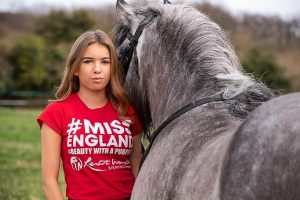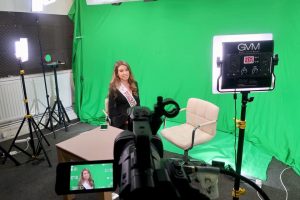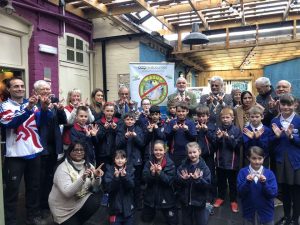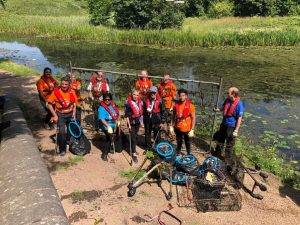 Isobel is sponsored by ;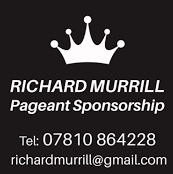 OTHER MEDIA ISOBEL HAS APPEARED IN INCLUDE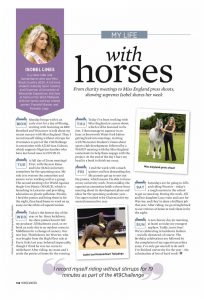 University of Worcester:
Horse & Rider National Magazine:
Horse & Hound Magazine
ENDS