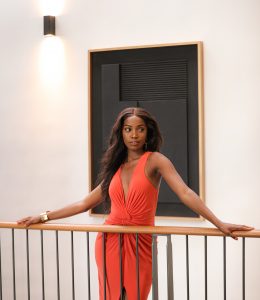 Rehema Muthamia from North London will be traveling back to Puerto Rico in March 2022 for the completion of the 70th Miss World Final. Rehema has already spent almost a month in the Caribbean country participating in qualifying rounds  in November – December 21. The contest was postponed on the last day of the event due to an outbreak of Covid . All 98 contestants returned home without a winner being crowned and only less than half have been invited to return in March ..
It won't be the first long haul trip Rehema has taken recently . Rehema was since been invited to stay with Lux Resorts and hotels in Mauritius with the former Miss England winner " Dr Bhasha Mukherjee"  who won the trip back in 2019. Rehema enjoyed a week of activities with a team of Miss England top fundraisers and sports winners . Due to the pandemic that trip couldnt go ahead until this year with Dr Bhasha working on the front line and travel restrictions!
" Despite the setbacks I'm really looking forward to continuing my journey and competing in the 70th Miss World contest again. Most of all I look forward to seeing my Miss World sisters from across the world again, as we all formed such an amazing sisterhood" Said Rehema .
Rehema's charity project was selected as one of the top 6 winners of the Beauty with a Purpose qualifier which has now fast tracked her in to the final 40. 
"Phoenix Rising" is the name of the project which focuses on educating youth, raising awareness and eradicating the shame surrounding domestic abuse. Rehema is an ambassador for One Woman at a Time , a charity highlighting FGM and violence againt women in the UK , Africa and India . Using her own experiences Rehema uses the education of youth to recognise abusive behaviours and understand healthy relationships, to save lives of the next generation.  Rehema has been invited by the charity to speak out at schools before she embarks on her trip back to Miss World.
You can see Rehemas Beauty with a Purpose  video here ; 
https://www.youtube.com/watch?v=mkDxe5dBTt4
Reflecting on her travels as Miss England so far Rehema said " Experiencing both the Puerto Rican and Mauritian cultures in the space of 3 months has  been a wonderful  opportunity which I'm truly grateful for ".
PLEASE NOTE ;
For further information about One Woman at a Time visit
https://www.onewomanatatime.co.uk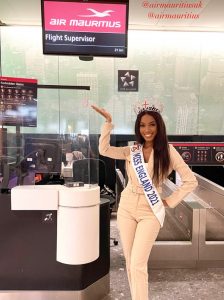 Please support Rehema's bid to be the next Miss World visit her website for the
Miss World – Digital Media Challenge