DEYONNE RAISES MONEY FOR HOMELESS CHARITY
DEYONNE BEST has been raising money for The Y Sponsor a House Campaign as part of the Leicestershire and East Midlands heat for Miss England.
"At this current moment in time we as a nation are all being asked to stay in our houses to prevent the spread of COVID-19; however, some of us don't have a home to go to," explained Deyonne, a 22-year-old dance teacher.
"I am raising funds for The Y Sponsor a House Campaign helping to house homeless young people as they are not only extremely vulnerable at this time, but at all times," she continued.
The Y is the leading youth homelessness charity for Leicester and Leicestershire, and is part of the national YMCA network. The young people that Y works with are often living traumatic lives and experiencing family breakdown, bereavement, depression or abuse.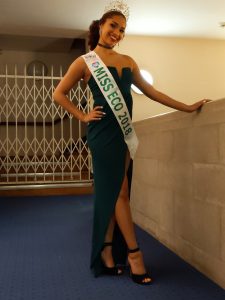 Y provides safe and welcoming accommodation for up to 101 young people aged 16 to 25 at any one time, through a mix of flats across two sites in Leicester city centre and Aylestone. It then offers the support that they need to move towards independent living, employment and training.
Y is sponsoring 'move on' houses. Each house acts as a stepping stone towards an independent tenancy for five young people at a time. It takes £6,000 to fund a move on house for a whole year, but smaller amounts make a big difference – £100 will pay for a room for one young person in a move on house for a month.
"Initially I was going to raise funds in my local supermarkets, however due to the current circumstances these appearances have obviously not been able to go ahead," said Deyonne.
To support Deyonne's funraising efforts please visit https://www.gofundme.com/f/1ym758m52o?sharetype=teams&member=4081316&utm_medium=copy_link&utm_source=customer&utm_campaign=p_na+share-sheet&pc_code=ot_co_dashboard_a&rcid=4ab3dd4d84114389b3f94551c3f5e5bf&fbclid=IwAR3V2XgyRYHu6aXT124ApQrfExC4YbnottuG0Nuqf75l05j8-l3bY08niH4
During lockdown, Deyonne has also been fundraising by making Moana princess appearances on Facetime and organising a virtual pub quiz.
The Miss England Leicestershire and East Midlands heat was originally due to be held at the Y Theatre in Leicester but was postponed due to the current situation. It was subsequently held digitally with a photo / text vote and a video round. Deyonne now goes on to the semi finals.

Away from the catwalk, Deyonne is a graduate of Expressions Academy of Performing Arts having undertaken a three-year musical theatre course. "I have loved Performing since a very young age," she said. "I have danced since the age of five and have trained in many different styles of dance. I also found my love fror acting when I joined Expressions Academy of Performing Arts".
She was previously placed in the Top 20 of Miss England in 2018 when she was crowned Miss Eco and signed by an international modelling agency.
Follow Deyonne on Instagram: Deyonnerobynxx
Miss England also raises money for BEAUTY WITH A PURPOSE which was created by Julia Morley in 1972. It is at the heart of Miss World. Hundreds of millions of pounds have been raised and donated to local and international organisations in aid of disadvantaged children the world over. Through the empowerment of Beauty with a Purpose, hundreds of millions of dollars have now been raised to the benefit of the most vulnerable in our society.
Visit www.beautywithapurpose.com
Deyonne is sponsored by: Richard Murrill