Calling all young changemakers
aged 16 – 26
!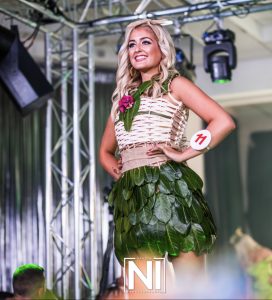 Young changemakers in the South West will be able to make a difference whilst having fun with the opportunity to win a regional title which could lead to a life-changing prize of 100k.
This year, contestants in the South West We Do Ethical awards will use their 'lockdown' fashion skills to make and model eco-friendly outfits made entirely from recycled materials that they find around their homes.
Combined with raising money to facilitate tree planting, this initiative will help support the UK Government's target to make the UK completely carbon neutral by the year 2050. The young contestants will win a brand ambassadorship with We Do Ethical and the chance to win regional titles across the South West of England for the official Mr & Miss England contest. This is a life-changing opportunity and the only route to enter Mr & Miss World from this region.
Last years' winners included Arts University Bournemouth fashion design student Alina Green, 21 who holds the current title of Miss Dorset and Liam Royce Ulla, 25, kite surfing champion,   and founder of Coacoara Foundation; who was crowned Mr Dorset. Both work as brand ambassadors for not-for-profit organisation We Do Ethical run by Dorset-based sustainability expert Kelly Levell. Both Alina and Liam will be representing their county at the national finals this year as a result of their hard work and dedication; embodying the contests ethos of 'Beauty with a purpose' and raising thousands of pounds for causes close to their hearts.
Miss Levell from Dorset, was an early adopter of the sustainable fashion movement and launched We Do Ethical in 2009, to help stop fast fashion. The ethical awards aim is make the entire South West more sustainable in order to help support a carbon neutral planet through tree planting pledges.
Kelly says "With political commitment and the right resources, young people have the potential to make the most effective transformation of the world into a better place for all."
This year, the awards will be presented online due to Covid-19, held association with Plastfee Eco Sanitary Pads. They will have the opportunity to meet like-minded friends, gain confidence, learn new skills as well as tackling eco-social issues with the awards sponsors, partners and charities throughout the year.
If you don't fancy entering yourself, you can still join in the fun by pledging trees to help support the cause or by sharing a photo of yourself in your best green outfit for shoutouts on social media, using the campaigns hashtag: #WearitGreen
Potential contestants only have until 20th July to enter. For more information and to enter online, visit: wedoethical.org/Ethical-Awards
__________  ENDS ___________
Images can be found here. For further information and photos: please contact:
Kelly Levell (Founder) – [email protected]– 07581 008382
Emma Harrison (PR & Marketing ,Manager) – [email protected]– 07709 437695
Facebook @wedoethicaliving
Twitter @wedoredo
Instagram @wedoethicalliving
Notes to Editor:
We Do Ethical is an award-winning brand that works with people and businesses to provide them with the knowledge and power to attain a C02 status. This will subsequently help achieve the UK Government's target of making the UK carbon neutral by the year 2050.
Founder of We Do Ethical Kelly Levell, BA (Hons) Fashion Studies  encourages you to 'Be the Change' and is one of the industry's pioneers on both tackling fast fashion and other sustainability issues. The business provides a free carbon footprint offsetting tool that plants trees in order to reduce global warming and to implement sustainable development for our people, planet and wildlife.