On the first day of the recent Miss England India Tour  – the team visited the "Eknoor Charitable Trust" in Amritsar founded by "Bibi Manjit Kaur ji" and "Baba Parminder Singh Ji" .
The charity raises abandoned baby girls discarded by their parents at birth , just because they are female .
Dr Bhasha Mukherjee former Miss England fell in love with the children when she visited the same charity back in 2019 before the pandemic began .
Bibi Manjit Kaur ji has worked really hard and transformed the lives of many young girls who now look so happy and confident.
Jessica Gagen Miss England 2022-23 and Ms Indi Hope Fenwick a Miss England 22 Finalist who is also Miss England WASUP – Environmental Princess attended with the Miss England Director "Angie Beasley" and colleague "Anupama Jaidka" .
All the team were very surprised by an amazing welcome by children of Eknoor who were so excited to have the visit from Miss England.
Sarpanch Sahib, the head of the village in Amritsar called Boudi (same as Lord Mayor of Village) was there to welcome the team .
Miss England and Miss WASUP Princess & the team were overwhelmed by the unexpected display of love and respect for the guests.
The children threw rose petals at the guests on arrival and gifted bouquets of flowers to Miss England team and Bibi Manjeet Kaur and Sarpanch ji as a token of appreciation of the work they are doing to support these abandoned girls who are growing up without their natural parents.
Two young girls at the home were abandoned because they were born blind and these two girls were also equally excited. They cannot see but they feel the beauty of Miss England who was very emotional with this experience.
The best part of the visit for Miss England and the children was when Miss England interacted with children helped by Lion Anita Bedi.
The Miss England team brought some token gifts for the young girls – bangles, & special key rings . Jessica Gagen gave a signed photo to each child who'll keep these as souvenirs to remember this visit.
The team were given mementos to take away to UK which was a great honour.
The Miss England team was impressed to see the bedrooms that the children sleep in and other facilities at the home and were treated to snacks during their visit and had photos taken which then appeared in local media .
Coventry Mercia Lion "Dr Rakesh Sachdev" said BOPA will continue to support this charity in future.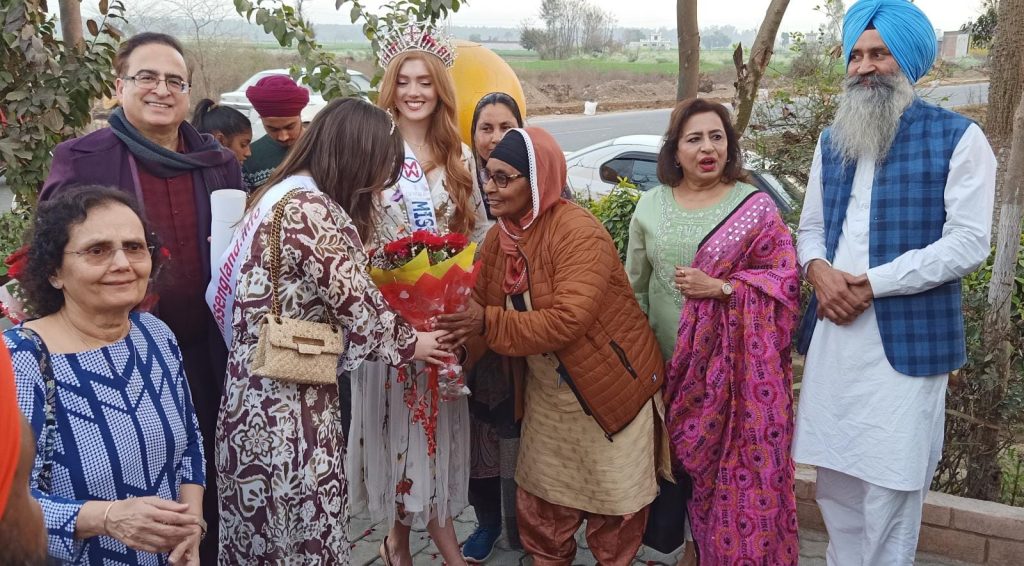 "Eknoor Charitable Trust is an amazing Charity and Bibi Manjeet Kaur and Baba Parminder Singh ji have worked hard to transform the lives of young girls who were abandoned by their parents because of their gender especially two girls who were born blind. BOPA were happy to see the excitement and feeling of empowerment in children who interacted with Ms Jessica Gagen, Miss England and they will treasure the memory of this visit for a long time." Davinder Prasad JP MJF General Secretary, BOPA
To find out more about the Eknoor charitable Trust visit their page on facebook here
To see more about images from the visit go to the article on the Miss England App, the App is FREE to download and available on the Google Play & App Store