Alice Jones (26) who works as an NHS Paramedic has just become the latest contestant in England to qualify for the Miss England 22 semi final.
Alice was crowned a semi finalist at the first ever National Prom Show on Saturday 23rd April in Birmingham.
Alice was presented with a St Georges Tiara to mark the St Georges day  from the Miss England Sportswoman winner Erin Smith A sash from the Miss England Director Angie Beasley & flowers from Philip Edwards a veteran Royal Australian Navy who's promoting the Invictus challenge.
This was presented to Alice after she took part in her very first catwalk modelling glamorous evening wear with other Miss England contestants.
Alice said after it sunk in, " I entered Miss England as a challenge for myself as it's completely different to my day to day job as paramedic. My first catwalk was at the National Prom Show where I went from spending most my time in steel toe capped bootsand my hair in a messy bun to wearing a fancy evening dress with my hair and make up done.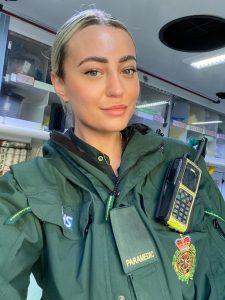 The day was amazing, I met some lovely people and I actually really enjoyed pushing myself out my comfort zone, walking down the catwalk. This was my last year I could enter for Miss England and after a stressful couple of years working through the pandemic I thought why not , life is way too short. In addition, I've overcome some personal barriers over the last 2 years and I would never of thought I would have the confidence to enter Miss England. It's proof with enough determination you can achieve anything you put your mind to.
Getting through to the semi finals was something I never expected, but honestly I am so honoured and I am really enjoying the process so far. I am looking forward to what the future holds and I welcome every challenge that comes my way." said a delighted Alice .
Miss England Virtual heat 3 was held for a month on the Miss England App.  The competition introduced the virtual round and the app during lockdown so contestants could still compete!  They submit their entries by making a home made video of themselves speaking to camera and doing a catwalk!
Everyone who is selected for the heat submits an introduction and catwalk video and the public and judges voted for who they wanted to see in the semi final.
Alice is 6ft tall and works for West Midlands Ambulance services and listed her interesting fact as being able to eat a large dominos pizza and cookies in one sitting!  20 contestants took part in Heat 3 and only 2 are going forward from this heat .
In the lead up to the semi final Alice like all other semi finalists will be invited to promote her hometown or city  in her own diary video and will be invited to raise funds for Beauty with a Purpose , the Miss World charity as part of the contest .
For the catwalk , as it's the queens jubilee the competition is celebrating Fashion through the last 7 Decades and are inviting finalists to create a final their own catwalk outfit to reflect this. The outfit must be recycled, purchased from a charity shop or handed down from mum or a family member or friend to promote recycling and the last 70 years of female fashion.
The Miss England Semi Final catwalk and interview takes place on 22nd August at the Taj 51 Buckingham Gate Suites and Residences in London.
To vote for Alice download the Miss England App for FREE available from the google play or app stores to claim your FREE daily vote once voting for the semi finalists commences .
The winner of the public vote and other award winners  and judges choices will be fast tracked through to the Miss England Grand final in October 22.
The public vote for the Miss England semi final will be starting on July 15th on the Miss England App.
MORE INFORMATION ;
See Alice in the Miss England semi final here ;
https://www.missengland.info/qualifiers/semi-final/#tab-contestants
Support Phils Invictus Challenge here ;
Since this press release was circulated it has appeared in numerous publications including  ;