Simba Quartz is a leading it Consultation and software developer firm, operating their services from India and serving clients across the globe .
The team develops builds & distributes digital products.
Mandeep Kaur Tangra is the founder and CEO of SimbaQuartz and series of ventures. She has appeared as a speaker, twice at TEDx, corporates, the United States, IITs/IIMs and many other elite institutes. Her venture has been awarded as "The Upcoming Start-up of The Year 2016" by ASSOCHAM India.  Mandeep kindly invited "Miss England" Jessica Gagen and the team to visit their premises in Tangra Amritsar for a special welcome to India event .  After the team visited two temples the team travelled to offices of Simba Quartz .
Mandeep organised a wonderful reception for Jessica who then got to meet members of the tech team . Jessica spoke about the importance of promoting women in to STEM careers which is her Beauty with a Purpose Campaign in Miss World during interviews with the media at the pre arranged press call and had a one to one interview with Mandeep which can be seen here ;
Jessica Ashley Gagen | Miss England 2022-23 | Mandeep Kaur Tangra video
https://www.youtube.com/watch?v=cJV-6Bq8LhQ
The team where then introduced to the amazing TECH SCHOOL ON WHEELS & SHOE GIVING CAMPAIGNS , both charitable projects arranged by the Simba Quarts and Simba Stars.
The Tech school on wheels regularly visits children living in remote villages and helps educates them with computer skills .  "It is our endeavor and dream to provide quality education facilities to the children of economically weaker families, at our own level, as these children also deserve it. There are many bright children in slums also who can excel in the IT sector just like anyone else but the limited resources do not allow them. Thus we have developed this concept of 'school on wheels', where we shall regularly visit the slums to teach the sincere students IT lessons for their brighter future. " spokesperson for Simba Quartz
Simba Quartz has already donated 19,000 pairs of shoes to children living in the slums of india .  The goal is 50,000 !
During the visit , the team were invited to give a number of children new footwear to show th team how the campaign works.   Angie Beasley the Miss England Director and Jessica Gagen both took part in the shoe giving campaign along with the Miss England Tour organiser Davinder Prasad  and met some of the  underprivileged children .
See the video of the shoe giving campaign
https://www.youtube.com/watch?v=5ck1i93z_5k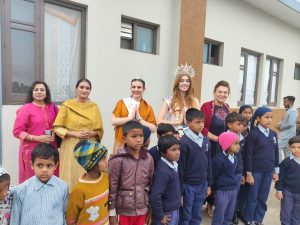 The Miss England team would like to express their gratitude to Mandeep and her team for giving us such a warm welcome to their business & charitable projects .
For more details of this visit and more images visit the
Miss England APP
For details of  SimbaQuartz visit www.simbaquartz.com