Miss England Bare Face Finalists 2021
MISS ENGLANDS BARE FACE TOP MODEL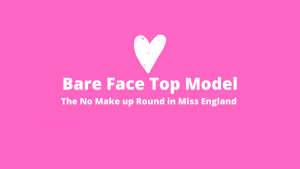 The No make up round in Miss England called by the media as a  "Groundbreaking move" .
As with all of the Miss England rounds , this round is optional and is being held between our 2021 finalists . We want to see the contestants fresh faced, no make up as we want to see the real person . The finalists are invited to submit their own image , no filter , make up free ! Then post on their own social media using the hashtag #barefacetopmodel
We want our finalists to be happy in the skin they are in without the need to pile loads of make up on . Yes we all enjoy wearing make up , but not all the time !
When we launched this round in 2019 , the media couldnt believe a competition like Miss England was going Make up Free.
Stories across the world started to appear in major media channels and our own director Angie Beasley was invited on  BBC1 BREAKFAST NEWS to talk about how the Miss England contest has moved with the times .
The first ever Bare Faced Top Model winner is Rebecca Gormley , Miss Newcastle 2018 ( pictured)
Event details
Date
August 27, 2021
Venue
Heart of England Conference Centre
Organiser
Angie Beasley
Website
Visit website