DENTAKAY BRIGHTEST SMILE AWARD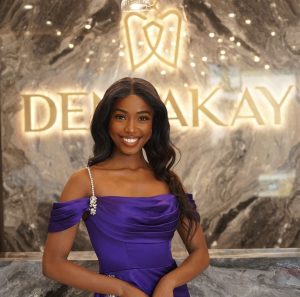 Dentakay is the new Dental partner for Miss England 2022.
The award winning dentist is running a special award in the Miss England 2022 competition  called the
DENTAKAY BRIGHTEST SMILE !
This is a special award which will fast track ONE winner  with a beautiful smile to the Miss England grand final Top 12!
DENTAKAY is the new and recommended dental partner for Miss England 22 & our very own Miss England Rehema Muthamia visited their HQ earlier this year to check out their state of the art facilities
Dentakay will be looking for a contestant with a great smile to be a brand ambassador!
Check out their website to find out more about this amazing Dentist and their state of the art clinic www.dentakay.com
Miss England Sportsround 22 – Penalty shoot out chooses the winner!
3 days ago
PRESS RELEASE
3rd October 2022
MISS ENGLAND 22 SPORTSROUND RESULTS
The official sportswoman winner in the Miss England 22 national finals sponsored by Dentakay Dental Clinic is " Leah Carter Welch" ( 21) from Greenwich South London .
The sports round took place at the Football Dome in Aylestone Leicester , a facility shared by Leicester City Football Club for training.
Leah has practiced Ju-jitsu for the last 15 years and has done boxing for 3 years and is currently training to be a PE Teacher.
"I'm over the moon to have won the round in Miss England its always been about sports for me and now im so excited to be fast tracked in to the final 12 of Miss England.
1st runner up went to Emily Cossey from Chelsea and 2nd runner up was Alice Jones a paramedic from Walsall .
The fitness round was taken by local Leicester PT Rob Hughes of Hughes Total Fitness who selected a top 10 who then  competed in 3 rounds of a penalty shoot out!
"I'm really pleased to be asked to assist in the Miss England Sports & Fitness round and would like to wish all the contestants the very best of luck in their own personal journey"
said Rob Hughes PT.
"Training supports my desire to stay in shape and connects me with individuals I admire across all walks of life. More than anything though, it gives me the opportunity to help people change their lives and become the best version of themselves."
To celebrate the Lionesses win, the Miss England national finals have included a penalty shoot out in this years sports round.
The 2021 Sportswoman winner "Erin Smith"   a former footballer became the goalie for the penalty shoot out to decide the ultimate winner . Here she is with the Leah following her win!
Now Leah is fast tracked through to the top 12 in the Miss England final which takes place over 2 days on the 16th & 17th October at the Holiday Inn Birmingham Airport .
The sports round is one of 12 rounds in the competition, other rounds include the Cetuem Bare Face round , a Talent , Artero Hair Catwalk and fundraising round for Beauty with a Purpose.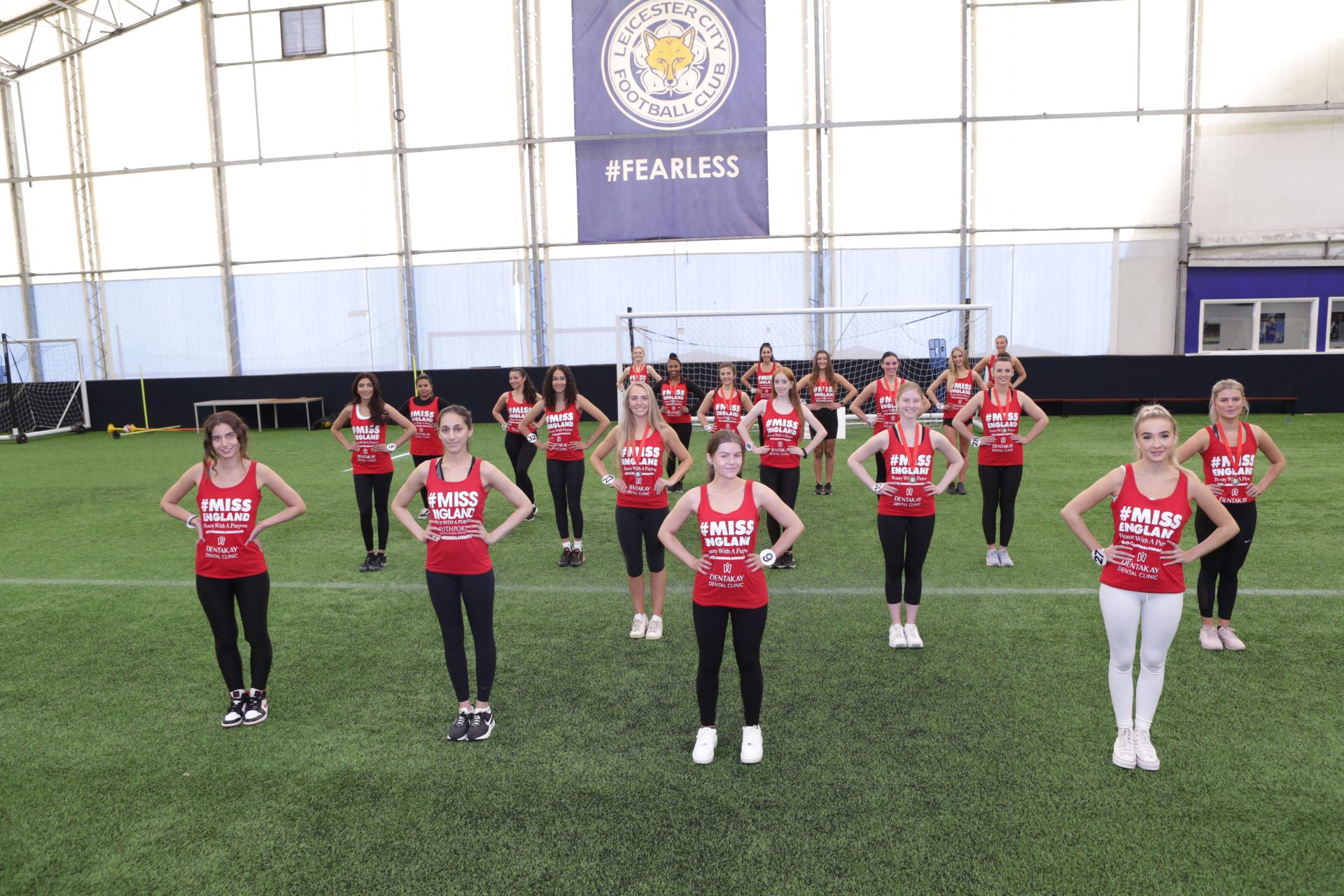 To vote for your favourite Miss England finalists download the app for free and claim a free daily vote for your favourite contestant
For more details visit..
ABOUT HUGHES TOTAL FITNESS
With over 25 years experience of working with people of all ages, abilities, shapes and sizes, all with their own particular requirements, whether it be weight-loss, muscle-building or general health and well-being I believe I have the knowledge, experience and ability to help you achieve your own personal goals and also help you in the process of achieving them.
mob – 07885288604
instagram – hughestotalfitness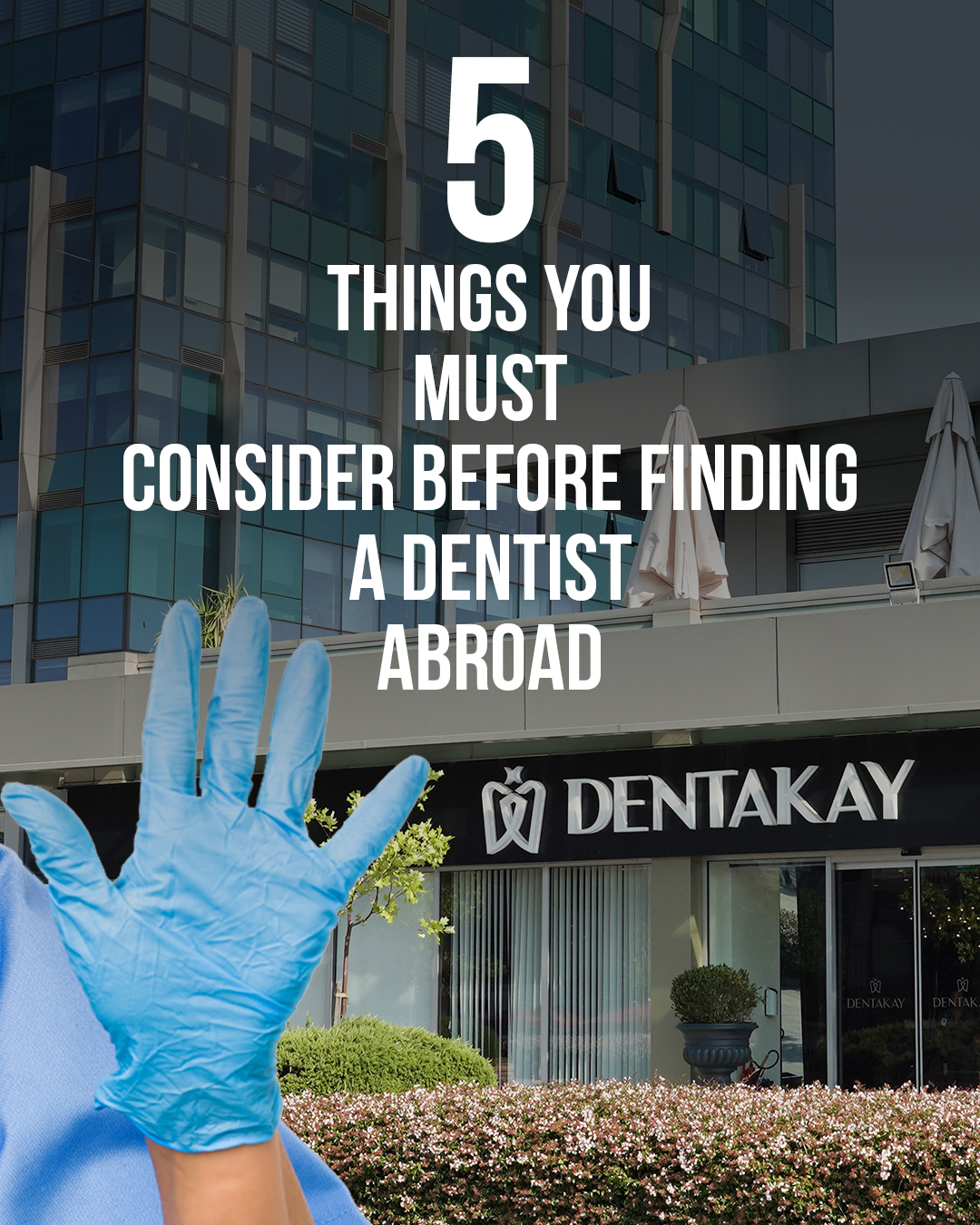 5 Things You MUST Consider Before Finding a DENTIST ABROAD.
3 weeks ago
When Trying to find a dentist, especially overseas, where you might be considered gullible and exploitable, being able to see the red flags is an advantage. For you to be able to spot even a slight majority of them, you would need to have spent at least a few years in the field. As a result, we compiled this list of what we think are 5 of the essential factors you MUST consider while finding a dentist overseas.
Like many things in life, a smile is something that you don't really realise the importance of until you don't have it anymore. It may seem very trivial, but once you find it hard to smile anymore, for whatever reason it may be, then the reality of what you're missing dawns on you. Once the insecurity of having a smile that you don't like starts to increase, your psychological state slowly starts to reflect that. You find yourself being over-conscious every time you smile or even giggle. This undoubtedly results in you smiling less than average.
Besides the fact that smiling has been proven to release molecules and endorphins in the brain that reduce stress and pain levels, a google search of the positive effects of smiling will give you at least 10 different results for every list you click on. So what happens when you decide that you want to visit a dentist and fix your smile?
The first thing is usually some research. You look for information about the problem you have, the main things being; how it can be fixed, dentists in your area and the price, among much more. The price ends up being one of the most significant factors that sway people towards a specific decision. With the dentistry prices in European countries being so extravagant, most prospective patients end up finding other countries like Turkey that offer the same services for a fraction of the cost. Your internal dialogue now becomes, " I can fly to Turkey, Stay at a five-star hotel, get my dental treatment, and fly back for less than it would cost me to visit the dentist here?"
Then comes the next step, making the big decision to fly to a completely different country for your treatment. This isn't an easy decision to make by any means. After years of experience in the field and thousands of satisfied patients, the following is a list of the 5 factors that we think MUST be considered before finding and committing to a dentist overseas.

Not being able to express yourself exactly how you want to can be challenging, even for people speaking the same language. Then one day, after quite a bit of research trying to find the best dentist for you, for several reasons, you find yourself interested in a dental clinic outside your country; let's take a random guess and say… in Turkey. The package deal and the price, among other things, are all okay except for one "small" factor. YOU don't speak Turkish.
Well, not to worry. The good thing is that most large clinics in countries that receive many health tourists always exhibit signs that they are international client-friendly. One of the main signs is that they have salespeople that contact you who speak a wide array of languages. Another thing is that most large clinics have a department of interpreters and translators whose sole job is to communicate with you. In most situations, the doctors speak at least a lick of English, but when they don't, the interpreters step in. 
The Difference Between Agencies and Clinics.
This distinction might not be something that you know about, but it's an important one. It might inform your decision and benefit you in the long run. A clinic is a stand-alone facility that is all-inclusive with doctors, nurses, interpreters and more. They don't need to outsource anything from a third party. Some clinics like ourselves go as far as setting up their own manufacturing processes to be as self-reliant as possible. On the other hand, an agency in the medical tourism world is an organisation that doesn't have its own facilities and staff (doctors and nurses) and, as a result, has to outsource most of the services. This means that they act as the middle man between patients and clinics that they have agreements with. 
It has to be said that some agencies work very well and have their systems developed down to a tee. However, this is not always the case. It is usually a more simplified process if you are dealing with one all-inclusive clinic that doesn't need to depend on the availability of a third party. A majority of the all-inclusive clinics have developed their efficiency and quality standards to a point where dealing with one is much more convenient and less risky. The ideal choice would be an all-inclusive clinic that has gathered a few years of experience and refined its service. This is not to say that no good deals can come from agencies, but from a general perspective, the fewer middlemen involved, the more efficient and more straightforward the system.
There are not a lot of people who rather enjoy going to the dentist; we just go out of necessity. The fact is not very many of us actually understand everything that is being done to us while we are there. This can lead to situations where patients are taken advantage of by fraudulent practitioners, especially if you are in a foreign country.
One example is billing for unnecessary treatment. Once these fraudulent practitioners sense the slightest whim of gullibility in a patient, the amount of dental issues you have just somehow increases. The same situation can manifest itself in different ways. One way would be since you are already in a foreign country and they perform a procedure on you. You can't just leave now because your treatment is not done. They use this window to add unnecessary treatments to your bill. One way to avoid this is a system like we implement. After your FREE consultation with one of our doctors, a treatment plan is agreed upon by both sides that is not changed unless the patient would like to add a new treatment. 
Another thing is the fake doctor experience. In order to instil more confidence in potential patients, some doctors add years to their experience tally. This might not necessarily be a problem when simple procedures are involved, but even one year of experience makes a big difference when it comes to more complicated procedures. One way to avoid this is to do more research into the specific clinics that you are interested in and find information about their doctors. The more willing they are to show their doctors and their doctors' CVs, then usually the less they have to hide.
Another fraudulent practice is the use of lower quality materials than promised. Most clinics get their materials from third parties. Materials for implants, Zirconium production and much more are pretty expensive to outsource. Hence some clinics may promise A-grade materials and instead give C-grade. Sometimes this might not even be intentional. The clinic may pay for A-grade quality materials from their supplier but then get defrauded and are sent the C grade instead. The worst part is that you have no way of finding out until one day, you're chewing something, and half your tooth breaks off. 
One way to spot the red flags is to look for those clinics not giving substantial guarantees of their products. Giving 10-year guarantees on a low-quality product is just a lawsuit waiting to happen. One way to be more confident is to see if a clinic has established its own manufacturing process. It's an expensive feat to undertake but worth it in the end because of the advantages it provides in the long run. After we set up our production facility, we are now entirely self-reliant. We know exactly what products are being used in the production chain as well as the exact delivery date. In case of any problems, a new set of materials is ordered, and the patient gets their treatment without any delays, accompanied by a 100 % quality guarantee.
Unexpected Changes in Price.
The extravagant dentist prices in European countries are usually one of the biggest reasons many people search for Dentists overseas. Once an agreement is offered and done, any sudden changes or rather hikes in price should be a red flag for you. Once a price is already agreed upon, unless a treatment is added, then there should be no reason to increase it suddenly. 
A "One-time pay" system that large clinics offer is one of the most advantageous deals that can be found out there. This basically means that you pay once, and all are included; your airport and clinic transfers, your treatment and your hotel. The last thing you want to be doing in a foreign country is trying to find a cab in the rain 30 minutes after anaesthetics! Besides the convenience, the sum of all the costs makes it difficult for any unexpected price spikes once agreed upon
Broad Research into Customer Reviews.
This last point might seem very trivial, but it is probably the one connected to all the rest. The only way to find a dental clinic overseas that you can trust is basically research. Let's say it a different way. The first three rules of finding a dentist overseas are 1.Research 2. Research and 3. Research. The only way to be comfortable with your decision is to exhaust all options and simply find the best fit for you. Most of the information can be found online with a little bit of digging. Checking google reviews, Client feedback on websites, client testimonials, and all the material you can find online is the best way to answer most of your questions. Don't trust anything completely. In fact, don't trust this article entirely, either. Do your own research, and don't commit until you are comfortable with all the information you received.
Dentakay is exclusive dental partner for Miss England 22!
5 months ago
Dentakay, a state-of-the-art dental clinic founded in 2009 and based in Istanbul is now the exclusive dental partner for Miss England 22!
Hosting some of Turkey's biggest dentists, Dentakay has become a hub of excellence & is now offering friends & associates of Miss England a FREE online consultation.
Anyone associated with Miss England that receives  a minimum treatment of 5,000 euros will receive a flight & 5 star hotel accommodation for FREE!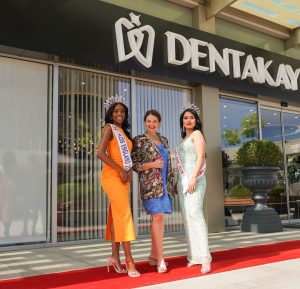 In June 2022, our very own Miss England 2019 winner, Dr Bhasha Mukherjee , Rehema Muthamia Miss England 22 and the Director Angie Beasley visited the clinic for dental treatment herself & created a video diary of her experience. ( pictured left)
The news  about Dentakay being the official Miss England Dental partner was announced at the Coventry Mercia Lions Clubs Annual Charter Night by the reigning Miss England "Rehema Muthamia" who also revealed the date Miss England 22 National final.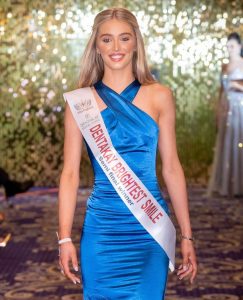 The Miss England 22 semi final was held at the taj 51 Buckingham Gate Suites & Residences on August 22nd
Most of the contestants opted to enter the Semi Final Dentakay Brightest smile round by submitting their best smile images on social media .
Paige Loren Cannon James from Liverpool (pictured left) won the semi final award and is now competing in the Grand final of Miss England . Can she win this special award again ?
Rehema will be crowning the Dentakay Brightest smile & the new Miss England on Monday 17th October at the Holiday Inn Birmingham Airport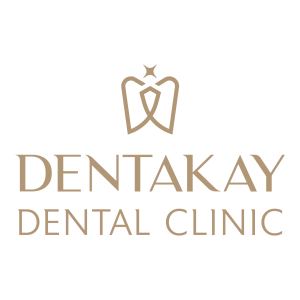 Ends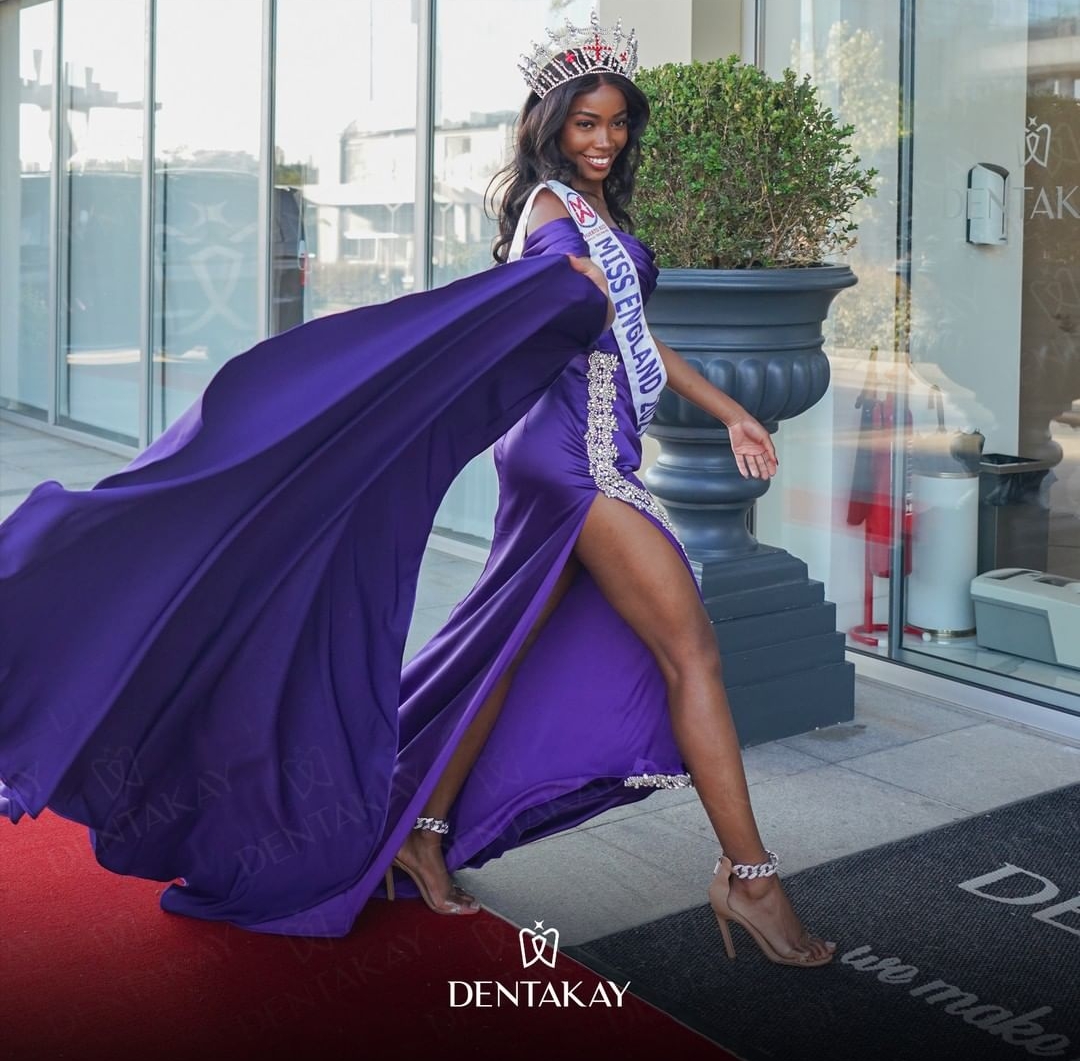 Rheuma Muthamia - Miss England 21
Rheuma Muthamia the reigning Miss England visited Dentakay with Miss England 2019 NHS Doctor Bhasha Mukherjee to see their incredible dentist surgery in July 2022 and meet some of the inspiring dentists based at their HQ