The new Miss Leicestershire "Tia Carter"  is promoting the ElleforElle Campaign . Tia (19) who won the first ever Virtual Miss England heat once lockdown began is looking for donations of unwanted and unused  toiletries and cosmetics to take to  Womens Aid Leicestershire before the end of June .
The Sanctuary Workshops,  a victorian church venue in Leicester is now accepting donations for the campaign during the month of June .
Proprietor of the venue Angie Beasley said " The venue is usually busy with Yoga and Pilates classes , childrens parties and gatherings of all sorts but due to lockdown the hall is currently standing empty. "  "Like everyone we are not sure when we will be able to open so we thought we would make use of the venue by supporting the ElleforElle campaign. I was amazed with the toiletries I found around my bathroom and bedroom that I didnt use so its good they are going to a good cause,  so Tia has her first donation !"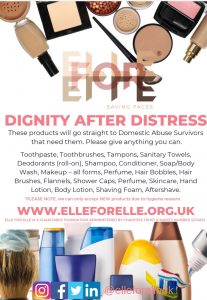 Tia is now looking for new unwanted toiletries of any kind to help victims of Domestic Abuse who end up at the Refuge with nothing .  " I can imagine most victims who end up at the refuge havent got toileties or cosmetics with them so I want to help where I can by promoting this campaign . I plan to write to a few companies and ask for donations as well "
Anyone with any unopened and unused toiletries , Sanitary Towells , Flannels shower caps , make up , brushes , hand lotion , shaving foams perfumes , skincare can drop off the products at a designated time , pre arranged by email . Please sanitise the products by wiping down and provide in carrier bags or boxes before bringing them to the church on a pre-arranged date before the end of June 2020.
To donate email ; [email protected]
For more details please visit