One of the qualifying rounds in the Miss England final is the CHARITY fundraising round , where the Miss England finalists are given the task of raising awareness and funds for Beauty with a Purpose, a global charity owned by Miss World.
The top fundraiser for 20/21  is Alina Green , the current Miss Dorset who created a host of unique fundraising events and managed to raise a staggering £10,991 for the charity.
What is Beauty with a Purpose ?
Click this link to find out more
https://www.youtube.com/watch?v=TfUsOJgCuWY
1st Place – Miss Charity is …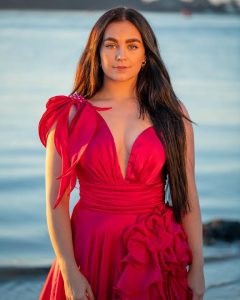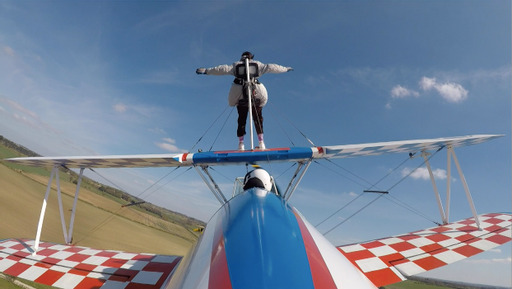 ALINA GREEN MISS DORSET
Alina reached the Top 10 shortlist in the Miss England Grand final
During lockdown and the pandemic , Alina organised a Virtual Dog show , swam with the sharks and created handmade facemasks and participated in lots more novel daring charity events!
Heres some of Alina's images from her fundraising !
We asked Alina how she managed to do this ;
"I did a range of exciting fundraising activities to help me achieve the amount I have raised, it stared with making reusable masks from upcycled materials, and a lockdown virtual dog show to help cheer people up!
Then then I completed the fastest Zipline in the world, a shark dive where I swam with sharks and other marine life, and a wing walk which really got my adrenaline going! I have also done a charity raffle, lots of car boot sales selling my second hand items and furniture upcycling."
Amazing effort in these difficult times .
Alina also won the Climate Queen award for making the most Tree Planting Pledges for
WeDoEthical.Org at the Miss England 2021 final.
INCREDIBLE FINALIST & A TRUE BEAUTY WITH A PURPOSE
Despite the pandemic, the Miss England contest carried on throughout lockdown, without any financial sponsors funding the event!
The Miss England contest became the first virtual contest of its kind to have its own app developed by Choicley which is FREE for anyone to download.
13 further finalists each received a star in the fundraising round which counted
towards a top 20 place in the final .
The top 3 will be nvited by the Miss England office to attend a special Beauty with a Purpose fundraising photoshoot and dinner very soon !
The top 14 fundraisers in the 2021 final are pictured in this article with details of how they raised the funds !
Well done to all the finalists who took part in this round.
2nd Top Fundraiser is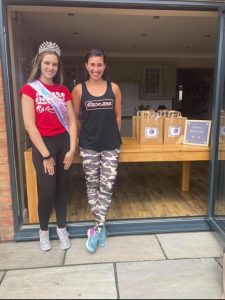 Miss North Yorkshire Charity Queen
Jennifer Carless raising £3255
Jennifer Carless ( pictured above) organised a charity fitness training day,
Miss England Sportsround style with NB Personal Training Ltd !
" Nikki ( pictured with Jennifer above) from NB Personal training trained me for the Miss England Sportsround" said Jennifer .
Amazing work Jennifer who was also recognised as the WASUP QUEEN at the Miss England final by Professor Gatrad for her incredible work supporting his World Against Single Use Plastic.
3rd place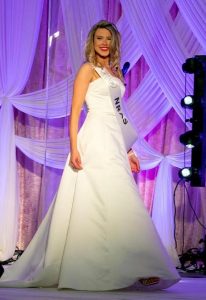 Miss North West Charity Queen
Eleanor Farr raising £2,675
Eleanor said " I raised the money the same way I raised the £10,000 during the Miss Cheshire heats.
During lockdown, I worked incredibly hard creating an online charity shop called Eleanor's Box. I went around my local villages collecting donations to sell for charity online and literally worked every day photographing the items to sell, building an online presence, packaging sold items and posting them. My charity shop slowed down a bit once lockdown lifted as I guess people weren't online shopping quite as much.
So I held a cash raffle for BWAP and We Do Ethical which raised £180 to be split between the two charities."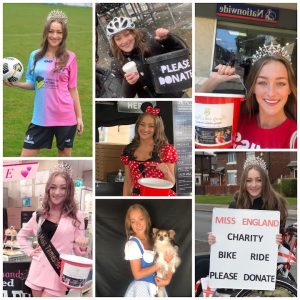 4th place Miss Tameside Alexandra Taylor raised £2570
Alex said "I have raised £2570 for Beauty With A Purpose charity. To raise the money I did a sponsored 30 mile bike ride, in hail and snow, with active rheumatoid arthritis, using a disabled friendly bike. This was the first time I had been on a bike in 10 years since my diagnosis.
I have also done weekly fancy dress Tours of Tameside, where I travelled round the 9 districts, rain or shine, in fancy dress with my charity bucket.
I have done charity football matches and car washes.
I have also done a lot of promotional deals with local businesses, offering them promotion in exchange for charity donations. I have done weekly raffles and live auctions, in collaboration with different companies, who have kindly donated prizes each week.
I have also been working in collaboration with Nationwide. They have aloud me to fundraise in store, with an independent from branch matching any donations received.
I have also raised £1400 for Women Aid with my talent round entry and £850 for One Women At A Time charity.
I also pledged 640 trees to We Do Ethical. "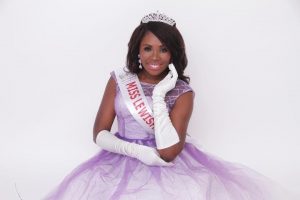 5th place Miss Lewisham Constance Iloghalu raised £1,755
Constance works as a Family support worker but managed to do fundraising around her work. ..
"I raised funds through the 5K charity run that I did. Running 5K every day, I also did bake sales, and other sponsored challenges. I also received donations based on the volunteering work that I did, such as writing to elderly residents in care homes."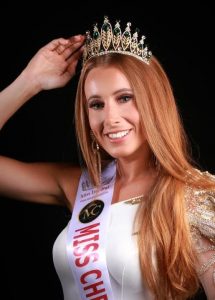 6th Place Miss Cheshire Heather Gaulton £1617
"I ran charity Bootcamps every Wednesday in August where all the money raised went to BWAP.
I also ran a raffle to win group training session with myself and provided drinks and refreshments where I also spoke about Plastfree and gave everyone a package to take away to raise awareness.
I have recently set up a donation point at my gym where people can drop their old gym clothes, trainers, that they don't use. I will be rehoming these to women and girls facing barriers to fitness. Helping women and young girls look after their physical and mental well-being whilst looking after the planet. "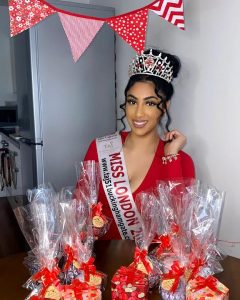 7th Place Miss London Jessica Kang £1,599
"One of my fundraising projects was making these handmade scented candles and selling them for BWAP- I sold just over 40 candles!!!!"
Jessica won the Miss Asianna Award in the Miss England national final .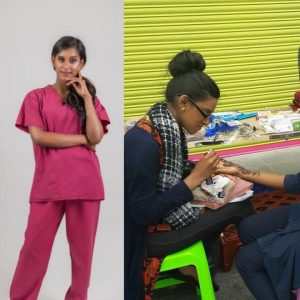 8th place Miss Ealing Rebecca Sinnarajah £1, 573.50
Rebecca said " I have raised £1573.50 for Beauty With a Purpose charity. I did many bake sales, cycling/running around the park for a week to raise money. I also held a mini event where people can come and get their henna done. I'm so happy that I'm able to raise money for such a great cause."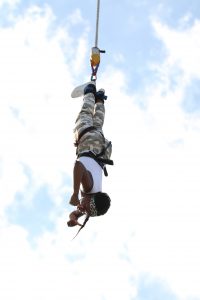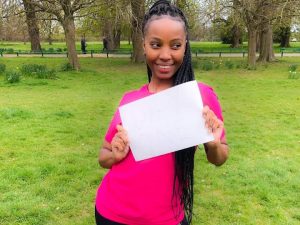 9th place is the new MISS ENGLAND Rehema Muthamia
representing Bedfordshire and Miss All African Colours who raised £1437
Rehema said
"I did a Bungee jump with UK Bungee Club at the O2 arena location. I was completely petrified and screamed the whole way down!
It was an amazing experience though." Rehema is the winner of Miss England 2021 !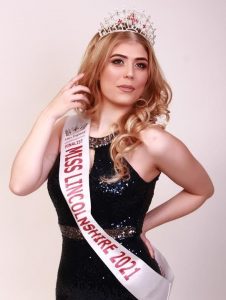 10th place Miss Lincolnshire Rebecca Jay Fearn £1435
To raise money for the BWAP as part of the Miss England final, I held a virtual clothes sale, selling clothes I no longer needed but were too good to be thrown away.
This idea for fundraising came to me when I was moving house and thinking about what i could do with all the clothes I no longer wanted. Not only did this offer an opportunity to raise funds for beauty with a purpose it also encouraged buying second hand clothes and discouraged the use of fast fashion.
I also used my own business and entrepreneur mind set help raise money for beauty with a purpose by donating 5% of each sale to this wonderful charity.
And hosted a virtual quiz night for my friends donating 100% of ticket sales to BWAP.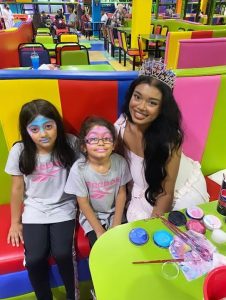 11th place Miss Birmingham Bella Hakim raised £1,373
Bella has been painting childrens faces to raise funds for Monster Mayhem childrens amusement centre , did a 5k run and a charity event at Bombay Pickles indian restaurant in Birmingham , all to raise funds for Beauty with a Purpose !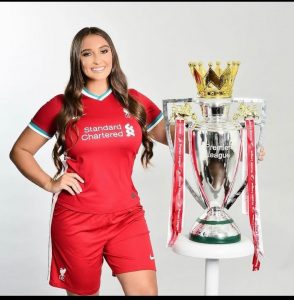 12th Place Miss Popularity Liverpool
Chelsea – Lea Stokes raised £1368
Chelsea- Lea said ". I raised my funds for BWAP by holding an ladies only charity event bringing 50 women together at the pioneer in Liverpool, all local acts together and local businesses giving prices for the raffle, we raised an amazing £1078 after paying for our venue and evening dinner. It was amazing seeing local acts come together to support an amazing charity which helps disadvantaged children. I then raised £235 from fitness classes and my family members.
Myself and my sister in law also raised £1340 for sky diving from 15'000ft for Zoes places who provide respite, palliative and end of life care for babies and infants aged 0-5 years with life limiting and life threatening conditions.
Myself and my gym members raised an £406 for the Walk all over cancer campaign, we walked 10,000 steps a day, with losing my school friend to cancer on Christmas Day and family members this was very close to my heart.
With my little brother losing his best friend at 17. I wanted to support children mental health, The Josh Hemming Foundation from one fitness bootcamp we raised £394 in 45 minutes"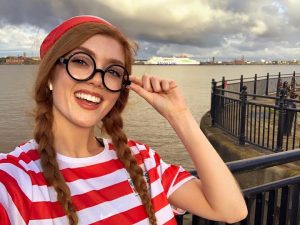 13th place Miss Lancashire Jessica Gagen £1360
"To raise funds for Beauty with a Purpose I took upon the challenge of running 5k everyday, rain or shine around Liverpool in fancy dress. I did this for 8 weeks solid without a day off, starting on the 1st of July and ending on the 25th of August! My outfits included a pirate, dragon, cheerleader, cave woman, dinosaur, Where's Wally and so much more! As a result I'm now known locally by the nickname Fancy Dress Jess, and adding to the 40 days I did in spring on the run up to Miss Lancashire, I'll have done 96 days in total! I've ran the majority solo, and I let my Instagram followers choose my outfit the night before by creating a vote on my story, so I'm clueless as to what I'll be running in until I'm about to go!"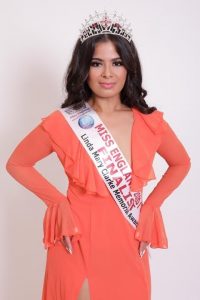 14th place Miss Middlesex Keflyn Sachar £1276
Keflyn, won the Beauty with a Pupose award in 2020 , and the Asian Face of Miss England award in Miss England 2021 said
"Discovering my life purpose to serve others selflessly during my Miss England journey, ignited a fire in me to dedicate my time to give back to my community in unlimited ways, I completed over 20 charity projects in 2020 alone! Each month of 2020, I undertook a different humanitarian project and continued to raise funds throughout 2021, which I am so grateful for.
Being a Cyberbullying Mentor, I felt the need to implement the Mental Health Check-Up, providing free mentoring sessions open to everyone, spreading positivity and hope, offering support, advice and solutions and simply listening and being there for others in times of self-isolation. I also baked Miss England themed cupcakes at the peak of the epidemic and distributed them to our NHS Heroes. To offer support to the most vulnerable in our society, I personally done grocery shopping for the elderly and shielding patients and sanitised it thoroughly before delivering it to them. On World Kindness Day, I launched Campaign Amore to offer mindfulness sessions to those whom were affected due to the lockdown restrictions. I visited many local charities, foodbanks and homeless shelters to learn what they do, work with them in the future and donate food and clothing to them.
During October half-term, I teamed-up with a local restaurant to provide free schools meals for the whole week to students of my High School and served them first-hand, donating the rest to the homeless. During the week leading up to Christmas I volunteered to prepare 40,000 meals across 4 days and on Christmas Eve, I distributed Christmas presents and hot meals to the homeless and residents of Grenfell. My philanthropic work continued into 2021, I sold 100% organic cotton T-Shirts with inspirational quotes, inspired by organisations such as: PlastFree, WASUP and We Do Ethical.
I will cherish getting through the first ever Virtual Miss England Semi-Final and becoming a Miss England Finalist and now, winning The Miss England Beauty With A Purpose 2020 award in what's been the toughest time for so many of us!"
IN SUMMARY
Miss England Director Angie Beasley said " This is incredible work by these inspirational Miss England finalists, a BIG THANK YOU to all for their efforts in the Beauty with a Purpose round of the competition.
Considering the year that everyone has just been through , to stay so positive and take time out to do fundraising in such difficult times is incredible , every finalist who managed to donate their time and efforts for this worthy cause should be very proud of themselves !"