MEDICAL STUDENT TELLS ABOUT THE VIRTUAL MISS ENGLAND SEMI FINALS THAT LED TO HER SELECTION AS A MISS ENGLAND FINALIST 2020/21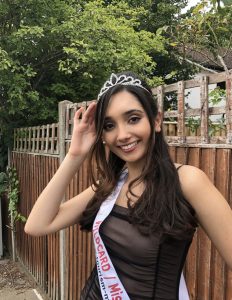 MEET NATASHA CHITTOO
The coronavirus pandemic forced the cancellation of several events within the Miss England 2020 contest. The semifinal was held as a virtual livestream on 31st July where Natasha was selected by the judges for the next Miss England final, the only contest in the country which qualifies for Miss World which in 2021 will be celebrating its 70th year .
Before the day of the livestream, Natasha was required to send in three videos: A talent, catwalk and introduction video for the judges to view. On the day of the virtual livestream she dressed herself in a red gown, tiara and sash and joined a zoom call where a brief introduction was prerecorded. Afterwards she was able to watch the livestream as previous Miss Englands and Mr England presented the event. Natasha was with her family watching the livestream anxiously waiting for the judges to announce their Top 10 favourites and who would go through to finals. Once her name was read out as she went through to finals she quickly joined a zoom call with other contestants who had also been successful in order to celebrate together and be put on the livestream. Natasha is extremely glad to have gone through to finals and excited to continue her journey of charity work, service to society and to meet the other finalists.

Now as a finalist sponsored by Mauritius Tourism & due to her own mother being Mauritian,  Natasha is competing in the different rounds, including a fundraising round for Miss Worlds Beauty with a Purpose charity. Natasha is also working on her own campaign to raise awareness in support of the disabled community during the pandemic and as the economy starts up again.
What drew Natasha to the Miss England pageant was the charity work and opportunities that she could get involved in, and to use the platform to voice her own campaigns and messages. She was also inspired by the current reigning Miss England who is a doctor, it made Natasha realise how she can do both as well, not just limit herself to one path in life.
About Natasha Chittoo
Natasha Chittoo is 18 years old, from North London, and is waiting to commence her studies in Medicine at Imperial College. She comes from a family with a background that is deeply rooted in service to society at large; and a strong belief in the importance of humanitarian work.
Natasha is also an actor that has been part of the Chickenshed Theatre for over 10 years, a theatre company that works a lot with disabled children. She has performed in many Christmas shows and performed in a Gala, representing the Theatre Company at the Savoy Theatre in Central London. This experience has strengthened her empathy for disabled children as she spent many years working alongside them and gaining a deeper understanding of their daily lives and experiences.
She is an ambassador for WASUP – an organization that aims to reduce plastic pollution and other damages to the environment. She was amongst the top ten semifinalists for fundraising the highest amount for the charity 'Beauty with a Purpose' that helps disadvantaged children globally and is continuing her fundraising for the national Finals.
Natasha is also helping Scope – the charity for disabled people – with her own campaign by raising awareness about the issues surrounding ableism and inequality, the problems faced by the deaf community who are struggling to lip read with the increased use of masks, and other issues faced by the disabled community as a result of the pandemic.
Natasha is also promoting recycling, getting involved in the Plastfree & WeDoEthical  fashion round creating an outfit for the final catwalk made from recycled materials .
As she progresses in her eventual career, Natasha would like to join an agency like Médecins Sans Frontières once she completes her medical studies.
*Natasha Chittoo has been offered a place to study medicine at Imperial College London.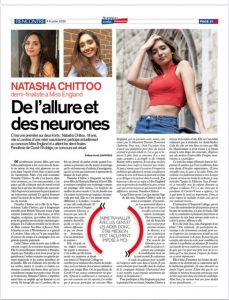 An article in Mauritius Media 
SEE NATASHAS PRESS RELEASE IN FABUK HERE 
About Miss England & Miss World
The competition is noted for emphasising the importance of charity work, now a major part of the competition, at Regional Heat level & National Finals. During the last few years, the Miss England competition alone has raised in excess of £1m for various children's charities using the Miss World 'Beauty with a Purpose' slogan founded by Julia Morley, now a charity that aims to help disadvantaged children across the world. Miss England is a regular supporter of Variety Children's Charity, having raised thousands of pounds at Miss England heats with 'Miss England' herself appearing at high profile events, organised by charities.
Miss World is one of the world's biggest TV shows, filmed by satellite to over 120 countries and has been in existence since 1952.     In England we can usually watch on London Live Channel E!, or on the Miss World You Tube channel.
Miss England celebrates the achievements of women and we are looking for a positive role model to inspire others. Miss England is so much more than a beauty contest.
The 70th Miss World final which was due to take place in December has now been postponed to the Autumn of 2021 .
visit  www.missengland.info
Instagram @natashachittoo