Miss Englands WASUP QUEEN winner Jennifer Caless , and now a Miss England 22 semi finalist … raising awareness for Women's Health Issues 
As most of you know that follow me on here, I have being having an incredible journey with Miss England, my work with WASUP, MIAT and more recently having come back from a 10-day humanitarian trip to Pakistan with OPSA.
I have had some wonderful posts and stories to share with you over the last few years, but today I want to spread awareness about something incredibly personal that I am presently going through, in the hope to not only help me but also others..
Whilst you may have thought my life was the perfect picture right now, sadly this is not the case.
In February of this year, I woke up one morning for college but that day everything in my life changed literally in an instant, as my bladder stayed asleep, and has never woken up or worked since.
I required emergency medical care in A&E followed by numerous hospital stays and I pretty much life between there, the doctors and having community nurses is a weekly event. I had to have an Urethral catheter inserted and 1000ml of urine was drained from my bladder, following numerous failed attempts by doctors.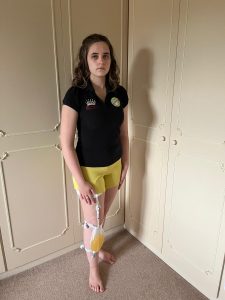 My bladder was close to bursting and no dosage of morphine even came close to helping with the pain. The max capacity is meant to be around 500 ml and I had over double. Going through lots of treatment and heartache, I am now with a full-term indwelling catheter until I can get the vital tests that I need, or it could even be lifetime.
It is now feared by consultants, that I have a syndrome called Fowlers Syndrome. Fowlers syndrome affects young women usually in their 20-30's and can happen spontaneously or after an operation. It is basically a condition where the urethral sphincter fails to relax to allow urine to be passed. This is a very rare condition and very little research is done surrounding this due to it being massively underfunded and at present is not curable.
As many of you know, through my Miss England journey, I have had the campaign 'Just they Way you are.' Now more than ever for me personally this is massively the motto that is helping me get by.
For anyone, but even more a 17 year old, starting out in life, about to take A Levels, and hoping to go to university to become a doctor myself, to live with a catheter is humiliating, undignified, soul destroying and cruel. The pain of my body rejecting the catheter and the constant trauma to my body every time the catheter moves is a daily part of life for me, but I am not giving up, this may be my life right now, but I am determined it is not going to define me and it is not going to stop me living my life and the lovely posts I normally add on here!!!
More than even that though, for me is the lack of awareness, even by doctors and the research needed isn't there, as the syndrome is so rare, and debilitating and I know there are others out there going through the same as me suffering, but in silence…
So, I am hoping through sharing my story and showing how I am determined to continue my humanitarian aid worldwide, model and even be the Miss England WASUP Queen, I can inspire other people that are in a similar situation, to not let this define your life, and to quote me to remind yourself that we are "all so special the way we are".
I am now awaiting imminent surgery for diagnostic tests, yes right in the middle of my A Level exams, but I am continuing to revise. For now I don't know whether I will get to take all of my exams, some of them or even any, dependent upon the surgery date, but I am keeping going with the revising and pass or fail I am going to give them my very best shot!!! COVID may have taken away my GCSE exams, but I will do all I can to stop this doing the same.
Once this surgery has been done, it is very likely that I will be placed on a waiting list for more surgery to try and stimulate my bladder to work again, but unfortunately, this could take upto 3 years before I receive the treatment needed on the NHS.
I am starting a just giving page, to ask if anyone would be willing to donate to support me getting treatment quicker. I am told the surgery alone could cost upwards of £25K! As someone at the start of their career going onto university in September to be a Biomedical scientist and doctor, it is devastating to know that I am living with a tube that causes me constant pain every day and makes it so difficult for me to live my life. I refuse to let this stop me achieving my dreams. I have so much more to give with charity work and future goals, as well as advocating to raise more awareness surrounding Fowlers syndrome and ultimately do what I love to do and that is help others…,
There is a just giving link at the end of my post, with a lot more details, and if anyone would like to donate no matter how small, I am so very greatful for the help in hopefully getting me going again.
But for now, thank you for reading about the start of my new journey and story and remember always
#BeKind
as you never know what is going on in someone's life behind the perfect picture painted on social media.
HELP JEN RAISE AWARENESS & FUNDS FOR HER TREATMENT SO SHE CAN GET ON WITH HER LIFE