With the madness of the festive party season & over indulgence behind us , it's now time to get our healthy hats on… There's no better way to reset your lifestyle than a visit to a
Champneys
.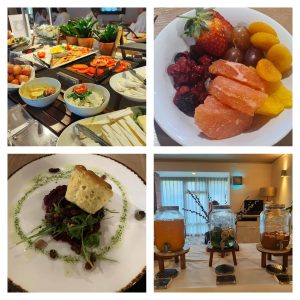 The Miss England BTS team Angie Beasley Director, Lisa Powell choreographer, Tracey & Caitlin Mayes who have been friends & working together for many years decided to do just
that . They visited Champneys Springs in Leicestershire this January  & want to share their experience.  Especially as Champneys for many years were a Miss England spa partner…
For those of you that have never been to Champneys Springs ,  there's a lovely pool , jacquzzi , steam sauna and a wonderful hydro pool to help you relax and make the most of the stays . For those wanting to get active there's a gym , and lots of classes to choose from to kickstart your fitness routine.   Theres a delightful restaurant with a healthy menu to choose from . Theres also a choice of lots of wonderful treatments , but if you do plan to visit the spa make sure you book before your stay to avoid disappointment .
****************
***********************
Tracey & Caitilin Mayes-    visited the spa with Angie Beasley  & Lisa Powell from Miss England . The two ladies who have been part of the Miss England BTS team for many years at semi and national finals  jointly celebrated their 21st & 50th birthdays before Christmas and the Champneys stay was a birthday gift from Angie.
Tracey said  "The Champneys spa overnight stay was a really  relaxing experience .
I really  enjoyed the hydro pool and jacuzzi , has it helped to relax and help with my aches and pains in my back . The seating area's were so nice where you could sit and chill . The bed  room was lovely and the bed was very comfortable . The menu had  a good selection of different healthy options which I especially liked..overall a very pleasant place to relax with great friends.  A lovely time spent there and would definitely go back again !"  
Caitlin said "I absolutely loved my trip to Champneys Springs, it was my first time going and everything was perfect, it made me feel so relaxed I didnt want to leave!  My favourite thing about Champneys spring is relaxing in the jacuzzi and hydropool! " 
Caitlin Mayes – Miss England backstage runner since 2014 and Tracey Mayes Caitlin's mum (Miss England dressing room security team ) are new to Champneys Spa visits  and hope to be back again soon .  Angie & Lisa have visited the Spa and held Miss England events there in previous years and appreciated their time at this special place .
Angie said " It was so nice to visit Champneys again and catch up with friends. The Champneys restaurant is definitely my favourite , the food is delicious and healthy with lots of choices for all meals , breakfast lunch and dinner! "
To book your stay at a Champneys near you visit www.champneys.com