Back in 2018 , Jade Rice-Alor entered a Miss England heat in Plymouth and won the first Miss South West title in the contest ….  
 Recently the South West Miss England regional contest was launched  by Kelly Levell at We Do Ethical  …
 so we decided to catch up with Jade….  
"So I entered the South West heat of Miss England in 2018 in a club called Pryzm in Plymouth.  This was the first time of entering, it was something that I had always wanted to do.
The event was amazing. Each contestant could invite up to 10 guests so I had family, friends and then family friends. It was very emotional when I won the Miss South West title !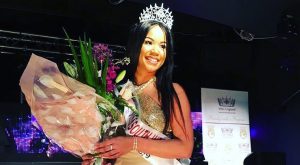 I was and still am working at my local estate agents Ideal Homes & Ideal Lettings as a Lettings negotiator. The company also sponsored me for the South West Heat.
I did got to do official engagements within my town which was lovely. Torpoint is a very small close community so I was invited to attend Dance Award Shows, Officially open the street market and switch on the Christmas Lights!  I did lots of charity work throughout my reign raised over £4,000 for Beauty With A Purpose.   I was very grateful for the support I got from Torpoint's residents as any fundraising events I hosted they would all make an effort to attend and make it great!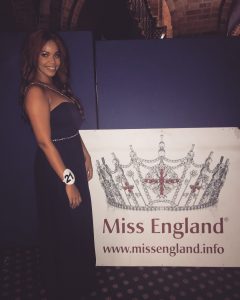 The Miss England final was held at in two parts , part one at Resorts World Birmingham the year I competed and part two at Kelham Hall & country park . It was the first year the competition was held in two parts .   I somehow managed to come 5th place in the sports round and  hair round and the beach beauty (which I was shortlisted into the top 15 for). Unfortunately I wasn't placed in Miss England 2018 however the experience was amazing.
What is really lovely is although it's a competition you do make really tight friendships. I'm very close with Jessica Lidstone who won Miss Devon 2018, we went through the whole thing together from the start till the end and we still see each other now. Im still  connected to a lot of the girls on Instagram so can see what they're all up too.  My favourite round was definitely the fundraiser. I got so stuck into the charity work and now still continue to raise money for a local charity in my area.
AND NOW …..  
I am still living in Torpoint  and just enjoying spending time with my family since everything that's gone on this year!
2019 was exciting.
I got the chance to star in the ITV dating show Take Me Out which was so much fun & met Paddy McGuinness .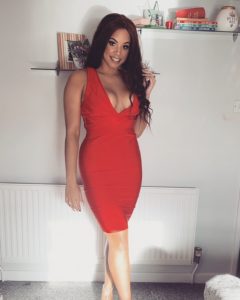 It would be great also to be able to promote my Instagram account more and get myself out there again, hopefully more TV and more competitions!