Black Country Day 2020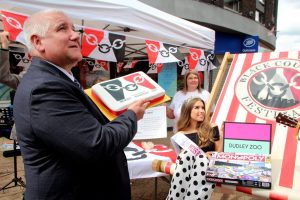 photo credits ;  T R A photography.
Since the year 2013 , the 14thJuly every year marks the annual 'Black Country Day' to celebrate the heritage and successes of the Black Country. This year being the events, seventh festival.
Unfortunately, due to the outbreak of  COVID-19, the event saw a much small festival than usual in Halesowen.
However, even Boris Johnson PM wished the community a wonderful day!
The event this year focused on the launch of the new Black Country Monopoly Board. Stourbridge based Mary Stevens Hospice joined forces with Winning Moves in creating one of three limited edition Monopoly games created each year. The game takes you to significant areas such as; Black Country Museum, Dudley Hippodrome and West Bromwich Albion. All of which generates a great community spirit as the board is also written is the unique dialect of Black Country which only the area will understand.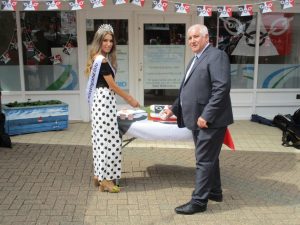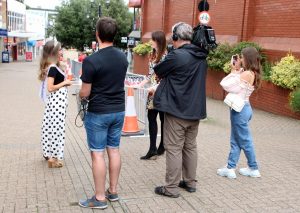 The official launch was from Miss Black Country, Isobel Lines (20) and Dudley Council Leader Patrick Harley. Isobel is the first Miss England finalist this year to attend an event since the pandemic began. ''It was important for me as a representative of the area and younger generations, to attend such an important day.  I thoroughly enjoyed meeting other community ambassadors for different organisations including the Squadron Royal Yeomanry.'' Miss Lines added: ''The Black Country is a proud area to represent, we created the first successful steam engine and produced the anchor for the titanic. ''
The Black Country has also recently been awarded a Unesco geopark status, recognising it was an area of outstanding geological heritage. Mr Haley said: ''Our region is renowned for being a driving force during the industrial revolution. This recognition is the start of a new chapter.
This isn't the first community work that Isobel has undertaken during the pandemic. Earlier this week, Miss Black Country attended local primary schools to present an educational session upon the dangers of plastic pollution and to explain the work of WASUP (World Against Single Use Plastic). The schools included Millfield Primary School, who were remarkably engaging in understanding the important role which our future generation has upon global warming.
Isobel will represent the BLACK COUNTRY at the MISS ENGLAND 2020 FINALS later this year in Birmingham.
All funds raised go to the hospice of Mary Stevens:
**END**
To Interview Isobel or for further pics email 
See media coverage about the day here
 BBC Midlands Today also featured Isobel and news about the day