Natasha Beresford (26) who works as dental nurse in London is Miss England's first ever make up free Miss London winner, in association with Cetuem London a natural skincare brand.

The worlds first ever make up free beauty pageant was held at the Taj 51 Buckingham Gate Suites and Residences in London on Friday 29th September against a beautiful tree lined ethical background created by "Enchanted by Syma" to complete the natural look!
Natasha moved to London in 2021 when she started work as a dental nurse at the Royal London Dental Hospital. Working in the Project Tooth Fairy department, providing dental treatment for children under general anaesthetic, to help them out of dental pain.
Natasha was born in Sheffield where she trained to be a Dental Nurse after completing my A Levels and became qualified in 2018.
"I find my job really rewarding, over the years I have worked in NHS, Private and Urgent Care dental practices"said Natasha who was proud to promote her work and studies during the interview process.
In September 2022 Natasha volunteered in Uganda with the charity Dentaid. She spent 2 weeks travelling across the country to run outreach clinics in schools, churches, orphanages and prisons. There we would provided safe, free dental treatment and helped 1354 people out of dental pain.
Now Natasha is working in a Private Dental Practice in Chiswick.
"For the future, I would like to do further training in Dental Radiography and Oral Health Education. I also plan on volunteering with Dentaid for their UK outreach dental clinics, where they provide dental care and oral health advice for people experiencing homelessness, survivors of abuse, families in poverty, refugees, cancer patients and people recovering from addiction.
In her spare time Natasha enjoy travelling and swimming & was jetting off to Amsterdam just after winning the crown and a place in the next Miss England final!
Natasha will also be invited to model for the Cetuem London natural skincare brand and has received skincare as part of her prize!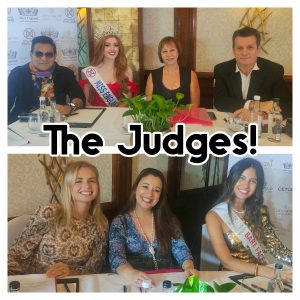 Other judges pictured included
Top pic L-R   "Dar Bardot" from Hair by Dar , with special guest Jessica Gagen, the reigning Miss England, the CEO of CETUEM London Andria Vassiliou  & Alan Strut Celebrity photographer
Bottom pic ; Araceli Thus-Perez Commercial Director at the Taj 51 Buckingham Gate , (bottom centre)  "Laura Coleman"  Miss England 2008 , (Bottom left) & Melisa Raouf (right)
Natasha wore a beautiful white lace dress from Shikoba bride. Their dress collection is ethically and sustainably produced in the UK. The particular dress Natasha wore is pre-worn and is made from deadstock, end of line material, reducing fabric waste and over production. The dress has now been discontinued as all the fabric has been used, and it will be sold through the Shikoba wild project. The money raised will be used to fund a new eco collection within the brand.
Nineteen contestants proudly walked the catwalk completely make up free wearing their own choice of Boho themed ethically sourced clothing .
The runners up in the make up free event were – Afrose Ameen (23) from Lewisham an engineering student who worked on the Elizabeth Line on the London Underground & Temi Adeyemi (26) an accounts assistant & model from Enfield Middlesex.
Alanta Richards (17) a beauty therapy student from Surrey won the Beauty with a Purpose top fundraiser , raising over £1700 for Papyrus the Suicide Prevention charity and the Public vote winner was won by Lauren Malone a founder & CEO who raised over £1300 for the same charity.
CREDITS ; Instagram
Backdrop & media board ; @prukdigital @enchantedbysyma
Location : Edwardian Suite @taj51bg
Taj 51 Buckingham Gate Suites & Residences 
Photos  ;
Lauren Cramer @ FABUK MEDIA
SEE ALL THE CONTESTANTS WHO COMPETED MAKE UP FREE HERE 
Below is from one of the artists who attended the event from DCC  who created lots of beautiful illustrations from the event – this one captures the moment Natasha was crowned and her first walk as Miss London . Click the image to visit the artists instagram account !
PRESS ON THIS EVENT INCLUDES ;
DAILY MAIL – Dental Nurse wins make up free Miss London event 
LAD BIBLE  – Woman wins first make up free beauty pageant ! 
YAHOO –Sheffield woman Natasha Beresford emerges as most naturally beautiful in first ever contest in the UK