Destination weddings have been making waves for the past decade or so. Gathering the special people in their lives in one fabulous location has been an enchanting thought to many. Plus, having a marital photo taken amidst a stunning sunset is a unique way to capture the best day of your life. Your wedding day may take a weekend trip or a one-week event; still, you have to look your best even when you're trotting a piece of luggage.
Packing for a destination wedding could be very stressful, but you need not worry as long as you have a list. Of course, you shouldn't forget your clothes, shoes, and accessories, as well as your passport, visa, and other wedding and travel documents. If the destination is a beach, a ranch, or an isolated island, you have to bring the necessary clothing pieces you'll wear for the duration, as well as toiletries, medicines, and gadgets.
Where to place all your stuff is another matter. Here's a list of the best travel bags for a wedding abroad:
1. Leather Travel Bags

A leather travel bag would be perfect to bring for a weekend destination wedding. It's large enough to accommodate all your stuff, but still elegant to carry on your shoulder or your arm as you introduce yourself to guests you'll chance upon on the flight or at the hotel. Always choose a full-grain leather travel bag such as the ones from Von Baer if you can, because the higher quality material is designed to age better and has more natural durability.
Italian full-grain leather will guarantee to last you for many years, not to mention the craftsmanship is impeccable. This particular weekender bag doubles as a garment bag to keep your clothes crease-free. Amazingly, it also has a laptop sleeve.
2. Carry-On Luggage
If you're one of the many people who can't rest easy when they don't have their stuff within visual range, carry-on luggage is the best bag to bring for a destination wedding. It's also a different comforting feeling when you know you have everything with you when you land, and you won't have to get anxious that your bag will get lost on the connecting flight.
Carry-on luggage is compact but big enough to hold all your stuff for a two-night escapade.  Currently, carry-on luggage comes in fun, quirky designs, so you can choose depending on your personality.
3. Medium Hard-Shell Suitcase
Medium-sized suitcases are checked luggage slightly bigger than carry-on bags, and hold more items. Hardshell suitcases are made from durable polycarbonate and will protect your stuff, especially your gadgets and any breakable item you'll bring. Polycarbonate is scratch-resistant, won't crack or break when dropped, and is surprisingly lightweight. It also has wheels and retractable handles for ease of use.
4. Backpack On Wheels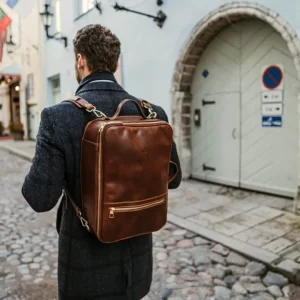 Backpacks on wheels are best for a weekend trip. They're affordable, durable, and will pack all your necessities.
Such bags usually have multiple external pockets, multiple inner compartments to organize your belongings, a padded laptop sleeve, and a padlock for security. They're small enough to carry with you on the plane, so there's no more lining up to have your bag checked in. In addition to that, they also have retractable handles and wheels for ease of use. In Stride Wise they pick the best leather backpacks for a range of uses, from office-ready to luxury bags.
If you're going to use one as a backpack, there's a hidden slot for the wheels so it doesn't touch your back and soil your shirt.  So, whether your back could handle it or not, you have two options.
5. Checked Size Suitcase
You'll need a large suitcase for a destination wedding that'll span more than three days. Packing for a more extended trip requires more clothes and essentials to bring. A large suitcase, with its expandable interior, will ensure you can get everything you need inside. More importantly, if you'll be swept off to a secluded island, you'll want to have extras just in case.
Large suitcases are built for ease of use, especially if you'll be navigating busy and unfamiliar airports, thanks to their wheels and lightweight materials. Such bags also come with security locks to ensure your belongings are safe.
Today, checked suitcases come in many designs and can even be customized. So, even from far away, you can spot these bags rolling on the conveyor.
6. Garment Bag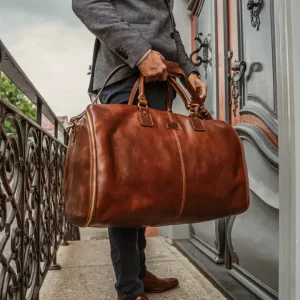 Modern garment bags will hold not just your clothes, but an assortment of other items, too. The flat-folding style may look constricted, but you'll be surprised it could even hold a pair of shoes and your accessories. This innovative garment bag allows you to hang the bag in the closet, so there's no need to unpack.
Most garment bags are made from waterproof, durable nylon fabric, and has wheels and retractable handles for convenience. Also, their size is perfect for storing in overhead seat compartments.
The main benefit of the garment bag is its ability to keep your clothes wrinkle-free.
7. Duffel Bag
Duffel bags are roomy and lightweight, and would carry all the stuff you need for a two-night destination wedding. Most duffel bags are made from lightweight and durable materials, like canvas or ballistic nylon.
Furthermore, most duffel bags have multiple compartments to organize your stuff, as well as multiple inner and outer pockets, and padded shoulder straps for ease of carrying. Some have padded laptop sleeves, and a few have wet pockets, perfect for wet swimsuits when travelling to a beach destination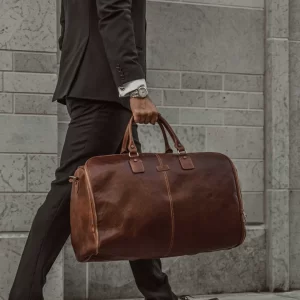 Conclusion
It looks like destination weddings are here to stay—you'll get invited to more in the years to come, or you'll be having one very soon. That being said, investing in a great travel bag is a must so you can safekeep your belongings—not just your attire, but also your wedding and travel documents—all throughout your journey. Stressing over a lost item or two is the last thing you'd want to experience during such times.
Know your packing virtues and consider these when hunting for a travel bag that'd suit your requirements.  Whether it's durability, size, price, or convenience you want to prioritize, it's really only you who can tell which bag will satisfy your needs.