Miss World Facts
1.Miss World is the longest running major international beauty pageant, with the first taking place in 1951.
2. Its founder, Eric Morley, initiated the event in response to the Festival of Britain under way across the Thames. It has since grown into one of the biggest and best known events in the world.
3. Over one million women apply every year to take part in the national competitions, in the hope of becoming Miss World.
4. More than 160 countries across almost seven decades have participated Miss World.
5. The Miss World event was first televised in full in 1959.
6.Miss World is the most watched annual television event, reaching over 2 billion viewers and broadcast in over 180 countries.
7. Since its inception, Miss World has raised over $500 million for numerous charitable causes under its 'Beauty with a Purpose' motto.
8. Though originally held in the UK, the Miss World finals have also taken place across the world, including Hong Kong, India, South Africa, USA, the Seychelles, Poland and China.
9. Although Venezuela and India have produced the most Miss Worlds, with 5 titleholders each. Europe has performed the best of all continents in Miss World, claiming 25 titles.
10. The Miss World crown was made by Garrards, jewellers of Queen Elizabeth II, and the crown is Miss World's symbol of fundraising.
11. The first winner was Sweden's Kiki Håkansson. She is also the longest reigning Miss World, holding the title for 16 months.
12. In 1951, Sweden's Kiki Håkansson became the first ever Miss World, the following year, Sweden won again with May Louise Flodin. Only the United Kingdom (in 1964 and 1965) and India (in 1999 and 2000) have also had consecutive winners.
13. Oscar-winning actress Halle Berry represented the USA and was runner-up at Miss World in 1986.
14. Bollywood superstar Aishwarya Rai won the Miss World title in 1994.
15.TV's Wonder Woman Lynda Carter, Maggie Cheung, the first Asian actress to win a prize at the Cannes Film Festival, and acclaimed action star Michelle Yeoh have all reached the Miss World finals.
16.Along with Halle Berry (Die Another Day) and Michelle Yeoh (Tomorrow Never Dies), no less than 11 Miss World finalists have gone on to appear in Bond films.
   [Dr No – Michelle Mok (Hong Kong, 1958). Thunderball – Claudine Auger (France, first runner-up 1958). Diamonds Are Forever – Denise Perrier (France, Miss World 1953). The Spy Who Loved Me – Eva Rueber-Staier (Austria, Miss World 1969); she would go on to reprise her role in For Your Eyes Only and Octopussy). Octopussy – Mary Stavin (Sweden, Miss World 1977) and Carolyn Seaward (United Kingdom, first runner-up 1979). A View to a Kill – Lou-Anne Ronchi (Australia, second runner-up 1984) and Mary Stavin (Sweden, Miss World 1977). The Living Daylights – Ruddy Rodriguez (Venezuela, finalist 1985).] 
17. It was pure chance that reigning Miss World Ksenia Sukhinova entered the Miss Russia event: she was walking into a Moscow metro station when she was approached by a famous Russian photographer, suggesting she enter.
18.Julia Morley started the Miss World's ethos Beauty with a Purpose in the 70s which is now a charity .
19.Miss World has brought substantial tourism to every country that has hosted it, with significant boosts to tourist numbers and increased international trade during and directly following the Miss World Festival.
20.Miss World was held continuously in the United Kingdom from 1951 to 1988. Since that time, South Africa has hosted the event six times (and is hosting Miss World 2009), and Sanya, China, has hosted the event four times.
21.2019 marks the 69th Miss World Final which is being held in LONDON
22.In 1983 Sarah Jane Hutt from Weston Super Mare took the title for the UK, no other UK entrant has won since.
23.The reigning Miss World is "Toni Anne Singh" from Jamaica who won the title at the EXcel Centre in London . Piers Morgan was one of the judges 
24.Miss World 2019 is being held at Excel London on December 14th . Over 130 countries will compete for the coverted crown and the $100k prize .  
25.There is now a MR WORLD contest held by the same organisation every 2-3 years , to find the "Worlds Most Desirable Man"  . The reigning Mr World is "Jack Heslewood " a qualified Rocket scientist from Bishops Stortford in Hertfordshire . Jack won the international title in the Philippines in August 2019. 
For more details about Miss World visit www.missworld.com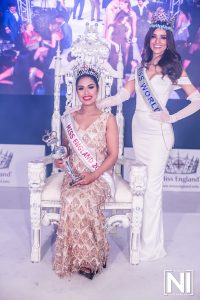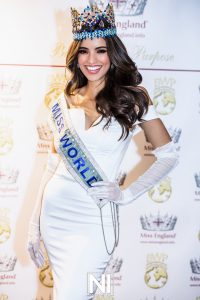 Pictured is ; The reigning Miss World"Vanessa Ponce De Leon" from Mexico who  attended the Miss England 2019 Finals won by "Doctor Bhasha Mukherjee" –  hosted by the Gainford Group in Newcastle Upon Tyne on August 1st 2019 & "Jack Heslewood" from England winning Mr World 2019 in the Philippines!