Aerospace engineering student & the first redhead to become Miss England "Jessica Gagen" ventured down the country from the North West of England recently for a glamorous photoshoot with award winning commercial and portrait photographer Stu Williamson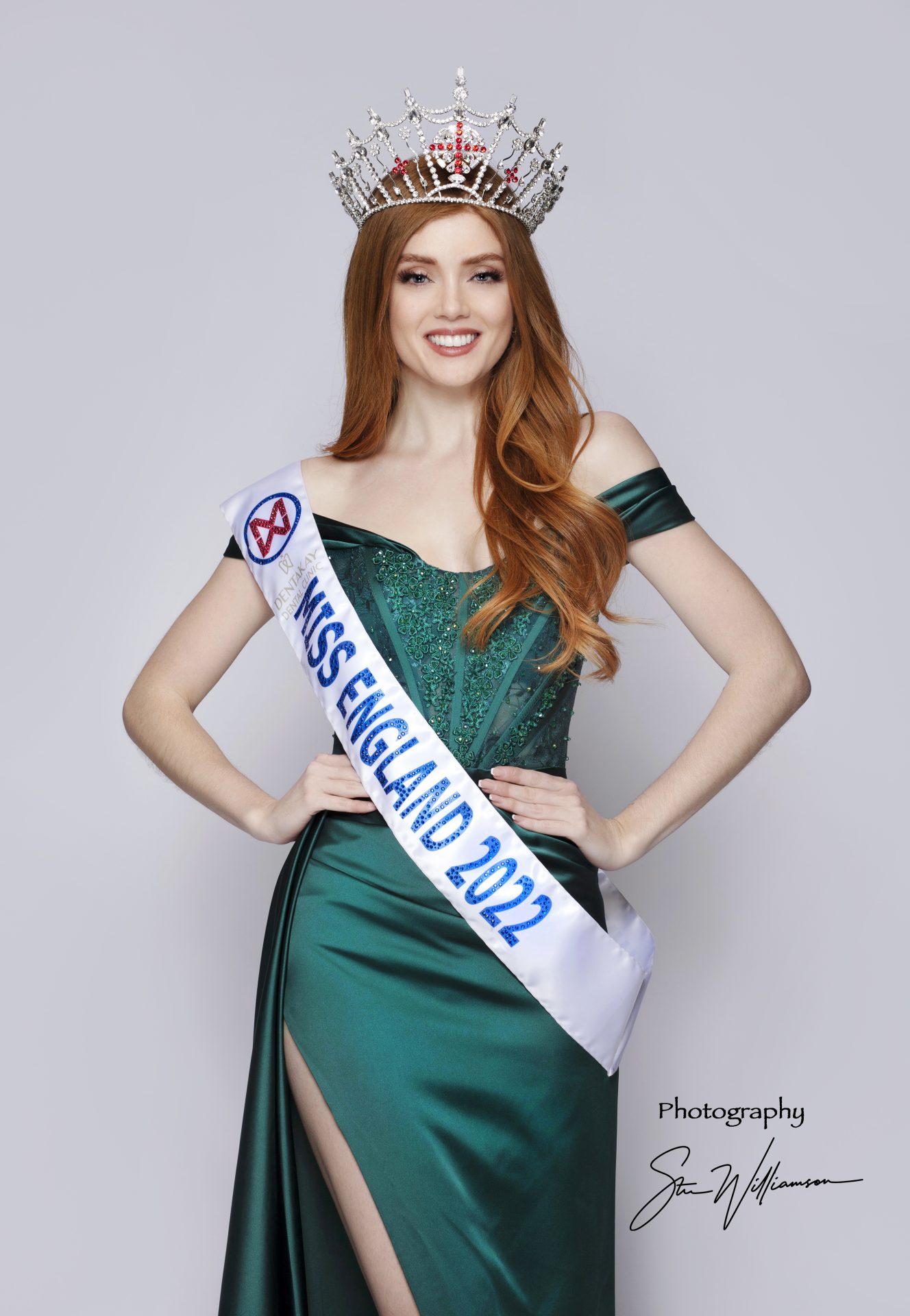 Stu is based at his studio in Kibworth Leicestershire and has a vast amount of photography experience . He has worked with the Miss England contest on several occasions previously,  even being a guest judge on the panel in 2021 .
Jessica, who has also modelled for well known brands such as Max Mara , Asos &  Mark Hill Hair & more recently become an ambassador for 7th Heaven said " Stu was super welcoming and I really enjoyed my shoot with him. I've a lot of experience in the industry and it's easy to tell that Stu does also, he'd thought of everything possible to keep me comfortable – including a heater on set! Big thank you to Stu, I'm excited to see the images!"
Stu said " What a pleasure it was to photograph Jessica ..Apart from being a beautiful woman, it certainly helped when Jessica knew how to move for the camera…Which in turn helps the photographer create beautiful, flowing images. I've always said it is a combination of the model interpreting what the photographer is trying to capture…And Jessica understood it perfectly".
Director of Miss England Angie Beasley who is also based in Leicester said "As we have worked with Stu previously & the Miss England contest is based in Leicester, I wanted Jessica to experience Stu's unique style of photography . We are hoping to use some of the amazing images for Jessica's entry to the prestigious Miss World contest.
The Miss World contest will be taking place in May 2023 with the top prize for the winner being $100,000 and the chance to the contests Beauty with a Purpose ambassador which raises millions of pounds across the world every year .
About Stu –
For more than 30 years, Stu Williamson has been at the forefront of creative portrait photography. Whether he is photographing for a commercial client, a family or a school, they are all approached with the same dedication that has made him one of the UK's top image-makers.
Stu has gained a Fellowship from two of the country's leading photographic societies way back in the nineties. That having been said he has lost no ground in understanding and achieving great heights in the digital age which he fully embraces. To him, it's the same as being in a darkroom which is Stu's first passion. He has always said he is a printer first and a photographer second, the same way as all the great photographer's approached their work. The truth is in the print.
Stu also mentors aspiring photographers such as the Miss England director "Angie Beasley" along with providing photographic equipment such as backdrops and the 21st Century Tri-flector – a lighting reflector that gives the photographer greater control – and a design that he continues to refine with the latest version available in our online store.
For learn more about Stu visit
More details about Jessica Gagen
Jessica is the first redhead to represent England at Miss World .  Jessica wants to use her Miss England platform to encourage more women in to Stem projects .
Recent Interviews with Jess can be found online here  ;
GB News ;
https://www.youtube.com/watch?v=6-YNzuFROng
TALK TWENTIES