Now married and a mum of 2, Rachael talks about Health & Fitness to Miss England in her own words……
"Health and fitness has always been very important to me, and when I won the Miss United Kingdom title back in 1996 and prepared to compete at the Miss World final I was very motivated to push myself and my fitness levels, to enable me to be both physically and mentally ready for the journey ahead and final of Miss World …
I travelled to India to take part in the final which was held in Bangalore – the garden of India, we also flew to the Seychelles to film parts of MW to be shown alongside the live show final on Sky One. The schedule was very busy everyday in the 4 week run up to the final with early starts, shows, rehearsals, filming, shoots, interviews and so many exciting opportunities and so being physically fit & eating well was essential to be at my very best throughout and keep my energy levels high.
The time I spent at Miss World was a truly magical and enlightening time of my life and an experience I will hold dearly in my heart always. I met and made so many wonderful friends for life, many of which I'm still in regular contact with now. I placed 11th in Miss World, just missing out on the top 10. The experience of being a part of something I had followed so closely since childhood was a huge achievement and an absolute honour to have the opportunity to represent Beauty with a Purpose and meet Eric & Julia Morley.
Over the years I have continued to enjoy a healthy lifestyle, I'm a busy working Mum and I remember when I first had my children it was more challenging to find time to get to the gym and I started to lose myself..
So I started running a few years back and doing home workouts. I'm asthmatic so running has always been quite limited but I was determined to build my stamina up and so gradually I increased my distances and overtime my fitness level, lung capacity & breathing improved dramatically and I was able to run without needing ventolin eventually.  At the same time I also started doing HIIT (high-intensity interval training) at home which fitted around busy working family life perfectly and I can fit a HIIT in whilst cooking dinner (sometimes) or before or after work or whenever it's convenient in my own home! A HIIT is anything between 15-30 minutes in duration and is perfect if you are short on time and with work and family commitments this was the perfect solution for me and I found that I could train effectively in the limited time I had.  HIITs are also great if you're on the go or travelling as you don't need loads of space and can modify exercises if you are staying away from home in a hotel room for example.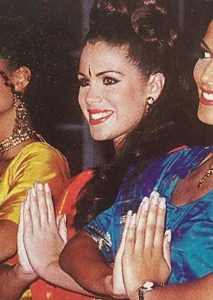 This past year I decided to challenge myself once again and push my fitness a little harder and as a result my energy levels are very high and my body is strong & lean.  Eating well alongside the exercise supports my body and overall health.  Good nutrition is key to feeling and looking great.
I really do believe with hard work, commitment & self belief anything is achievable at anytime in your life.  My favourite fitness influencer is Joe Wicks – the Bodycoach and his HIIT sessions on YouTube are for everyone from absolute beginners to advanced level and along with healthy balanced eating you can achieve your fitness goals at home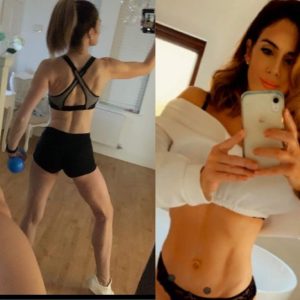 Staying fit & healthy is great for my wellbeing as I feel ready for anything when I've been training – Strong body strong mind
Follow Rachael on Instagram @_rachaelbutlerr