With lots of different colours, fabrics and styles to choose from now , we thought it would be good to show some of the the finalists looking fabulous in Silk & sequinned facemasks supplied by www.madaame.co.uk
Wearing a facemask alot can often cause skin irritations and blemishes , so we were surprised to find out recently that Silk is the most effective material to wear as a facemask !
The researchers found that when used for protection of the face, silk is the most effective at preventing the penetration of droplets, and the least absorptive of water, because of its intensely hydrophobic character compared to the other fabrics tested. In short, the face coverings made of 100% washed silk repelled water just as effectively as masks, but are hydrophobic, unlike the latter, and can be made ready for immediate reuse by sterilization.
This characteristic, coupled with its breathability, and the fact that it does not trap water, makes it ideal for protecting respirators under conditions of clinical exposure, and as a material for home-made for face coverings. The other advantages include its inherent antiviral, antibacterial and antimicrobial properties, as well as the thinness of the material even when used in multiple layers.
Silk also does not irritate the skin or increase local humidity around the face beneath it, making it suitable for prolonged wear, and avoiding accidental stimulation of face touching. Thus, this material, say the researchers, "may play a major role in the development of new PPE equipment, such as respirator inserts, that capitalize on its many benefits."
Here are some of the current Miss England Finalists wearing silk facemasks designed by Madaame Fashion . The masks can be purchased in all colours and cost £15 each . Message @madaamefashion on Instagram to buy yours !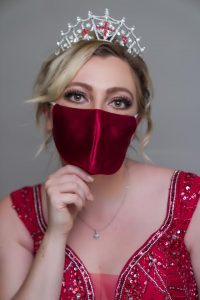 Alex Evangelou Miss Oxfordshire wears a beautiful Red pure silk facemask 
Organiser "Angie Beasley" invited finalists to take part in a socially distanced Eveningwear fashion shoot & filming for the app over 2 days.
At the shoot the Miss England Finalists got to dress up and wear glamorous ballowgowns from Eveningwear Partner "To The Nines" & silk and sequined facemasks from Madaame Fashion .
Despite restrictions during 2020 , Miss England contestants have raised over £30,000 for charity this year alone using the Miss World contest ethos "Beauty with a Purpose" and making use of their social media platforms for promoting their fundraising .
Organisers are hoping to stage the next final in 2021 as a glamorous final red carpet style event in Birmingham and crown Miss England 2021 who will go forward to the 70th Miss World.
One of the former Miss England Winners "Dr Carina Tyrrell" who has been working with the Oxford Vaccine Team is one of the judges for the Finalist of the Year.
Heres a few of the Masked images from the last Miss England Photoshoot
Credits ;
IMAGES BY ; HITZ RAO
MAKE UP ; JOGGY KANG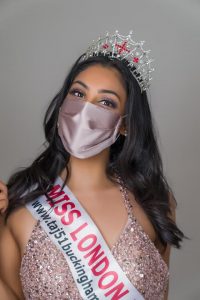 Jessica Kang Miss London wears a pink nude mask
Isobel Wheatley wears a Navy silk mask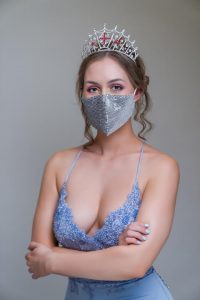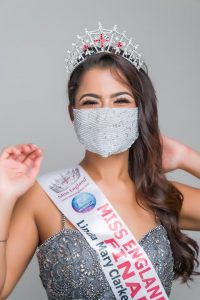 Keflyn Sachar
(left)  
& Olivia Bulmer (right)
go for the sparkly look to match their evening gowns from  "To The Nines"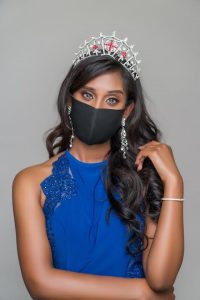 NHS Nurse Rebecca Sinnarajah – Plain black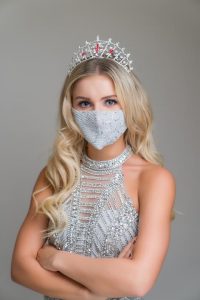 Erin Smith Miss Worcester (left)
and 
Ellie Wilson Miss Merseyside wearing Silver Sequinns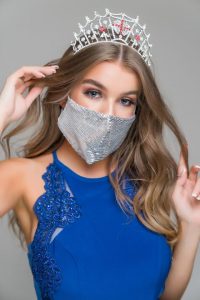 Isobel Lines Miss Black Country wears a Sequin mask