Huge congratulations to our first virtual heat winners for Miss England 22!
All 3 heat winners going through to the Miss England 22 semi final in the summer  hail from London !
Komal Mahal is 22 & an application support analyst from E14 and used to be a cheerleader. She also enjoys modeling and dancing.  Komal also won the public vote in the heat  and made  142  tree planting pledges for We do Ethical's Tree Planting campaign making her the heat Climate Queen winner which is one of the challenges the girls are invited to take as part of the contest . Watch Komal entry  video here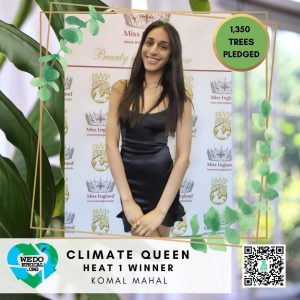 Komal , Emily & Leah will all be taking part in the next Miss England 2022 Semi finals!
As well as advancing to the Miss England semi final in the summer, the 3 winning contestants are also invited to participate as a contestant in the next Miss London heat for the contest, giving them an additional opportunity to go through to the final.
29 women from across England took part in the first virtual heat for Miss England 2022. Contestants were invited to send in a video introducing themselves and doing a catwalk to show off their confidence skills.
Komal won the public vote and made the most overall tree planting pledges in the heat.
Altogether the Miss England contestants have made over 26,572 tree planting pledges for WeDoEthicals campaign.
To celebrate the Queen's 70th and the 70th Miss World the Miss England contest is hoping to make 70,000 tree planting pledges this year and hopes to become the world's first carbon neutral contest of its kind.
To make a pledge and help us reach the goal and watch the video please visit here