Multi award winning Hair Salon Melissa Timperley has partnered with Miss England "Jessica Gagen" to ensure her beautiful red hair is in tip top condition during her reign and in the lead up to final of Miss World.
Opened in December 2016, Melissa Timperley is an award-winning three-storey salon in Manchester's buzzy Northern Quarter. Built on the site of a former public loo, it has since become one of the area's premier hairdressing destinations, renowned for its expert team and inclusive approach. Thanks to all staff undergoing the highest levels of training, the salon has grown a reputation for excellence in all disciplines – cutting, colour and men's hair.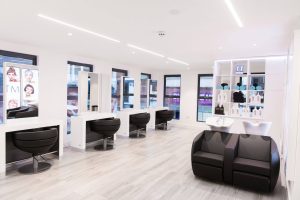 Salon founder Melissa set out to create a luxurious space that considers every aspect of the client visit, resulting in consistently positive feedback. 60-minute cut appointments are provided as standard (which includes 15 minutes for a detailed consultation) and each client sees the same team member for their entire appointment – from the backwash, to the blow-dry, including colour, avoiding a 'conveyor belt' effect. Silent appointments are also available without judgement, should clients not wish to engage in conversation.

As well as being serious about sustainability (the salon is working to become carbon neutral, helped by its partnership with Authentic Beauty Concept and paperless policy), Melissa Timperley was also one of the first salons in Manchester to price appointments by time and expertise, rather than gender, a decision fuelled by Melissa's desire to ensure everyone felt welcome.
Follow Melissa @melissasalons for instagram and  hair account is @melissatimp