The Miss England team met Sheba a daughter of the Unique Home for girls ( pictured above with Miss England Jessica Gagen & India Fenwick – Wasup princess) on the recent humanitarian tour of India.
Sheba escorted us around the Unique Home for Girls which is an orphanage founded by  Bibi Prakash Kaur based in Jalandhar Punjab.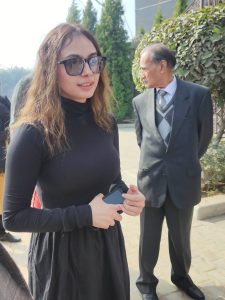 Sheba (pictured left) started the tour from the Baby Cradle where people come to drop the baby girls they do not want just because they happen to have been born a female!
This is common in a lot in different parts of the world but was still very shocking to see the reality.  The Miss England team were traumatised after meeting the girls for themselves and realised how very different their lives could have been , had they been born in India .
During this visit , Ms Sheba told us how she was abandoned by her parents at birth & was found by the home when a dog was seen carrying a human baby through the streets of India. The staff managed to rescue the baby from the jaws of the dog who was hungry for food.
The miracle baby was named Sheba, & was raised up by Bibi who has been looking after 100s of abandoned girls for many years.
Sheba & many other girls, have been rescued & educated at Mussorrie Private school to ensure they receive the best education they can to give them the best chance going forward with their lives.
Since then Sheba has gone on to qualify in Law after being sent to Liverpool University !
Jessica who is an aerospace engineering student said " Visiting orphanages like the Unique Home for Girls has been so memorable to me.  I've met hundreds of girls who've been abandoned simply because they're female, and it struck me that the only reason I wasn't discarded myself is because by some strike of luck I was born in a different country. These girls had the upmost appreciation for whatever education they were able to receive, and I think it's important I take these experiences with me and talk about them when I reach the UK in order to spread the message of appreciating our blessings to the children at home. Big thank you to BOPA for an incredible trip full of teachings!"
See more photos about this on the Miss England App , Out now !
Find our more about the Unique Home for Girls by visiting their facebook page