After sharing their room  at Miss World in Puerto Rico last December, Pamela Uba (26) Miss Ireland & Rehema Muthamia (25) Miss England were reunited in London. The pair were invited to stay at The Hotel Rafayel & Spa on the Left Bank by the owner Iqbal Latif over the weekend and were treated to a special cocktail party with family and friends & supporters.   Iqbal said "The Hotel Rafayel is proud to welcome & host the party at our beautiful restaurant Banyan on the Thames. We wish the inspiring ladies the very best of luck." The pair have reached the top 40 semi final of the 70th Miss World contest on March 16th, so this called for a celebration !
The glamourous pair took part in a sunset evening wear photo shoot from their own countries dress sponsors on the rooftop at the Hotel Rafayel over-looking the Thames & were given gifts from natural skincare brand "Cetuem". Miss England wore a beautiful emerald green gown by award winning Staffordshire designer "To The Nines" & Pamela wore a gorgeous peach dress from Irish dress company "Simply Devine" after having their make-up and hair styled by Susan Rose & "Make up by Rishika".
Pamela Miss Ireland said " This was my first time in London England and it was like a royal welcome. We stayed in the hotel Rafayel overlooking the Thames were we were greeted with a surprise good luck party before we headed of on a City Sightseeing London Bus seeing some of the amazing London highlights . It was all very exciting and can't wait to come back again soon!"
Rehema who lives in London said "Such a celebratory weekend of our Miss World journey and of London." It was lovely to be able to welcome and showcase my beautiful city of London to Miss Ireland and her team.  Our good luck party at Rafayel at the side of the Thames surrounded by our loved ones and supporters was the highlight of the weekend."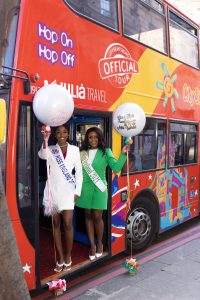 City Sightseeing tours, the capitals leading tour bus company then met the ladies at Grosvenor Square for a private open top bus tour. Bus driver "Paul Luff " welcomed the ladies aboard as the pair hopped on the top deck carrying their good luck balloons for an exciting open top bus tour to enjoy the London sights.

Keith Spicer, City Sightseeing London Operations Manager said "We are proud to show Pamela and Rehema the best sights of London from the top deck of our iconic double-decker bus. We would like to wish Miss England and Miss Ireland the best of luck at the 70th Miss World. We are confident that they will be able to convey not only the beauty that exists in these countries but also the kindness and strong values that Rehema and Pamela represent".
Organiser of the weekend Angie Beasley said " We were very lucky the sun came out on the bus tour especially considering what the weather was like last week ! We don't yet have any main sponsors due to the pandemic so its been a challenge to organise this weekend but we managed it ! I'm very thankful to get so much support from good hearted Londoners" said Angie Beasley, a former beauty queen who's been organising Miss England for 20 years . Angie posed for photos with the ladies on the rooftop at the Hotel Rafayel ahead of the party."Brendan Marc Scully, director of Miss Ireland said "its always a joy to be in London and this visit was more special as it was Pamela's very first time in London. It was great to see the Girls reunited and well done to Angie on arranging such a great weekend for the Girls."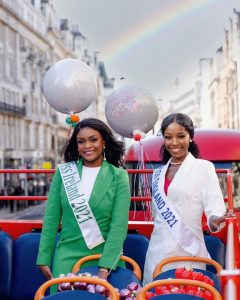 Both Pamela & Rehema have been named as one of the Top 40 in Miss World after 98 contestants competed in December. Both have been invited back to Puerto Rico to complete the contest which was postponed in December due to an outbreak of Covid. The 70th Miss World final has now been rescheduled for March 16th.
The ladies will be flying back to Puerto Rico for another week to participate.
To support Pamela & Rehema in Miss World please their personal websites
REHEMA ;
www.missworld.com/2021/england/rehema-muthamia/ 
EDITOR'S PLEASE NOTE – For use of the images please credit;
Rafayel Rooftop Dress /flag photos ; @litratodelala ( Instagram)
MAKE UP @ officialsusanrose ( Instagram)
London Bus & chauffeur Morris at Connector Service
– Credit Kam Murali @dk_pixels_uk ( Instagram)
Hotel Rayafel – Rafayel on the Left Bank is part of Battersea's stunning and award-winning Falcon Wharf Development. Designed by architect James Burland, the unique and critically-acclaimed steel, glass and timber building provides a fitting home for Rafayel on the Left Bank.
City Sightseeing – City Sightseeing is the world's leading open-top double-decker bus, boat and guided walking tour company, as well as a market place for the most exciting tourist attractions in more than 100 cities on five continents.
https://city-sightseeing.com/en/home
WATCH THE FAB UK TV VIDEO TAKEN AT THE HOTEL RAFAYEL COCKTAIL PARTY