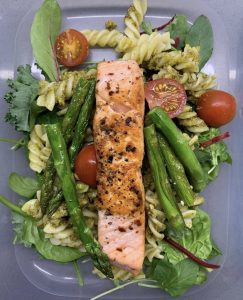 Lunch is served… 
I'm not one to post pics of my food generally but I've had a few DMs about the fitness and nutrition and especially interest in what to eat on the go.. .
So here is a lunch I took to work recently with me in a plastic box! I cooked an extra piece of fish and asparagus when making dinner the night before and then refrigerated it.
In morning in the mad school/work rush I threw some super leaves, tomatoes and pesto pasta in with it for a nutritious, healthy & balanced lunch 
Fitness & good nutrition go hand in hand and when you eat the right foods your fitness levels & health in general will improve. You are quite literally what you eat and feeling good starts from within, your skin will have a youthful glow the ageing process slows down and your body becomes stronger and more energised. We quite often form bad eating habits in life but with discipline you can focus on the foods that are beneficial to your health & well being and save treats for now and then.
Nutritious choices can be made quickly & easily and should include all the important food groups – carbs, protein, healthy greens. I panfried the salmon in a very small amount of olive oil, chilli flakes, sea salt & black pepper and some fresh lime juice from half a lime. The asparagus only need to be cooked gently for a few minutes to preserve the texture, flavour & nutrients as much as possible – they can also be cooked in the pan. Simple but very tasty!