Nina Peniasko (26) was born in  Kettering Northamptonshire & has been studying acrobatic gymnastics for 2 years. Before this, she did contemporary, commerical, hip hop and ballet. Nina began dancing at the age of 16 years…  She opened up her own dance school at 18 but wanted to push herself further after experiencing bad relationships which knocked her confidence.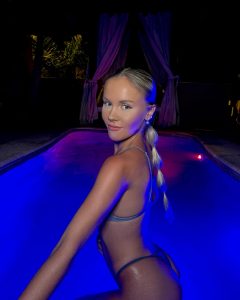 Nina is now the first acrobat to ever reach the Miss England semi final & she's submitted her entry into the semi final Talent round with a daring hand balancing acrobatic act on You Tube with her performing partner Joel and hopes the judges will select her for the finals.
"I would consider myself both a dancer & acrobat but I do focus most of my attention on my acrobatics" said Nina who is currently practising with her coach abroad.
"I think not only is it a beautiful and sophisticated sport, it also demanding and gives me an adrenaline rush like no other! I practice with my coach Joel Serrano currently in Tenerife but I've trained with a few other acro coaches also!
One of which being my sponsor who actually does acrobatics on skates !
My sponsor Adam Jukes competed in "Britain's got Talent"  with the act named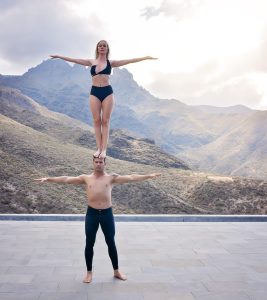 Rosie and Adam .
I would say acrobatics is an incredibly dangerous sport and when performing or learning stunts I am risking myself everyday but I wouldn't have it any other way.
I have had a few falls before and I successfully recovered well!
I will continue to do this sport as long as my body allows me to because I absolutely LOVE IT!"
Nina will be competing in the Miss England semi final at VIVA BLACKPOOL on Sunday 7th April 2024 with 50 other women from across the country & is sponsored by RealSpacePugs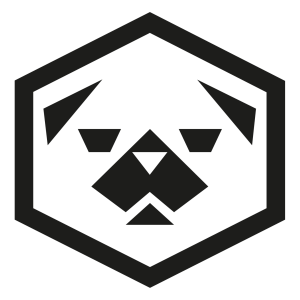 Real space Pugs .com