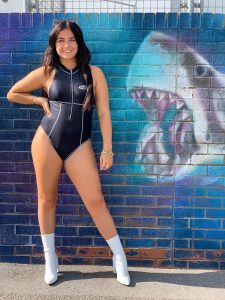 Dorset's brave Alina Green is set to dive with Sharks to raise money for good causes as her next challenge in the lead up to competing in the next Miss England finals ! 
Due to the incredible fundraising Alina has done during her year as Miss Dorset , Miss Dorset organiser  Kelly Levell has extended Alina's reign to another year and she will compete for the 2nd time in the final of the Miss England contest after being the 2nd top fundraiser of the year in the contest.
"My next fundraiser is doing a shark dive!! As I have my open water PADI license I wanted to put it to use and challenge myself by diving and feeding sharks!!"
Taking place on the 2nd October at the Bear Grills Adventure in Birmingham, all donations will be going to Miss World's Beauty With a Purpose Charity and We Do Ethical's tree planting pledge. The dive is also supporting shark conservation with the shark trust.
Alina is a keen polo player, sky diver, zip liner, mountain climber, officer cadet and fashion student set to compete in the Miss England beauty contest finals.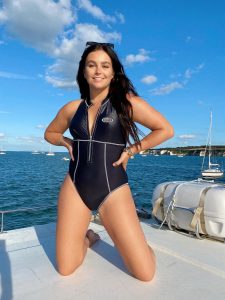 Alina Green, 21 from Bracknell, is a student at Arts University Bournemouth and currently holds the Miss Dorset title for her achievements in making a positive difference for people and planet.
She is an ambassador for We Do Ethical, a changemaking brand that promotes ethical living to tackle global warming.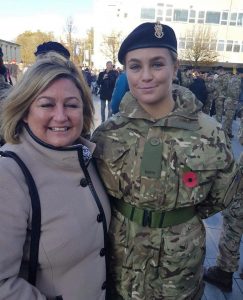 Alina with her proud mum 
Last year, the Miss Eco Award judge, Kelly Levell asked the contestants to make a #WearItGreen themed 'eco-outfit' for the finals, and this year added the goal to collect tree planting pledges to help the UK become carbon neutral and help tackle our world's climate crisis.
Alina told the News: "As Miss Dorset 2019 I did multiple beach cleans, helped feed the homeless, raised £9,486 for various charities such as the Chronicle Sunshine fund, made kangaroo pouches for those affected in the Australian fires, made scrubs bags and 'button band' mask holders for the NHS. I also made protective masks for the local vets, stood up for Black Lives Matter and educated myself, as well as just changing my lifestyle to be more eco-conscious.
"Continuing as Miss Dorset 2020/21 I hope to carry on helping my community and raising awareness of fast fashion as well as helping with the collection of more tree planting pledges."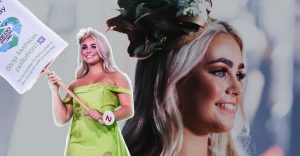 So far this year Alina has collected over 800 tree planting pledges that not only offset CO2 pollution, but also aid African families out of poverty and hunger, whilst increasing biodiversity for native wildlife. 
You can follow Alina's journey on social media and join her pledge to plant trees to save our world by becoming carbon neutral today!
https://www.crowdfunder.co.uk/help-make-the-uk-carbon-neutral-by-2050
Instagram & Facebook: @MissEnglandSW
For more information please contact:
Kelly Levell
Miss Dorset Organiser & Founder, We Do Ethical
07581008382