Miss World's  BEAUTY WITH A PURPOSE Charity
Sponsors a House for homeless young people in Leicester
As one of Miss England/Miss Leicestershire's chosen charities this year, The Y has been lucky enough to receive a £6,000 donation from Beauty with a Purpose, the Miss World charity.
The Y is Leicester's leading youth homelessness charity and this donation will cover the cost to run one of The Y's move on houses for a whole year. Young people are given direct support to prepare them for independent living when leaving the service.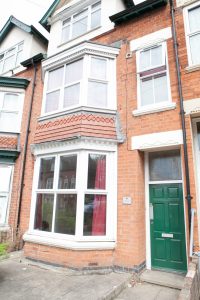 Abied, resident at the Marc Wainwright House, said: "I have had lots of support with applying to college, sorting out my problems and managing my money.
"Without the support of the Y I would have had to move cities and start my studies over again but I was able to stay in Leicester, finish my last course and start my Level 1 Business course which will help me with my future goal of running my own business."
Miss Leicestershire contestants raised funds for The Y, including Miss Leicestershire winner, Tia Carter (pictured) . The part-time dance teacher who aspires to work as an engineer in the Royal Air Force, raised £220 as part of the contest and was crowned in her garden by her sister, and 2017 winner, Sapphire Carter as part of the virtual competition which took place in April this year.

The funds raised by contestants and donated from Beauty with a Purpose will have a significant impact on The Y and the young people supported by the charity and will directly support homeless young people in Leicestershire.


Donation match scheme will Help Homeless Young People in Leicester
 The Y is taking part in the UK's biggest match funding campaign, The Big Give's Christmas Challenge 2020. 
The charity has just one week to raise their £4,500 target which will be doubled to £9,000 thanks to match funding from Pukka Pies and Reed Education Trust.The Big Give Christmas Challenge launches at noon on 1stDecember (Giving Tuesday) and runs until noon on 8thDecember 2020.
Y Skills Matter
This exciting learning programme gives formerly homeless young people living at The Y the chance to develop their skills, creativity and resilience for the tough road ahead. It was launched in August as part of The Y's response to the pandemic.  The new skills coaches are helping young people facing isolation and unemployment and it's more vital now than ever to keep it going.  Funds will also support a new theatre and technical skills module, with work placement opportunities for young people in The Y Theatre.
Paul Brown, CEO of The Y said: "This project utilises our unique position as a homeless charity and an arts venue to bridge the skills gap our young people face. It's an excellent opportunity for them to gain skills that increase their self-esteem to help them develop and contribute to society. We're so grateful to have a local company like Pukka Pies who wanted to support education for disadvantaged young people locally and stepped in as our pledge funder."
Isaac Fisher, Pukka's General Manager said: "As The People's Pie, we want to support the local community, which is more important now than ever. That's why getting behind The Y's Big Give Christmas Challenge, which encourages local young people facing isolation to develop their creative skills, was the right thing to do. Together, we hope to make a positive difference to their future."
Carl, resident said:"The lockdown has been really hard to start with as I was spending time in my room alone but The Y has put a lot in place for residents so we're not going insane. I got some art equipment and I have been taking part in Y Skills Matter sessions since they started in September. Y Skills matter is inspiring for residents as it is a great way to keep engaged and learn new skills that they can transfer in life. I am focusing on getting a job and I want to do something to do with arts or culture"
Curtis, Skills Coach said: "Ben was reluctant to take part to start with. We adopt an informal and flexible approach to learning, so over an eight-week period Ben became more vocal in sharing his ideas and opinions and now regularly attends sessions including: the weekly pop up café, live/digital music programme and 1-2-1 sessions focusing on career/business development. Ben now CM also assists in the delivery of the sessions and actively encourages others to attend. "
Businesses could support the campaign by asking colleagues to donate instead of spending money on Christmas cards or holding a bake sale or dress down day to raise money.
To find out more about The Big Give or how to donate, watch this 30-second videoor visit: www.leicesterymca.co.uk/the-big-give
*** ENDS ***
Notes to Editors
For media information:
For more information, images and interviews please contact Emma Knight, Fundraising & Communications Manager [email protected] 07908 265058.
Website: www.leicesterymca.co.uk/the-big-give.
Facebook, Twitter, Instagram and Linked In: @TheYCharity
Donations must be made to The Y via the campaign pagebetween 1st– 8th December 12noon  to qualify.
About The Y
The Y has a unique position in Leicester. We are the city's leading youth homelessness charity and we are home to a vibrant 300-seat arts venue with an eclectic commercial and emerging arts programme. We are continually adapting our services and our approach to the needs of our local communities.With a history stretching back to 1883, we are part of the fabric of Leicester.
Our vision is for every young person to have a safe place to call home and the support they need to create lasting change in their lives. We aim to create opportunities for the most disadvantaged young people to get educational experiences and achievements and prepare them for independent living.
Like all venues The Y Theatre has sadly been closed since March 2020 but we have taken the time to strengthen our vision to use our amazing Victorian asset as a tool for social change and broaden the creative opportunities for our young people.  We were delighted to have been awarded the Government's cultural recovery grant in October which will help us re-launch in 2021.  With the help of this funding the Y Skills Matter technical training will be able to get underway, even before we're able to open our doors to the public.
The Big Give's Christmas Challenge
The Christmas Challenge was launched in 2008 by Sir Alec Reed CBE and is now the UK's biggest online match funding campaign, with over £8m in match funding available this Christmas. It offers supporters and charities the opportunity to have their donations doubled by businesses and philanthropists.
Website: www.thebiggive.org.uk
Match Funders
If The Y does not reach the target of £4,500 from public donations they will not obtain the full £4,500 match funds available.  The project has been matched this year by Pukka Pies as a pledge funder and Reed Education Trust as a champion funder.
About Pukka Pies
Founded by the Storer family in Leicestershire in 1963, Pukka is an independent company with a passion for pies. It is the UK's number one hot pie brand across grocery and foodservice, and The Grocer's Brand of the Year.
Available in fish and chip shops, stadia and supermarkets, Pukka pies feature 144 layers of the finest puff pastry, select cuts of meats and flavoursome gravies.
Employing 360 people local to the Leicestershire area, Pukka takes pride in developing its people and providing jobs to passionate and specialised staff in its bakery.