The Miss England competition is bringing back the Beach Beauty swimwear round. 
But not as a parade on stage in swimwear and heels , instead this years contestants are  invited to  post an image of themselves in swimwear ( no filters) on their own  social media tagging in #missengland22 #beachbeauty in a bid to promote body confidence.
The image must  be taken during 2022 wearing swimwear either on a beach, in or near a swimming pool or at home  in the garden  & post a statement  promoting  body confidence.
Emily Cossey , who will be representing Chelsea & Westminster in the Miss England final is keen to enter this round . Emily is one of just two contestants who have qualified for  the Miss England final so far .
Emily said  "Over the decades we have seen women's body types change drastically, as if they are a fast fashion trend: one minute it's a big bum, the next it's a thigh gap, then a flat chest, then a full chest.. That's why the only way to actually feel confident and comfortable in your body is to change your mindset!   This is precisely why I love that Miss England have brought in a Bikini Beauty Round, especially as the British Summer has arrived!  It gives us a chance to showcase different body types, allowing women to normalise feeling confident and sexy in ANY body type!   I am hoping that this round will inspire women across the globe to ignore the "fast fashion" of body types and empower women to feel confident in a bikini!"
The judges will be selecting a shortlist of 10 from all the contestants who enter this round for a  beach photoshoot in England for final judging of the round during a shoot in September.
Director of Miss England Angie Beasley  said " Over the years contestants have enjoyed  taking part in this optional rounds having worked hard to keep their bodies  fit and healthy . Over the past 10 years we have  promoted the Miss World Ethos & charity " Beauty with a Purpose" to get the message across that we are not a bathing beauty parade like it was in the 70s. "
With a massive heatwave returning to the UK its got to be time to get the swimwear out again! 
Earlier this year , Milly Everatt (pictured below)  who is currently taking part in Miss Lincolnshire on
August 6th  got her prize Trip to Mauritius . Milly is hoping to reach this years final so she can enter again!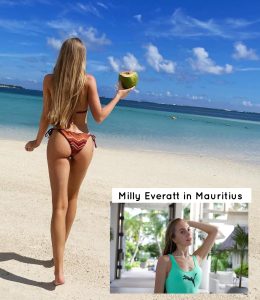 Milly said " I won the Miss England Beach Beauty award back in 2017, I remember being shortlisted first and it was an honour to have been chosen from so many beautiful shapes and sizes, I was flattered!
Along with the confidence boost I was incredibly lucky to win a trip to the beautiful island of 
Mauritius
where I made memories to last a life time at each of the
Lux hotel resorts.
I'm excited about the round returning to the contest in the year , I'm also re-entering!"
Due to the pandemic , the trip was postponed but Milly and the Miss England entourage who went said it was definitely worth the wait !  Click here to see the review of their much anticipated trip !
Good luck to all the Miss England Beach Beauties entering this year !