PRESS RELEASE
West Midlands Professor working with Miss England contestants in World against Single Use Plastic campaign -WASUP
Professor Gatrad OBE and Deputy Lieutenant to Her Majesty's Lord Lieutenant is enlisting the help of West Midlands Miss England Contestants to promote the World Against Single Use Plastic (WASUP) project he started in Walsall.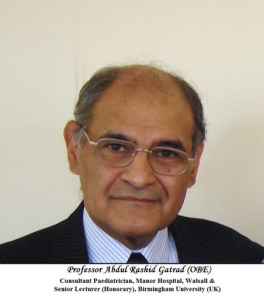 As a Professor of Paediatrics and a Consultant Paediatrician he has over the years built up a huge network with schools and community organisations. The principles of WASUP are to raise awareness about the dangers of plastic to marine life and humans; to educate children across the UK and the world; and finally for all sectors of the community to pick litter up from the streets and waterways. Many companies such as local McDonalds chains are part of WASUP, with over 100 schools in the UK that have adopted streets around their schools. This initiative has brought together communities and will in due course improve mental health and physical well being of many who get out to litter pick, particularly around canals.
The WASUP School Engagement initiative has been recognised by the United by Birmingham 2022 community programme.
Click the logo to find out more about WASUP
A chance meeting with Angela Beasley, the Director of Miss England led to Professor Gatrad being invited to an afternoon tea with Miss World who fully endorsed the WASUP principles and promised to take the message in her global travels.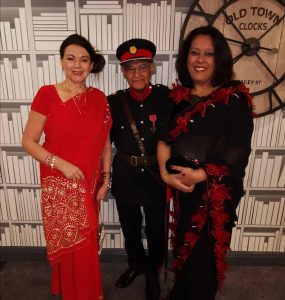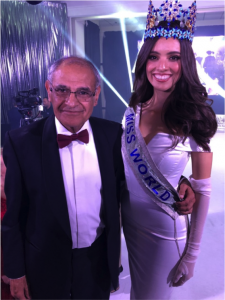 Above top left  ( Moment in time book available , ) photo Professor Gatrad meets Angie Beasley for the first time in Coventry led to professor Gatrad having afternoon tea with Miss World 2018 Vanessa Ponce De Leon at the Gainford Group owned County Hotel
MISS ENGLAND DOCTOR TO GO TO PAKISTAN WITH PROFESSOR GATRAD ON A MEDICAL TRIP
The reigning Miss England Doctor Bhasha Mukherjee was due to go on a medical trip with Professor Gatrads team to Pakistan in April to work with a team of surgeons for the OPSA CHARITYto do charity and surgical aid for children in Pakistan but this has now been cancelled due to the Pandemic and Miss England has returned to work as a NHS Doctor.
The Miss Birmingham & West Midlands heat of Miss England was due to be held on 26th April at Resorts World Birmingham.  However the contest is now being held as a Virtual heat

Contestants are being  invited to spread the news about the WASUP ME CAMPAIGN to promote World Against Single Use Plastic as part of the competition by using their own social media networks to spread the important message.
With the Miss England pageant joining forces with WASUP there will be huge awareness of reducing, reusing and recycling plastic. 
Professor Gatrad has also been invited on the judging panel to follow the contestants campaigns alongside Kelly Levell who founded We Do Ethical Fashion & Brid Bickerton Head of Marketing & Business Development at Resorts World Birmingham.
Angie Beasley the Miss England Director said "We are pleased to support Professor Gatrads inspiring campaign & I'm sure the Miss Birmingham & West Midlands contestants will do a great job in spreading this important message . If it works well in the West Midlands heat, we will encourage all the Miss England Finalists throughout the country to promote the WASUP campaign in our 2020 finals. This fits in well with the ethos of Miss England as we have been promoting ethical fashion & recycling since 2007.
The Miss England final was due to be held at the Hilton Birmingham Metropole on 30th & 31st July however the date for this will be changing due to the Coronavirus Pandemic  . Entries are now being taken for the  competition on www.missengland.info
To find out more about WASUP – visit this website www.wasupme.com
Watch the WASUP LAUNCH VIDEO HERE – WASUP WAS LAUNCHED IN JANUARY 2019