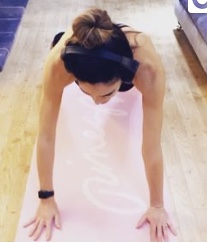 Motivational Music
 .
I love music and I always have my favourite playlists on at home, in the car, at work and ESPECIALLY when I'm running or doing a home workout …
.
It is scientifically proven that playing motivational music when you are working out will boost your motivation & enjoyment!
This comes as no surprise to me as I always have my favourite tunes blasting when I'm working out and certain tracks are very inspiring and give me that extra surge of energy to really push myself
My current Top 10 on my workout playlist for ultimate motivation are…
.
1.  Blinding lights by The Weeknd
.
2. Naughty Girl – Beyoncé .
3. Gonna Fly Now – Rocky Orchestra
.
4. Indestructible – Robyn
.
5. Maniac (Flashdance Version)- Michael Sembello
.
6. Wild Thoughts – DJ Kaled ft Rihanna
.
7. Viva (Orion mix) – Bond
.
8. Earned It – The Weeknd
.
9. Run the world (girls) – Beyoncé
.
10. Crazy In Love – Beyoncé .
Core strengthening is so important and beneficial when training and I decided to try an elbow balance recently and I was pleasantly surprised to find my core was able support me and hold the balance for some time.
It's always very important to cool down and stretch post workout to avoid injury or muscle strain, also taking the time to do this will reduce muscle pain following your work out. Build up slowly and try a headstand first with soft cushions around you and a wall to support your legs, and then when your core strength builds up you can try other balances