Five contenders for the 71st Miss World  title were amongst the crowd in the Principality Stadium recently to support Wales in their clash against New Zealand.
Miss England, 27-year-old Jessica Gagan, from Skelmsdale, Miss Scotland, 23-year-old Lucy Sophia Thomson from Edinburgh, Miss Ireland, 27-year-old Ivanna McMahon from Clare and Miss Northern Ireland 20-year-old Daria Gapska from Ballymena will be joining Miss Wales, 21-year-old Darcey Corria from Barry, for the game.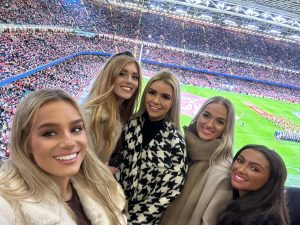 While Miss Scotland and Miss Ireland are big rugby fans of their home countries, they have agreed to come together and cheer on Wales over the All Blacks today. For Miss Northern Ireland and Miss England (who is a keen Liverpool fan), this will be their first time at a rugby match and they'll be supporting the Welsh side too.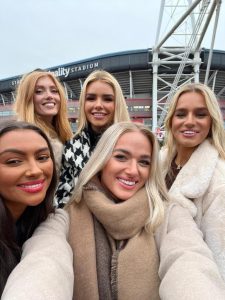 Darcey, Miss Wales 2022, said: "I couldn't be more excited to have the girls here today and show them how amazing Cardiff is as a city, particularly on match day. I know they'll be blown away by the atmosphere. We'll all be cheering on Wales for the win."
Before going to the game, the Miss World contestants attended a brunch in Cardiff Bay hosted by Darcey to raise money for the Miss World charity, Beauty With A Purpose. Tomorrow they will be enjoying photoshoots in and around Cardiff before returning back home on Monday.
The women will re-unite at Miss World early next year where they will all be vying to be crowned the new Miss World.
Darcey added: "This weekend is a great way for us to get to know each other before we all go to Miss World and I'm delighted that I've been able to host them here on such a big weekend for Wales."
Further information from Paula Abbandonato
[email protected]
Tel: 07903112663
Visit www.missworld.com for more information about the 71st Miss World
MORE IMAGES OF THE TRIP ON THE MISS ENGLAND APP – DOWNLOAD FOR FREE