Miss England Winners Now & Then – Carina Tyrrell 
Carina represented the beautiful county of Cambridgeshire in the Miss England 2014 final . After entering a heat initially in Warwickshire earlier that year  , she decided to give the contest another go in the Cambridgeshire heat .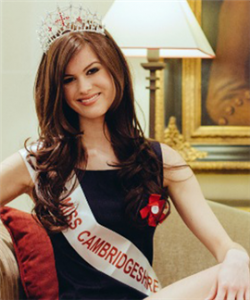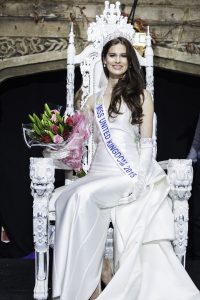 Its a good job she did , the same year , she went on to win Miss England , Miss UK & finished 3rd in Miss World !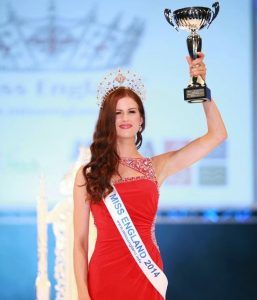 In Carina's words ; 
"I entered Miss England in 2014 and worked hard for the many different rounds. I won four awards – Beauty with a Purpose charity, Modelesque/Photographic, Miss Eco, and Beach Beauty. I was crowned Miss England in the scenic South-West coast at the Riviera Centre, Torquay, Devon.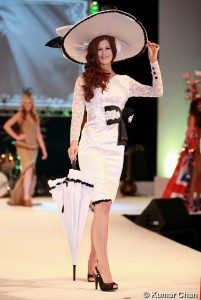 Carina in her classic WeDo Redo Eco outfit -from a wedding dress she purchased from Oxfam
(Click to watch the video on how she made the outfit & accessories  )
My mother, father, and aunt where in the audience . They were surprised when I won and were humbled by the work that Miss England and Miss World do with the Beauty with a Purpose charity, supporting young women and children around the world.
In 2014 I was a student doctor in my penultimate year at Cambridge University.
I was fortunate to travel to many places, including humanitarian trips with Miss World as the Beauty with a Purpose charity ambassador. In India, we supported a water conservation project, bringing irrigation and prosperity to a previously barren and impoverished city. Other work included support for those with disabilities in Mauritius, young women in Morocco, and the homeless in Washington, D.C. There were also celebratory events in the Maldives, Los Angeles, and even Las Vegas!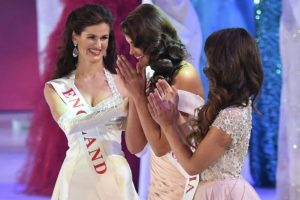 Miss World was held at the Excel Centre in London  and I was 3rd runner up and became Miss United Kingdom .
It is true that you develop great friendships during Miss World (and Miss England!). In particular, Rolene Strauss (Miss World 2014).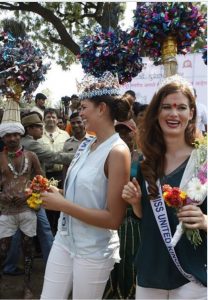 Now both qualified doctors, we keep in touch across the miles and continue to discuss solutions to pressing healthcare issues. Over the years, I have met many inspiring and entrepreneurial women at Miss World and it has been a pleasure to be part of supporting their ventures and important philanthropic work.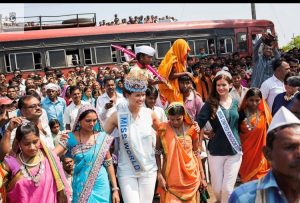 Miss World and Miss England are incredible networks of passionate, hard-working, visionary women.
My favourite & most memorable time as Miss England was to raise funds and awareness of homelessness, I slept rough on the streets, under a bridge, in Cambridge. I was one of an estimated 2400 rough sleepers nationwide that night in 4°C temperatures.Unfortunately, homelessness is still an important issue with an estimated 320,000 homeless at the end of 2019. £50,000 raised from the Miss England final in 2014 was donated to Coram, a charity supporting children without their own homes.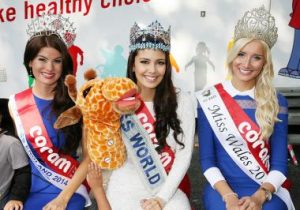 www.coram.org.uk/news/coram-receives-heartfelt-pledge-miss-england 
All the fundraising efforts from the Miss England contestants helped children to get a better start in life and realise their potential " .
AND NOW ……
"As a public health doctor, I have been busy working on the COVID-19 response on the front line. I work at Addenbrooke's Hospital and at the University of Cambridge on vaccine trials for COVID-19. Having specialised in disease outbreaks, I am advising government agencies. I have been working on brining technological solutions to healthcare systems, working with the Digital Health and Innovation team at the World Health Organization in Geneva. It has been challenging and exciting working with digital health and medtech companies to pivot their business models to tackling COVID-19.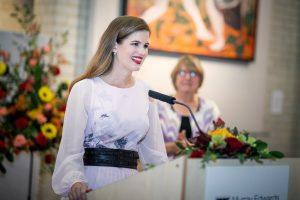 Follow Carina on her social media -when shes not busy of course !
Instagram https://www.instagram.com/carina_tyrrell_official/?hl=en
Carina Tyrrell Official Twitter
@Carina_Tyrrell